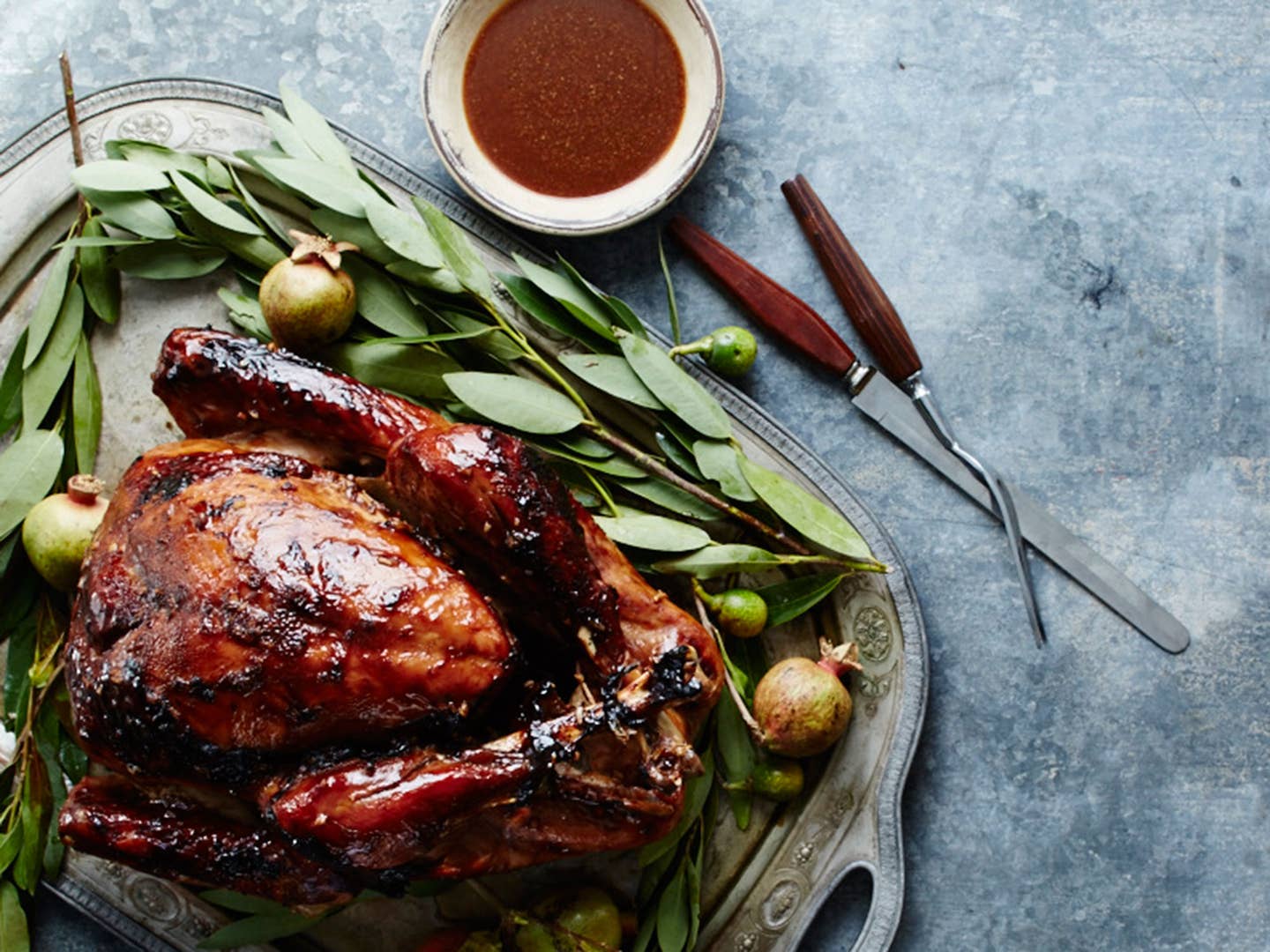 Recipes
A Brooklyn Thanksgiving with the Flavors of Senegal
Pierre Thiam adapts West African flavors for his festive American Thanksgiving feast
Eat as much as you possibly can. Gorge. Help yourself to another plate of turkey. Pack in that extra slice of pie.
Sounds like Thanksgiving, right?
That way, you'll weigh so much, the Angel of Death won't be able to lift you away at the end of the night!
Wait, what!? Can you imagine telling that to a kid? Well, we do, on Tamxarit, the Muslim New Year: Of all the holidays in my native Senegal, it's the one that reminds me the most of Thanksgiving. As a kid, I remember thanking God that my mom's food was delicious, otherwise I'd have had to force it down anyway.
Every Senegalese holiday has its signature dish, and special moments are linked to special food starting at birth. When you get your name, people celebrate at the ceremony by eating a lakh, a dish of millet that is perfumed with orange water and vanilla. At Tamxarit, we eat an elaborate millet couscous with bean and lamb stew. At my Thanksgiving now, I use American dishes as jumping-off points to pack in African flavor, creating new signature dishes for my family's table.
For example, instead of a plain butternut squash soup, I add Scotch bonnet peppers for heat to make a riff on a popular West African chile chowder called pepe (or pepper) soup. There are as many pepe soup recipes as there are regions in West Africa, but wherever you go, the soup is believed to prevent hangovers. You'll see people selling steaming bowls on the streets in West Africa at nighttime near nightclubs and bars. It's nice to have a little bowl at Thanksgiving, just in case. I make a raw collard green salad topped with roasted sweet potato, and a light stuffing made of fonio, an ancient grain that used to be considered fit only for royalty. We have a saying in Senegal, "Fonio never embarrasses the cook." That's how easy it is to make.
And the centerpiece is a tamarind-glazed turkey, similar to the ones my mother, who inspired much of my cooking, used to cook for us around Christmas. Dakar, the name of the city where I grew up, is the Wolof word for tamarind, so it feels appropriate to serve such a bird for our Senegalese Thanksgiving. While my mother is no longer with us, I like to think that having the bird on our table is a little mark of her presence.
Right before people come over—there's usually 25 in all, family and friends from Africa, Europe, the States, many of whom don't have family here in New York—I pop the pumpkin-mango cake in the oven, so that they are greeted with that scent of cinnamon and ginger, everything warm and fresh.
We have this belief in Senegal that you have to share food with whoever visits, because then your bowl will always be full. By sharing our food, we say, you bring a blessing.
I live in Brooklyn. If you find yourself near, stop by. We'll eat until we burst—even though there's no angel lurking, waiting to snatch us away at the end of the night.