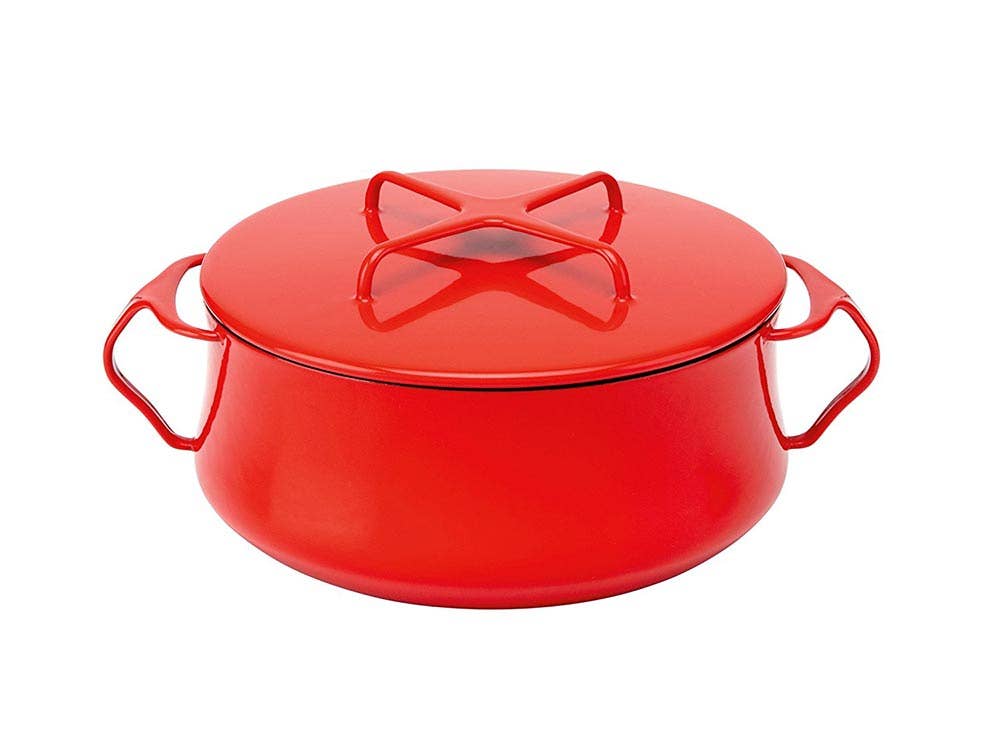 Techniques
The Gorgeous Vintage Cookware That Beats Your Pricey Cast Iron
If you've never cooked with Dansk Kobenstyle pots, now's the time to start
No surprise, then, that when Don broke her heart and set out on his own, he did up his place with a lot more color and sass than his ex, embracing the Danish modern designs of the era that celebrated color, curves, and negative space.
Go look at the range in his kitchen. See that gleaming yellow stockpot, right in front of the Chemex, with its artful cross-hatched lid? That's a Kobenstyle pot, an object you probably know even if you never knew its name. It's one of the most iconic designs in the mid-century mod pantheon, and if you've never cooked with one, well, better late than never.
A line of pots, skillets, pitchers, and percolators, Dansk's enamel-on-steel cookware were something of a revolution when they hit the American market in 1955. Bold colors and sleek lines were hardly new to the mid-century kitchen, but nothing held a candle to the quality, distinctiveness, and ergonomics of Jens Quisgaard's designs. Far lighter than cast iron or stainless steel but more sturdy than aluminum, with comfortable handles and nifty side features like lids that double as trivets, Kobenstyle cookware isn't just a pretty face—it's a visceral pleasure to cook with.
These days, a small but fervent cabal of vintage Kobenstyle hunters tracks down old casserole and fondue pots in junk shops and on eBay. History Repeated blogger Jonathan Goldstein has even gone so far as to document the line's color shifts through the years. For the rest of us, Dansk has released their most popular designs anew, which means there's no excuse not to add some Danish mod to your kitchen collection.
The centerpiece of my Kobenstyle collection is my grandmother's vintage Dutch oven, a banana-yellow monster of a pot that, were it a cast iron Le Creuset or Staub model of comparable capacity, would be nearly too heavy to lift. This one, though, I can pick up one-handed, and while it lacks the heat-retention capacity of cast iron, its durable enamel coating makes it perfect for soups, stews, and stovetop-to-oven braises. It heats evenly (more so than cast iron, actually) and is always easy to clean with minimal scouring.
If we judge a piece of cookware by how often we reach for it without thinking, that Dutch oven wins every time. Which is saying something considering its competition in my kitchen: a five-quart enameled cast iron Dutch oven and a beautiful vintage Griswold with a patina as slick as glass. Maybe it's the elegantly curved handles that are a joy to grasp even through oven mitts. Maybe it's the light weight. Or maybe it's because I know nothing else looks as stunning when I bring it to the table.
Which is not to say every Kobenstyle piece is created equal. While Dansk's Dutch ovens, saucepans, and baking dishes are all wonderful pieces, the line has one major shortcoming: skillets. Enamel-on-steel cookware just isn't suited to the localized heat of dry stovetop cooking—steel itself is a poor conductor, made worse by that enamel—and Kobenstyle skillets just don't have the heat-responsiveness of our favorite pots and pans. Many models also suffer from angled bottoms that limit the surface of the pan in direct contact with flame, compounding the pans' heat-conductivity problems.
That's a shame, considering the wood-handled skillets are among the most striking of Dansk's designs. Good thing you can get them on the smaller saucepans and butter-melters. Which look so, so nice on the table next to the teak ice buckets from the same designer.