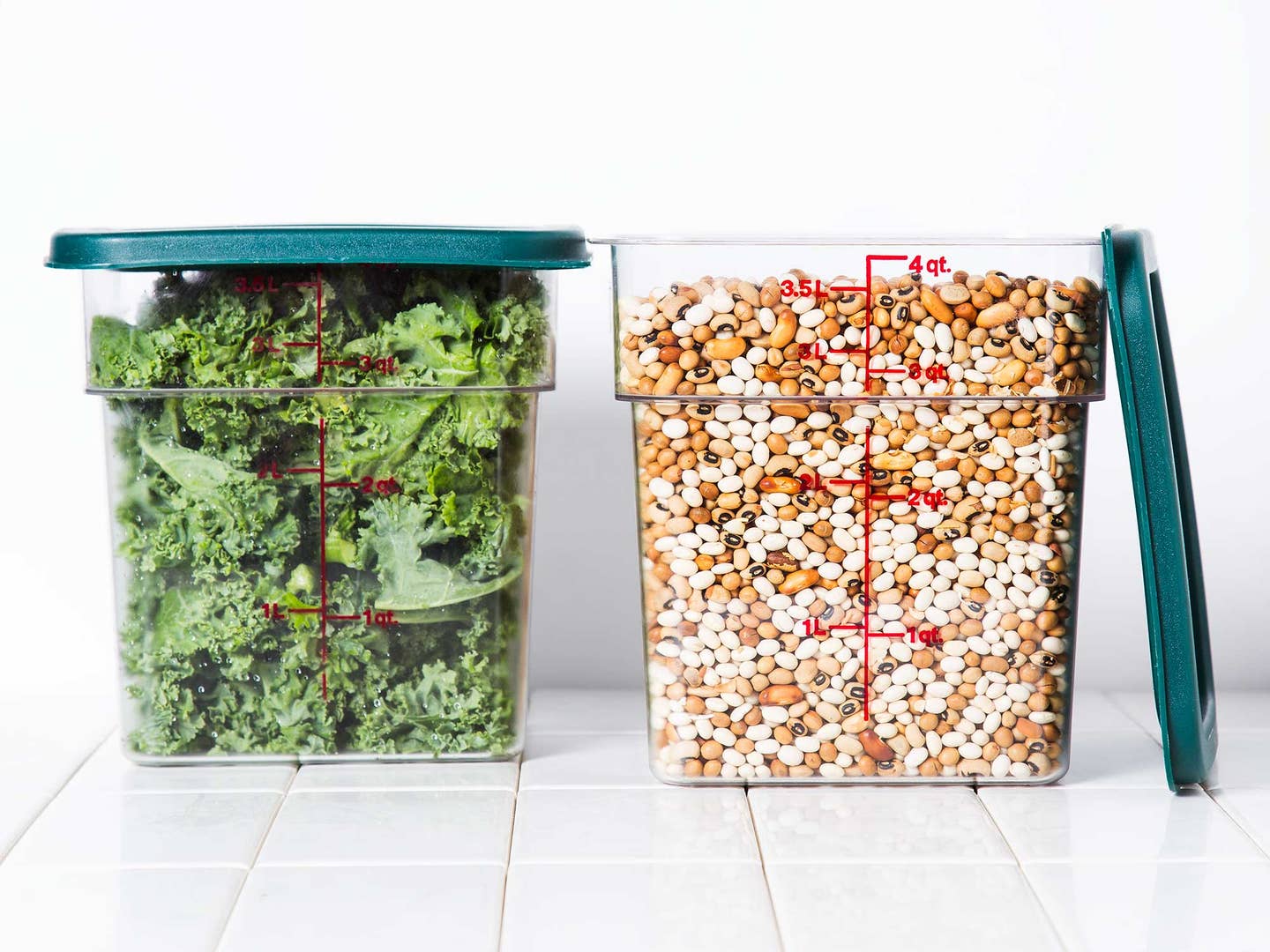 Techniques
The Restaurant Essential That Beats All Your Tupperware
These rugged containers are the best thing for your leftovers
Look around your kitchen and take stock of your tupperware situation. They're bulky, I bet, and they likely don't match, and maybe some of them have gotten warped by your microwave or permanently smell of curry, or the lids don't seal as well as they used to, and you know what? You're done, you can't take it, because tupperware are seemingly designed to make your kitchen and your life as cluttered, underwhelming, and un-KonMari'd as possible.
Now look around any restaurant kitchen—every restaurant kitchen—and you'll see something stacked in the pantry, in the walk-in fridge, or under a counter. Something so ubiquitous and humdrum you don't even think of it as a thing worth buying. That is, until you go back home and see your sad tupperware collection and think, just like the infomercial said you would, there has to be a better way.
There is, and it's those big, boxy hard-plastic food service containers with colorful lids, which restaurants use to store everything from flour to chopped greens to a few gallons of homemade pickle brine. They're often called Cambros, in the same way that tissues are called Kleenexes, but regardless of the brand, they accomplish the same goal with the same rugged perfection: storing your food in something cheap, easy-to-use, and nigh-indestructible. These chunky little containers are, hands down, the very best way to store large amounts of food at home.
Food service containers are sized for restaurants, which means they usually start at a two-quart capacity and go up to a couple gallons. At first glance, that may seen way too large for home use, but they're really just the thing for storing big batches of soup, greens, or bulk grains and pasta. At home I have an entire shelf devoted to containers for flour, sugar, and rice. Other ones lurk around for storing leftovers or the pickled beets I'm working on. Some just act as big prep bowls; when making an extra-large batch of stuffing for Thanksgiving, a gallon-sized container was just the thing for storing cubes of toasted bread as they came out of the oven.
These containers don't have a water-tight seal, but their lids are sturdy—you know they're closed because of a satisfying snap—and their design makes them easy to stack for storage. And short of driving over one with a truck, there's nothing that can damage the container's hard plastic body; they take scratches, smelly food, and intensive heat or dishwasher cycles without complaint. They don't pass old flavors onto food. Oh, and did I mention they're cheap? These two-quart containers start at less than $4.
You could make the argument, I suppose, that they're not the prettiest objects in the world. But once you start collecting enough with their multi-colored lids, and lay them out all neatly in a row, they take on a certain chem lab aesthetic that I find quite charming. I'd almost say they spark a little joy.