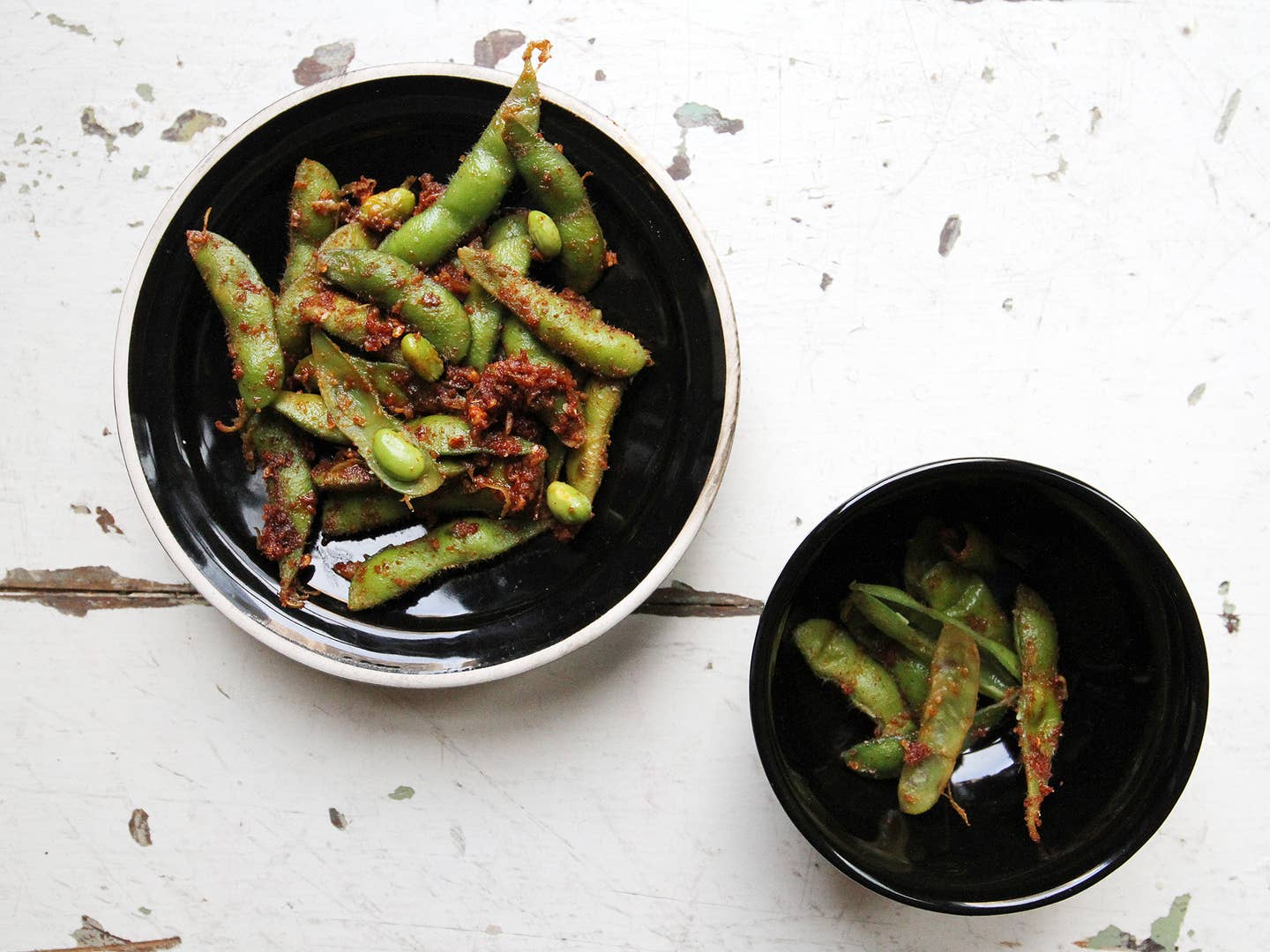 Techniques
Edamame Recipes
Edamame's more than a simple sushi bar appetizer
Edamame, young soybeans that cuddle up in fuzzy, protective pods, are most often seen as an appetizer in Japanese restaurants. They make for an addictive snack with just a little salt, but there's more than can be done with this versatile legume. From tuna salad sandwiches to egg drop soup, we've rounded up our favorite edamame recipes.
For an appetizer or snack, try our Mexico City Edamame, which takes your typical boiled-and-salted version a step further by by sautéing the shell-on pods with lime and tossing them with salt, cayenne, and garlic.
Or, free your beans and let them mingle—shell off—in a dish for extra crunch and a pop of color. Along with white miso and sesame chili oil, they add an Asian kick to a classic tuna sandwich, giving it a crunch that you'd typically get from celery. For something a little more traditional, try our yuba stir-fry from chef Tadashi Ono. In this simple dish, tofu skin is cooked with edamame, garlic, ginger, sesame oil, soy sauce, and scallions. For another easy stir-fry, cook edamame with loofah, a gourd also known as Chinese okra.
But when you're in the midst of summer, do what you can only do during the warm-weather months by pairing edamame with fresh produce to take advantage of summer's bounty. Succotash, a classic dish of corn and lima beans, is a refreshing celebration of summer vegetables. In our version, the corn is grilled and edamame supplants the traditional lima bean, making the dish feel familiar but welcomingly modern.
For the dishes above (and more!), head to our collection of edamame recipes above.
Edamame beans make this sandwich a protein-packed meal while sesame-chile oil gives it a kick.
The long, tender gourd loofah, often called Chinese okra, is stir-fried with soybeans in chicken stock and finished with soy sauce for this simple but flavorful side dish from the Suzhou province in eastern China.
Spicy Yuba Stir-Fry with Edamame