Beyond Cheese Curds: The Best Edible Souvenirs From Wisconsin
We can't stop snacking on these pantry staples from America's dairyland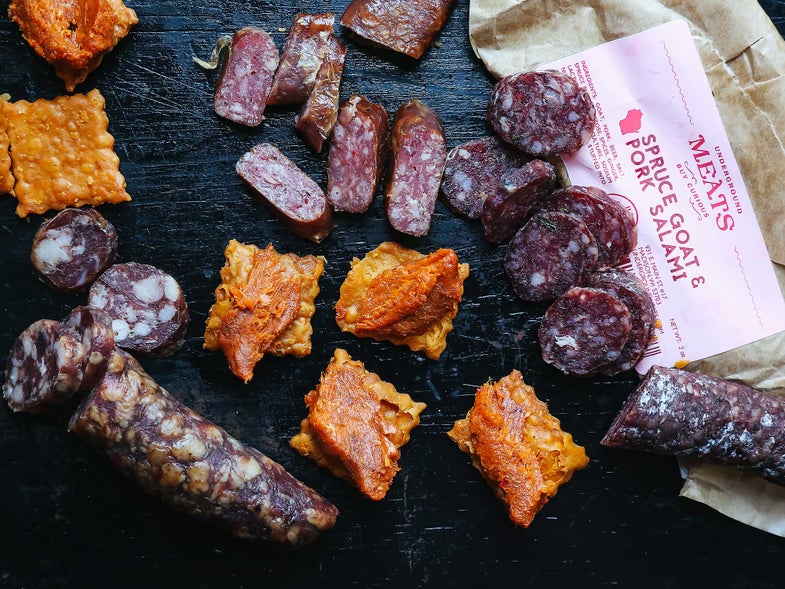 Wisconsin may best be known as America's dairyland, but its lush farmland has more to offer than butter and block cheddar.
After spending a week driving the state, I found myself unexpectedly smitten with that green and cheesey countryside. I visited pizza farms, cheesemakers, a sausage factory, and a custom bladesmith before watching the sun set over the Mississippi River from a charter boat. I ate my weight in cheese curds and came pretty darned close to cashing out my savings for a down-payment on a duplex overlooking Lake Pepin. Basically, I didn't want to come back.
Fortunately for me, most of the area's most iconic foods were designed, out of necessity, to make it through long, rural winters, making for a wide selection of edible souvenirs that travel well and have a unique sense of the place.
Here are some of the foods I brought home to hang on to my inner Wisconsinite.
Whether you're on a pizza farm pilgrimage or weekending in downtown Madison, odds are you're going to need some cheese curds to keep you going between meals. You can tell if they're freshly made from their texture; after an hour or so in the fridge, they're still delicious but they lose the signature squeak against your teeth.
Grab a bag from Eau Galle cheese factory, the Mars Cheese Castle, or just about any grocery store or gas station in the state. Out-of-towners can order online; chomp on them fresh out of the bag or do like Tory Miller does at Graze: batter, fry, and dunk 'em in ranch.
While grain-producing strains of sorghum are a popular human food source in other parts of the world, the hearty, drought-resistant crop is primarily used for silage here the the U.S. That might be changing, according to the Oxford Encyclopedia on Food and Drink in America, which states that "sorghum's popularity as a food item is growing because of its unique nutritional profile."
Whole sorghum grains can be cooked like rice or milled down to the consistency of grits or flour, while the tall, juicy stalks of "sweet" sorghum strains can be pressed like sugarcane to to extract a sweet liquid. The cane juice is then boiled down to a thick, golden sweetener known as sorghum syrup or sorghum molasses, a staple in parts of the South.
Most American sorghum is produced in the dry, south-central states, but some Wisconsin farmers have incorporated the stalky crop into their rotation. Rolling Meadows Sorghum Mill in Elkhart Lake sells their dark sorghum syrup in jars. It is great drizzled over biscuits, cornbread, or hot cereal. Try swapping it in for honey or maple in your favorite baking recipes, or in granola.
Jonny Hunter, Madison's culinary renaissance man, has a load of projects in the works over at the Underground Food Collective, including a whole-animal butcher shop, a bakery, a casual fine dining restaurant, and a massive salumi commissary called Underground Meats. Their spruce and goat salami and 'nuja are the Test Kitchen favorites, but adventurous carnivores should opt for the Buy Curious Meat Club: a monthly grab bag of classic and specialty salamis delivered right to your door.
While limburger is notorious for its stink, the Belgian-style cheese is actually quite mild. Its thin, sticky washed rind will fill your fridge with cabbagey funk, but the semi-soft inner paste has a sweet, lactic, mushroomy flavor that is easy to love.
Country Castle brand limburger is made right in Monroe, Wisconsin. Enjoy it like the locals do over at Baumgartner's Cheese Store and Tavern: spread thick on dark rye, with sliced red onion.
Some sources speculate that America's Dairyland consumes more brandy, per capita, than anywhere else in the world; On Milwaukee reported in 2004 that "According to DISCUS (the Distilled Spirits Council of the United States) based in Washington D.C., Wisconsinites spend the most money on brandy."
Margie Healy, director of PR for Korbel California Brandy, attributed one-third of their total sales to Wisconsin, so if you're mixing up old fashioneds like an Wisconsinite, you'll stock your bar with plenty of Korbel. Spring for the 12 year if you can find it.
Heck, you can even make your own maraschino cherries with some of Door County's famous cherries.
Tips for blending in with the locals at The Bear's Den in Pepin: be sure to bring cash, be prepared to throw a few rounds of dice for your drinks, and order one of the electric pink pickled ham hocks from the jar behind the bar. The salty snack shouldn't be as delicious as it is: fist-sized chunks of pork (bones removed, but with plenty of fat and skin left on) are suspended in a puckery white vinegar brine with a bit of red food coloring and not a whole lot else. They are stored at room temperature alongside the pickled eggs and potato chips for delivering a quick dose of calories and electrolytes to the over-60 brandy old fashioned crowd.
Everything about them is so wrong it's right. The pickling liquid softens the skin and fat to a tender, nearly spreadable consistency, and the pink cured meat pulls apart as easily as a lovingly braised daube. Eat them, shamelessly, on their own, or with crackers and a smear of…
After you've stocked up on weird pickled meats, don't forget the mustard. Fortunately, Wisconsinites have this superior condiment covered. In fact, they have a whole museum dedicated to it.
After you've marveled over the Mustard Museum's collection of 5,992 mustards and antique mustard pots, jars, and advertisements, buy some to take home from the gift shop or order online. Lakeside's Hot German Dusseldorf Mustard from St. Francis, WI is sharp, smooth, and just a little bit spicy–perfect for slathering over fatty pork products and dunking pretzels.
Wisconsin obviously has a special relationship with fermentation—it is the only state with a Certified Master Cheesemaker program and at current publication, the Wisconsin Brewers Guild lists 94 members and 29 affiliates. The city of Reedsburg is home to the annual Fermentation Fest, "an annual celebration of live culture in all its forms." It makes sense, then, that wurst-loving Wiscos would take their sauerkraut pretty seriously too.
Sauerkraut and other fermented pickles are beloved additions to porky meals all over the state. America's Dairyland is home to GLK Foods—Formerly The Great Lakes Kraut Company—a conglomerate of sauerkraut brands that claims to produce more sauerkraut than any other producer in the world. Try one of GLK's tasty conventional brands, or spring for a big jar of the farm fresh stuff.
There are nearly as many Norwegian-Americans living in the United States as there are Norwegians in Norway. Many of them live along the Minnesota-Wisconsin border, and their Nordic influence has left traces on the area's food traditions.
Lefse—an obscure potato-based, Norwegian flatbread—is easy to find in grocery stores in Wisconsin. The rest of us can order them online from Countryside Lefse or whip up a batch from scratch. Enjoy them warm or room temperature, either spread with soft butter and rolled up, or sprinkled with sugar.
Ken Monteleone left his long-time purchasing career with the clothing brand Land's End to open Fromagination in 2007. The Madison shop carries a comprehensive international selection of cut-to-order cheeses, with an emphasis on supporting Wisconsin's growing artisan food movement.
The shop ships nationally, and they have a handy list of gift sets that hold up well over long distances. Looking for the jewel of the bunch? Treat someone (or yourself) to three of Wisconsin's sexiest artisan cheeses with the Wisconsin Alps Gift Set. It comes with wedges of Roelli's Dunbarton Blue, Bleu Mont Bandaged Cheddar, and Pleasant Ridge Reserve from Uplands Cheese.