Everything You Need for Perfect Layer Cakes
Baking sky-high cakes isn't science; it's engineering, and these tools make it easy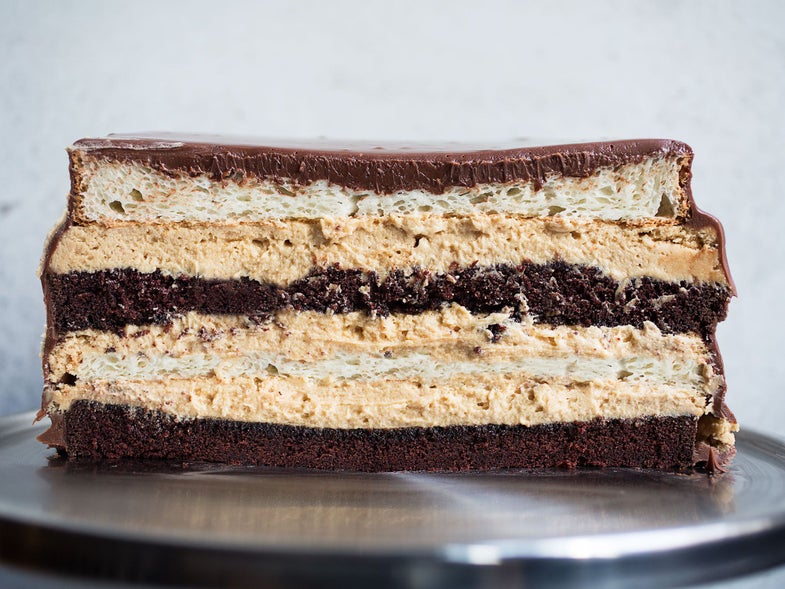 Baking, despite what the food-writing-kitchen-merchandise industrial complex would have you believe, is not always a precise science. Some of the world's best baked goods are also the easiest dishes you'll ever make.
Layer cakes, though, are another story. If you're looking to make a Martha-approved birthday cake, three layers, buttercream frosting, icing decorations and all—because at some point or another, we're all called to do so—you're going to need some equipment. Layer cakes aren't science either; they're engineering projects. And the right tools make all the difference.
So if you're about to tackle your first layer cake (we have a few to choose from), consider this your starter kit.
A layer cake begins with cake pans, eight or nine inches in diameter. The most important thing to know: Do not buy non-stick pans. A properly greased pan will release cake easily (more on that below), and the darker shade of non-stick pans absorb heat too quickly and lead to burned bottoms. These light-colored but heavy-duty rolled aluminum pans are good enough for bakeries, which means they're good enough for you and me.
Chicago Metallic Uncoated 8-inch Round Cake Pan, $12 at Amazon
The single best way to keep your cake from sticking to the pan is a slip of parchment paper at the bottom. You can, if you want, do some parchment origami to make round circles from plain sheets, but these baking rounds are a cheap lifesaver that save a lot of hassle. Pick up a bunch and use them to line bamboo steamers as well.
Regency 8-inch Parchment Liners, $7.26 for a pack of 24 at Amazon
The best way to keep the sides of your cake from sticking is pretty obvious: simple cooking spray. Line the bottom of your pan with a parchment round then spray the sides for a cake that'll slip out with almost zero effort.
Wilton Bake Non-Stick Spray, $5.25 at Amazon
You'll need some sturdy but flexible spatulas, too, and this three-piece set is long-lasting, and it includes a large one for spreading batter around and a smaller one for fine detail work.
OXO Good Grips 3-Piece Silicone Spatula Set, $12 at Amazon
By now you've likely heard that measuring by weight instead of volume makes for more consistent baked goods. This is true, and it's doubly true for layer cakes, because even the best eyeballer isn't going to nail evenly dividing a batch of batter into multiple pans. This baking scale with a pull-out display and tare function (for subtracting the weight of the pan) solves that problem.
OXO Good Grips Stainless Steel Food Scale with Pull-Out Display, around $44 at Amazon
Cakes shouldn't cool in their baking pans; moisture will condense into steam on the bottoms, making your perfectly baked layers gummy. Pick up some cooling racks so they can breathe.
Wilton 16-by-10–inch Cooling Rack, $6.99 at Amazon
If you're splitting your cakes into thinner layers, you'll need a serrated knife at least as long as your cake is wide. If that means you're buying a serrated knife for the first time, here's a sturdy, affordable one.
Chicago Cutlery 10-inch Serrated Knife with Walnut Handle, $20.59 at Amazon
Once your layers are baked, how do you move your cake around? Cake rounds: thin discs of cardboard that give you a stable base to move and ice your cake. If you want to pass on this product, go ahead, don't buy cake rounds…then try to move your cake around the kitchen. You'll get them next time.
WIlton 8-inch Cake Circles, $7 for 12 at Amazon
If you've gone through all the trouble to make a lavishly decorated layer cake, it's worth putting on a pedestal (I mean, how many times do we get to literally do that for our desserts?) But cake stands also have a practical function: When it comes to icing your cake, it helps to give it some vertical clearance from the counter, and a base you can spin with one hand is a big help. I love this simple porcelain cake stand, which is affordable yet elegant enough to go with any cake you want to make.
BIA Cordon Bleu 12-inch Porcelain Cake Stand, $24 at Amazon
Some layer cakes get brushed with a sugar syrup to keep them moist after baking but before icing. A pastry brush ensures that syrup gets distributed evenly.
OXO Good Grips Silicone Pastry Brush, $7.99 at Amazon
Now that we're firmly in icing territory, it's time to think about spatulas. What's wrong with the spatulas you already have? Those are great for smooshing around batter, but not so much for spreading icing around evenly. For that you need a long, thin spatula with an offset angle to keep your hands out of the way; it's a vital way to get smooth edges on your cake. Also pick up a small one for fine detail work.
Wilton 13-inch Angled Icing Spatula, around $8 at Amazon.
Ateco 4 1/4-inch Blade Ultra Spatula, $4.50 at Amazon.
If you plan to make delicate icing decorations, you'll need a piping bag and some tips. This basic model is fine; start with simple designs and work your way to more complex ones.
Ateco Pastry Bag Decorating Kit, $19.95 at Amazon
Some icings call for sugar cooked to various candy stages in excess of 200 degrees, and for high-heat cooking, the Thermapen is the best thermometer on the market. It's actually the best instant-read thermometer period—fast, responsive, and accurate, with a big display for easy read-outs. Yes, it's pricy, but you'll use it for every roast, steak, and cake, and they'll all be better for it.
Thermapen Digital Thermometer, $99 at thermapen.com
Ready to Bake?
So are we. Get going.