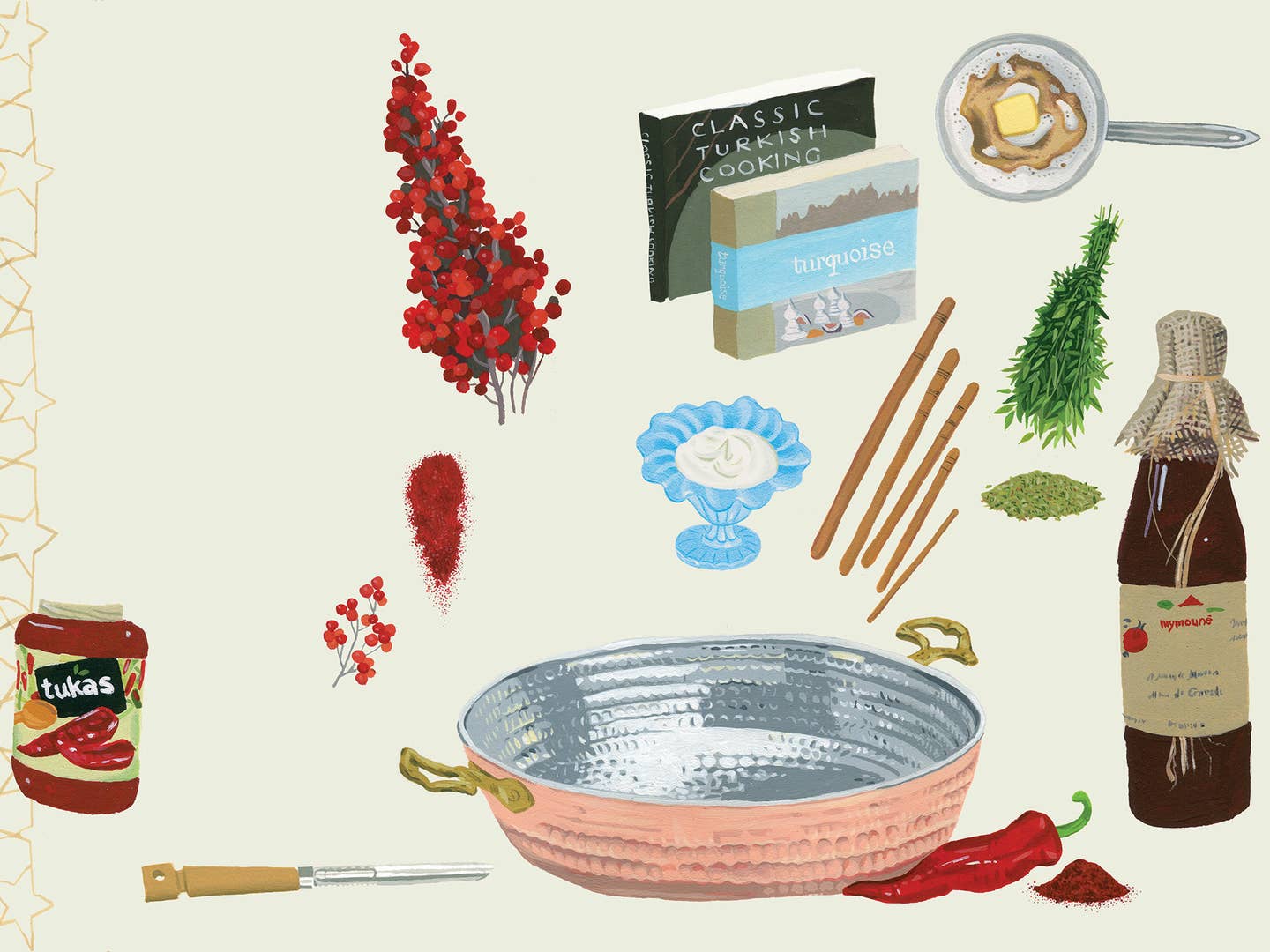 Techniques
13 Essential Tools and Ingredients to Cook Better Turkish Food
The spices, equipment, and recipes to get you better aquainted with the food of a nation that connects two continents and thousands of years of history
Turkey spans two continents and bridges tastes from Asia, Europe, and North Africa. Its largest city was once the epicenter of some of the most influential empires on the planet. But only now is Turkish cuisine getting proper recognition in the U.S.—prominent restaurants, exceptional cookbooks, and elevation out of the generic pan-Middle Eastern designation to which it was unfairly assigned. Turkish food is distinct, alluring, and worth mastering. Here are some ways to do so.
But First, a Little Background
Mehmed II no doubt had matters more significant than food on his mind when his troops wrested Constantinople from Byzantine Roman control in 1453. Yet the establishment of Istanbul as the capital of the Ottoman Empire set in motion a culinary revolution. Its foot soldiers were the hundreds of cooks toiling in the enormous kitchens of Topkapi Palace. Using ingredients and techniques sourced from across an empire that included swaths of Europe, North Africa, the Caucasus, and the Middle East, they vied to impress a succession of emperors with ever more creative elevations of rustic Anatolian standards.
In their hands, sac—flatbread dough, rolled paper thin—became delicate pastry to wrap around meat seasoned with pine nuts, raisins, and Silk Road spices for savory borek. Artichokes, leeks, and romano beans harvested from gardens abutting the city's stone walls were gently simmered in olive oil. The skewered meats of the Hittites and Turkic-speaking Seljuks who preceded the Ottomans became hünkar begendi, nuggets of lamb nestled in smoky eggplant mash enriched with béchamel. Fresh fruits like quince, grown in northern Mesopotamia and stewed in sugar syrup, were garnished with thick slices of buffalo milk kaymak, or clotted cream.
These dishes laid the foundation for modern Turkish cuisine, one that is firmly rooted in the country's landscapes that stretch from the Aegean Sea east to Iran, Armenia, and Georgia, and from the Black Sea south to Syria and Iraq.
The Black Sea region's penchant for cornbread, corn flour-crusted shallow-fried fish, and collard greens-like karalahana contrasts with the Levantine meze culture (hummus, baba ghannouj, muhamarra) and olive oil-dressed and pomegranate molasses-dressed salads that make up everyday eating in the Mediterranean province of Hatay. Beef and dairy products—including gravyer, a fine aged cow's milk cheese that's something like a cross of Gruyère and Emmentaler—and a smattering of Caucasian dishes like buttery raisin-studded rice pilaf dominate diets in Turkey's northeastern provinces. In the mostly Kurdish southeast isot, or Urfa pepper, sumac, and hot red pepper pastes season meat and bulgur fillings for vegetables hollowed and dried in the sun. In provinces abutting Iran, wild spring greens are brined and salted for a distinctive sheep's milk cheese called otlu peyniri, while on the Aegean, foragers blanch their wild leaves and dress them like Cretans, with olive oil and lemon. And in Turkey's Anatolian heartland, lamb, grains, and legumes like chickpeas feature in stews and soups.
In short, eating across Turkey can seem like eating across nations: a montage of landscapes producing a variety of ingredients and dishes to create a mosaic of distinct cuisines.
—Robyn Eckhardt, author of the forthcoming book Istanbul and Beyond (with David Hagerman, Rux Martin/Houghton Mifflin Harcourt).
Sumac is the dried and powdered fruit of a tree that grows all across the Mediterranean. Its flavor is uniquely sour and raisiny, and is used to bring a rich acidity to a dish that needs some bite. Combined with dried spearmint (4) and maraş pepper (6), they can make any dish taste singularly Turkish. Prices vary; kalustyans.com

Yogurt is an essential part of Turkish cooking, at once adding acidity, creaminess, and tartness to any dish. Greek yogurt is usually preferred, but plain, whole milk yogurt will work great, as long as it doesn't contain any artificial thickeners.

Turkish cooks brown their butter to strengthen and enrich the flavor of a dish without making it too heavy by just adding more butter. It's often swirled with yogurt, or used to finish a tomato sauce, where the nutty richness balances the acidity.

Dried spearmint, which is more warm and subtly sweet than other types of mint, is often used where Italians might use dried oregano, like in a tomato sauce.

Pomegranate molasses brings acidity and a hint of sweetness to a dish, whether it's for finishing a slow braise of lamb or in place of vinegar in a salad dressing. My favorite brand is Mymouné, which is so good, I'll blend it with an equal part tahini and spread it on toast for a snack. $6; mymouneusa.com

Maraş, also known as Aleppo pepper, has a slow, bright, mild heat; it's Turkey's version of red pepper flakes, and there's a shaker of it on the tables in every kebab joint in the country.

As ubiquitous as tomato paste in Italy, red pepper paste is similarly concentrated, but made with a mix of sweet and hot red peppers. It makes a great base for dressings and marinades. It takes hours to make, so I buy Tuka brand in a pinch. $7; istanbulfoodbazaar.com
Classic Turkish Cooking by Ghillie Basan is my go-to for all the basics; it's unpretentious and informational and really covers the breadth of Turkey's vast and diverse traditional cuisines.

The visuals and storytelling are some of the best parts of Turquoise: A Chef's Travels in Turkey, by Greg and Lucy Malouf, and the recipes combine traditional ingredients with more modern preparations.
An oklava is a long and narrow rolling pin, perfect for yufka, a tender, flaky pastry not unlike phyllo dough that makes up nearly every Turkish flatbread dish. The extra length allows for a wider, more even dough. $15; tulumba.com

This shallow pan called a sahan conducts heat well and can move from stovetop to oven, making it perfect for the classic breakfast dish known as menemen, slow-cooked eggs with peppers, onions, and tomato. $28; tulumba.com

Often billed as a "zucchini corer," this little knife is essential for an array of stuffed vegetables dishes throughout Turkey. The serrated edge and long, narrow blade make it perfect for hollowing out zucchini, tomatoes, peppers, eggplants, and more. $14; amazon.com
—Ana Sortun, chef of Oleana restaurant, Cambridge, Massachusetts. Sortun's book Soframiz (with Maura Kilpatrick, Ten Speed Press) will be released in October.