Fingerling Potato Salad with Chive Mayonnaise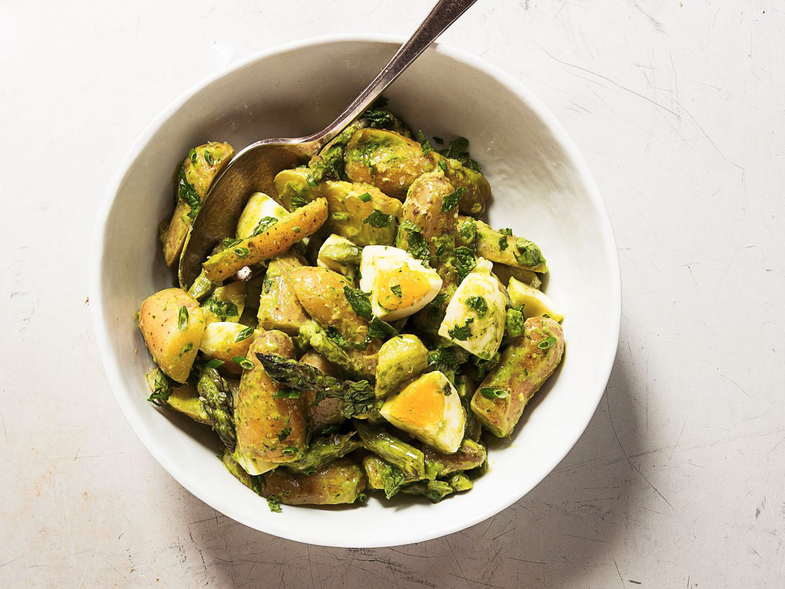 "This recipe came about when I had a fat bunch of chives threatening to wilt in my fridge. Our test kitchen director, Farideh Sadeghin, suggested I make chive oil, and then chive mayonnaise; I had some teeny-tiny fingerlings from the farmers market sitting on my counter, and a salad was born. It's bright and green and springy, and like any good salad, super adaptable." —Marian Bull
Featured in: Lord of the Chives
Fingerling Potato Salad with Chive Mayonnaise
Fresh, fragrant chives flavor the bold mayonnaise for this ideal summer potato salad, packed with asparagus, eggs, and mint.
Time: 45 minutes
Ingredients
1⁄2 cup vegetable oil
1 bunch chives, roughly chopped (about 1 1/2 oz.)
1 tsp. Dijon mustard
1⁄2 tsp. kosher salt, plus more to taste
1 egg yolk, at room temperature
2 lb. small fingerling potatoes
1 bunch asparagus, trimmed (about 1 lb.)
2 tbsp. olive oil
Freshly ground black pepper
4 hard-cooked eggs, cut into 1-inch pieces
1⁄4 cup loosely-packed mint leaves, torn into small pieces, plus more leaves to garnish
Instructions
For the chive mayonnaise: In a blender, puree the vegetable oil and chives until smooth. Pour the oil through a fine sieve set over a bowl and reserve the oil and chive pulp in separate bowls. In a medium bowl, whisk the mustard, 1⁄2 teaspoon salt and egg yolk until smooth. Slowly drizzle the oil into the mustard, whisking constantly, until emulsified. Stir the chive pulp into the mayonnaise, and cover with plastic wrap.
In a medium saucepan, cover the potatoes with water and season generously with salt. Bring to a boil over high heat, then reduce the heat to medium and simmer until the potatoes are tender, about 15 minutes. Drain the potatoes and let cool slightly.
Heat the broiler and line a baking sheet with foil. Toss the asparagus with olive oil, and season with salt and pepper. Broil, tossing once halfway through cooking, until crisp-tender, 4 to 5 minutes. Transfer to a rack and let cool. Cut the asparagus into 2-inch lengths and then transfer to a large bowl.
Halve the potatoes lengthwise, and then add to the bowl along with the chive mayonnaise, chopped egg, and torn mint. Season the salad with salt and pepper and toss until combined. Transfer the salad to a serving platter and garnish with more mint leaves.