Recipes
Fonio Pilaf with Dates, Carrots, and Peanuts
Serve this nutty millet at your next Thanksgiving gathering.
Serves

serves 6-8

Cook

45 minutes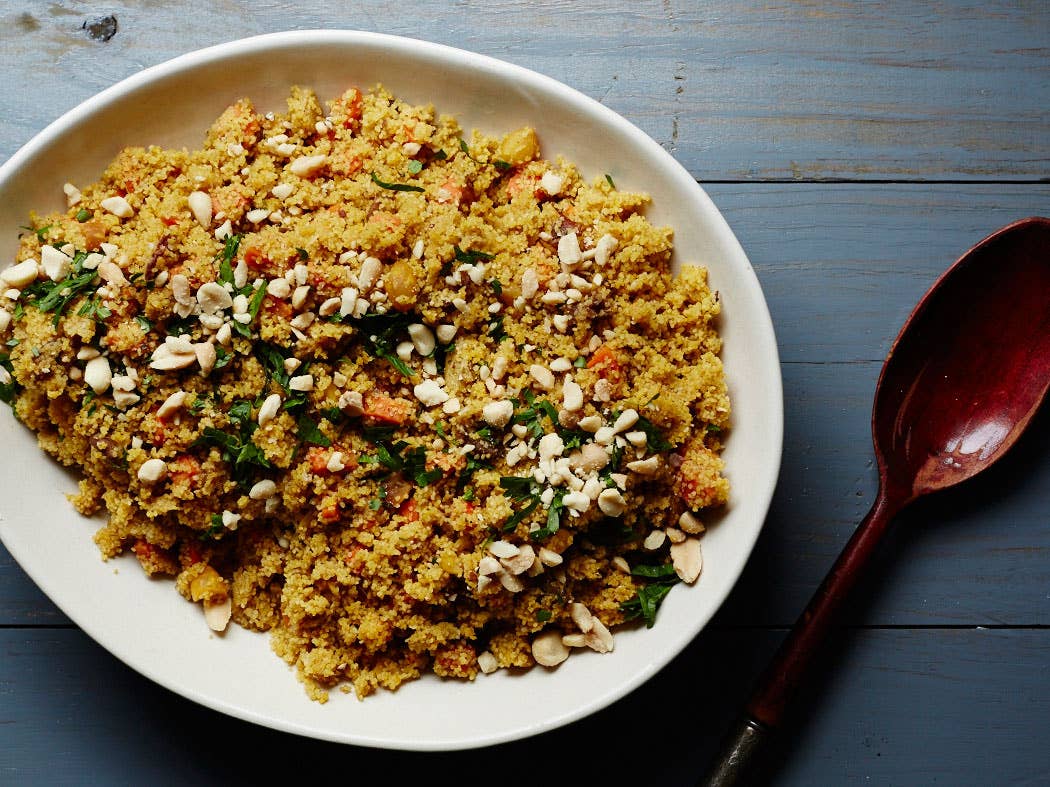 Fonio, a delightfully nutty-tasting type of millet, is a ubiquitous staple in Senegal, and chef Pierre Thiam enjoys using it in his Thanksgiving menu because he finds it lighter than bread-rich stuffings. If you can't find fonio, substitute an equal amount of couscous or quinoa.
Ingredients
1⁄4 cup red palm oil or vegetable oil, plus more for greasing
5 oz. pitted Medjool dates, roughly chopped
1⁄2 cup roughly chopped unsalted roasted peanuts
1⁄2 tsp. cayenne
2 medium carrots, cut into 1/4-inch dice
1 cup fonio or quinoa, rinsed and drained
1 1⁄2 cups chicken stock
Kosher salt and freshly ground black pepper
2 tbsp. finely chopped flat-leaf parsley
Instructions
Step 1
Heat the oven to 325°. In a medium saucepan, heat the palm oil over medium. Add the dates, 1⁄4 cup of the peanuts, the cayenne, and the carrots and cook, stirring, until the carrots soften slightly, 8 to 10 minutes. Add the fonio and stir until well-coated with oil and then pour in the stock and bring to a boil. Cover the pan and cook, without stirring, until the fonio absorbs all the stock, about 3 minutes.
Step 2
Scrape the fonio into an 8-inch square baking dish greased with palm oil and smooth the top. Cover the dish with foil and bake until tender and warmed through, about 20 minutes. Uncover, fluff the fonio with a fork, and season with salt and pepper. Scrape the fonio into a serving bowl and sprinkle with the remaining peanuts and the parsley before serving.