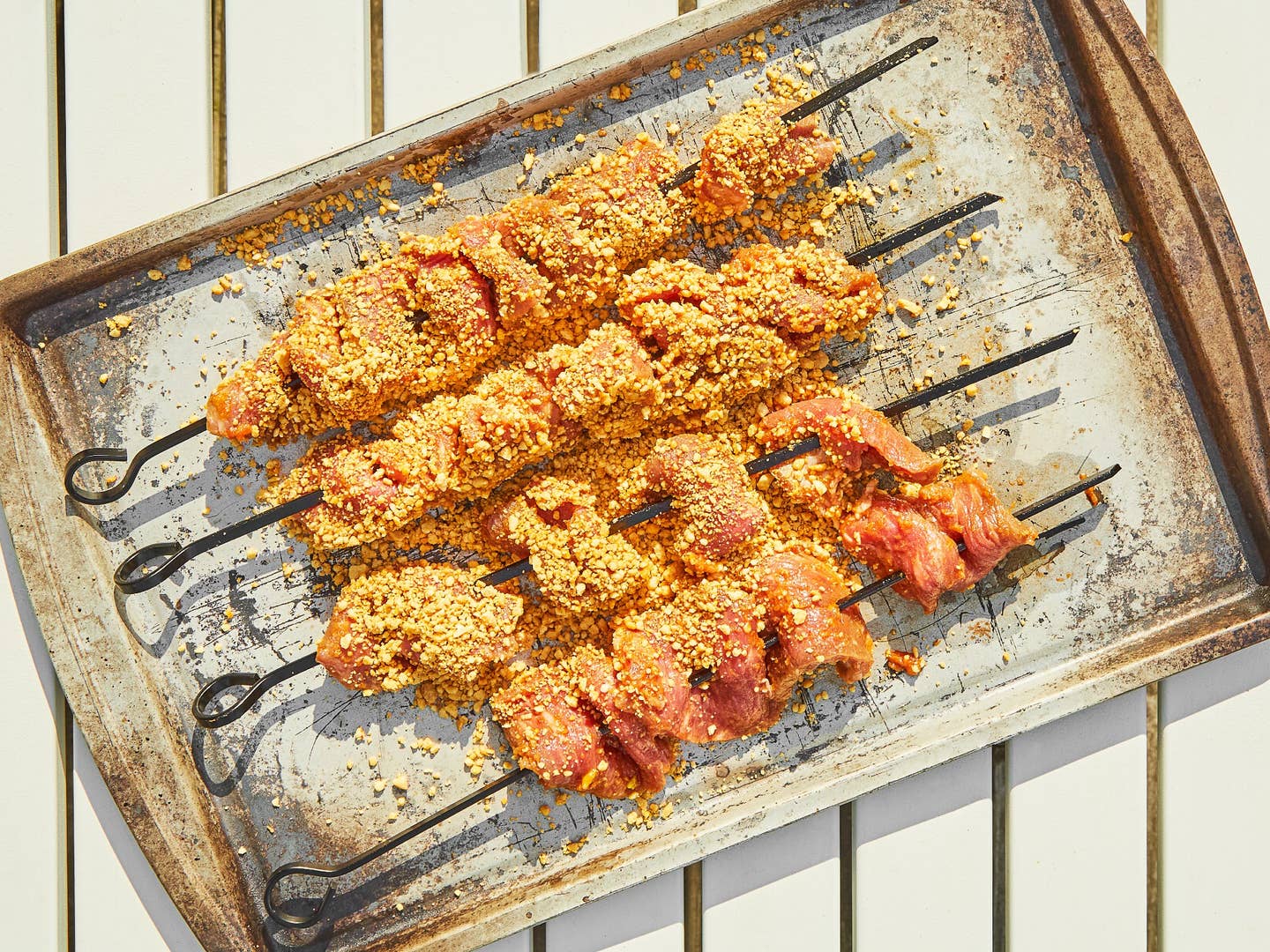 Techniques
The Real Star of West African-Style Grilling? This DIY-Friendly Seasoning
A spice rub perfected over centuries by nomadic cattle farmers.
Given West Africa's diversity, names for grilled meat snacks tend to vary by country and ethnic group. The most common are afra (Gambia), chichinga (Ghana), dibi (Guinea Bissau, Senegal), and tsire suya, or sometimes just suya or soya (Nigeria).
In this grilling method, the meat is thinly sliced or cut into small pieces, skewered with metal or moist wood, and then quickly grilled. Any meat can be cooked this way, though beef, chicken, goat, and lamb are the most popular options. In form and function, the grilled meat snacks share similarities with shish kebabs in the Middle East and yakitori in Japan. The real star in West Africa, though, is the seasoning. Rather than relying mainly on marinating the meat in liquids to impart flavor, West African cooks apply a flavorful spice rub to the meat before cooking it over charcoal.
James Beard Foundation Award–nominated chef, cookbook author, and entrepreneur Pierre Thiam, a native of Senegal, observed that this food "originates in Hausa land, located in northern Nigeria and southeast Niger, today's northern reaches of the domain of the nomadic Hausa people, who travel throughout West Africa in search of pastureland for their cattle." Wherever the Hausa went, these grilled meats followed, and they quickly developed many devoted fans. No one knows for sure when these savory snacks were first sold, but they are undoubtedly a vibrant part of the region's current street food cultures.
Just as the grilled meats have different names throughout the region, the same goes for the spice rub. The most popular are called tankora, yaji, or chichinga powder. The powders' key ingredients show how enthusiastically West Africans have embraced spices from other places. In the Middle Ages, Arab traders brought well-established warming spices like cinnamon ginger, black pepper, garlic, paprika, and white pepper to the region from Eurasia. During the centuries of the transatlantic slave trade, European traders introduced West Africans to the botanical gifts of the Americas, namely cornmeal (from maize), peanuts, and red pepper. In time, these foreign spices were substituted for local ingredients and incorporated into the standard recipes.
Tankora powder is versatile, and it has a wonderful "Do it Yourself" vibe. You can adjust the amount of any ingredient to get a flavor profile that pleases your palate. Want to try something different? You may also use this seasoning to liven up many types of protein that you want to throw on the grill. In addition to the traditional meats used in West Africa, try a firm-fleshed fish like halibut, mahi mahi, monkfish, salmon, swordfish, or tuna. The powder also works well on grilled tomatoes or vegetables like bell peppers, mushrooms, and onions. Just make sure you have enough oil brushed onto these ingredients so that the powder adheres. When you're ready to get your grill on, try Chef Pierre Thiam's Spicy Grilled Kebab (Dibi Hausa) recipe. It's definitely a crowd-pleaser.
Adrian Miller is a James Beard Award-winning author, food writer, recovering attorney, former White House staffer, and certified barbecue judge who lives in Denver, Colorado. Purchase his cookbook, Black Smoke, on Amazon.