Dibi Hausa (West African Grilled Beef Kebabs with Tankora Spice)
A quick ginger-garlic marinade and spicy, aromatic peanut coating lend depth and savory richness to Chef Pierre Thiam's flavor-packed Senegalese skewers.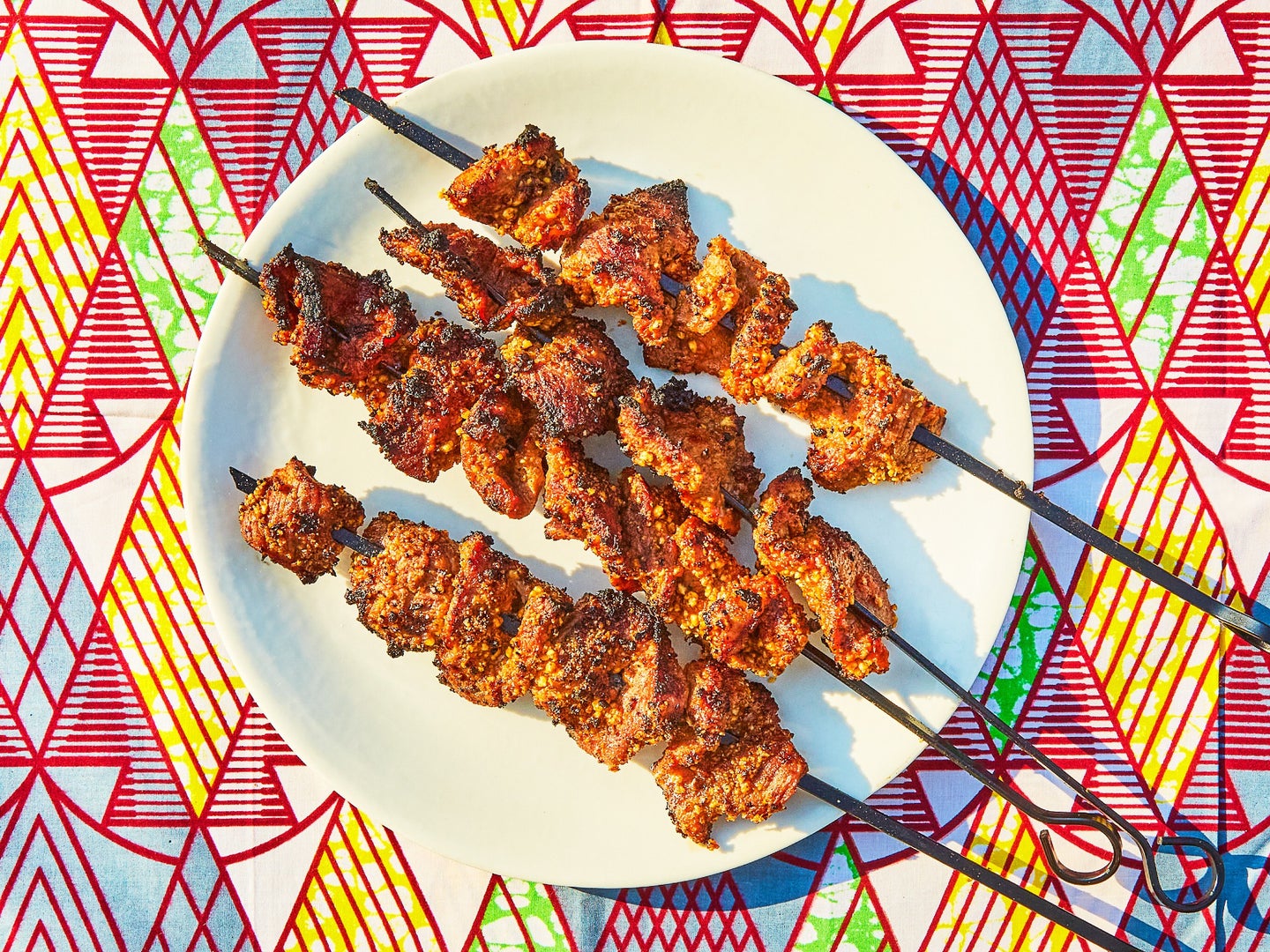 This recipe, which appeared in Adrian Miller's book, Black Smoke, is adapted from beef kebabs made by chef Pierre Thiam, a Senegal native, who is doing much to educate Americans about the food of his native country. It's also a great way to get a taste of West African barbecue in a short period of time. Though this recipe calls for beef, you may use any other meat or vegetable to achieve delicious results. If using bamboo skewers, soak them in water for an hour before using. The tankora mix will last up to two months stored in an airtight container at room temperature.
Featured in: "The Real Star Of West African-Style Grilling? This DIY-Friendly Seasoning."
Yield: serves 4
Time: 45 minutes
Ingredients
For the tankora powder:
1 cup roasted, unsalted peanuts, crushed to a fine powder
1 tsp. ground ginger
1 tsp. kosher salt
1 tsp. freshly ground white pepper
1⁄2 tsp. ground cayenne pepper
For the kebabs:
1 lb. round steak, sliced into strips about 1½ by 2 by ⅜ in.
2 tbsp. plus 1½ tsp. finely grated white or yellow onion
1 tbsp. tomato paste
1⁄2 tsp. finely chopped garlic
1⁄4 tsp. finely grated fresh ginger
1 chicken bouillon cube, crumbled (optional)
1 tbsp. peanut oil
1 tsp. freshly ground white pepper
1⁄2 tsp. cayenne pepper
1⁄2 tsp. kosher salt
Eight 6-in. skewers
Instructions
Make the tankora powder: in a small bowl, stir together the ground peanuts, ginger, salt, white pepper, and cayenne; set aside.
Prepare the kebabs: Preheat a gas or charcoal grill to cook over high heat.
Meanwhile, marinate the beef: To a bowl, add the steak, onion, tomato paste, garlic, ginger, and bouillon cube (if using); toss to combine. Add the oil, white pepper, cayenne, and salt and toss to coat the meat evenly in the seasonings. Set aside to marinate for 10–15 minutes.
Thread a few slices of meat onto each skewer. Pour the reserved tankora powder onto a wide plate and roll each skewer in it, evenly coating all sides and shaking off any excess. Using a pastry brush, brush a bit more of the remaining marinade over each skewer. Transfer to the grill and cook, turning occasionally and basting with the marinade, until the meat is seared and browned all over and cooked through, 12–14 minutes. Serve hot or warm.