13 Sensational Skewer Recipes for July 4 Grilling
From satay to shish kebabs, these flame-licked dishes prove that dinner is more fun on a stick.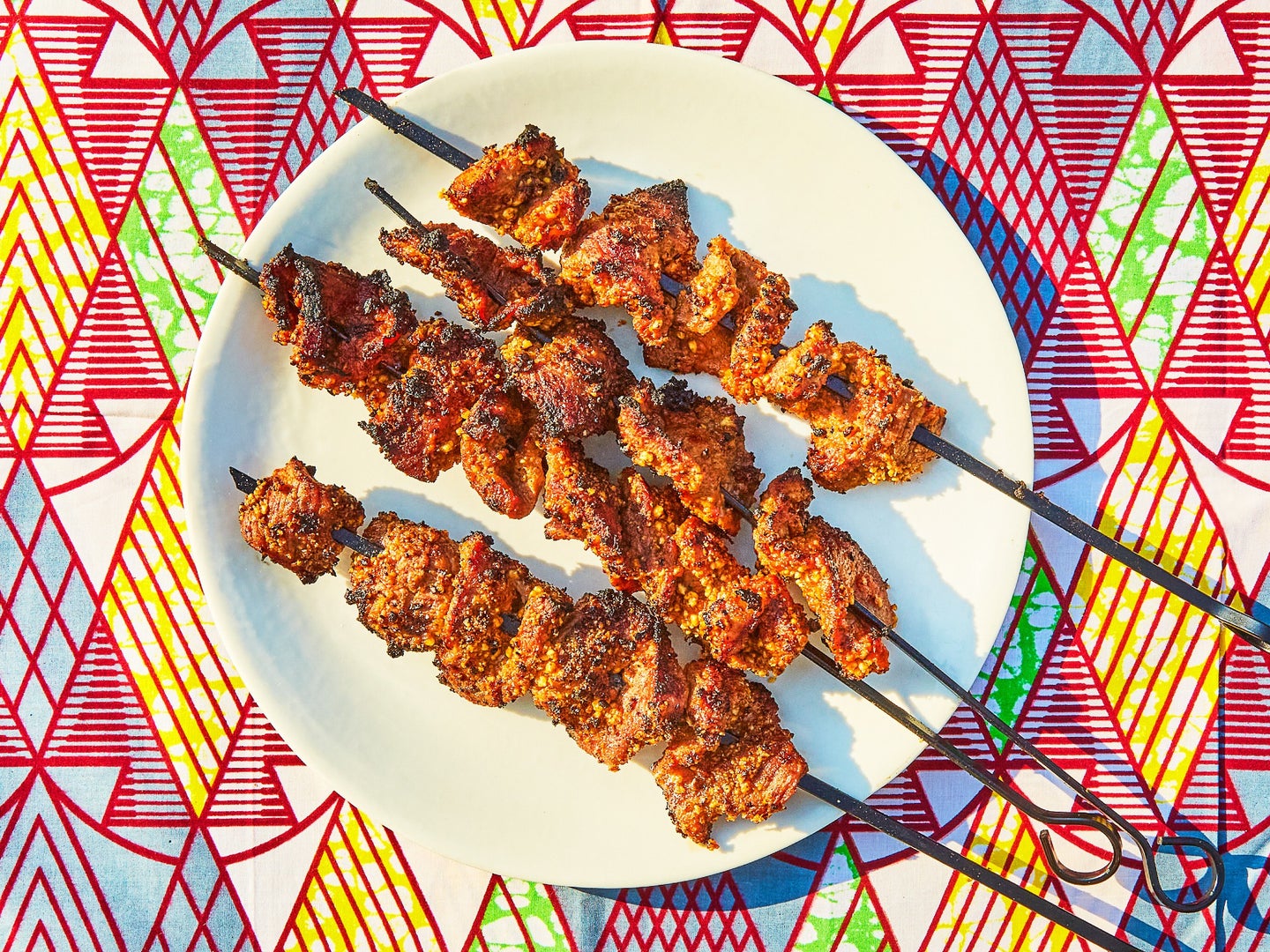 Homo sapiens have been threading food onto sticks and cooking it over open flame for millennia. Kebabs, shashlik, kushiyaki, satay—whatever the local moniker, nearly every culture has some succulent take on skewered protein and vegetables. That's the beauty of kebabs: There's a literal world of recipes out there to discover. Some are minimalist and let the main ingredient shine (meat, flame, fin), while others, such as Turkish adana kebabs and West African dibi hausa, are so lavishly spiced the neighbors might come knocking while you grill. The throughline in all of these dishes, of course, is the gratifyingly macabre step of stabbing stuff—objectively fun, no doubt, so long as you don't accidentally skewer yourself! 
Dried chiles and red pepper paste lend this grill house classic its signature heat. Get the recipe >
The key to these Indian-style kebabs is the marinade, a heady mix of yogurt, lime, and a half a dozen spices. Get the recipe >
Skewers get stacked with creamy paneer and crisp veggies in this meatless barbecue knockout.
These dill-flecked kebabs from India are at their summery best when served alongside saffron rice, kachumber, and thinly sliced onions. Get the recipe >
Lamb shoulder is an oft-overlooked cut that takes marvelously to marinating and grilling. Get the recipe >
Once you try the spicy garlic marinade that this recipe calls for, you'll be slathering it on everything from chicken to lamb to beef. Get the recipe >
These craveable kebabs rely on banana ketchup for their signature tang. Get the recipe >
A lemony marinade with plenty of garlic makes these Persian-style kebabs both tender and tart. Get the recipe >
The classic Indonesian street food from the island of Java takes mushrooms to new, meaty heights. Get the recipe >
A ginger-garlic marinade and a roll in spicy crushed peanuts add flavor and texture to these barbecued skewers. Get the recipe >
Bite-size chunks of velvety charred eggplant are now a staple in our summer grilling rotation, thanks to this deceptively simple satay recipe inspired by Indonesian street vendors. Get the recipe >
Ground candlenuts mellow out this spicy shrimp satay that hails from coastal Singapore. Get the recipe >
These soft glutinous rice balls with a sweet soy glaze are festival food in Japan, but they're equally satisfying as dessert at home. Get the recipe >