Recipes
French Spring Vegetable Stew (Estouffade Printanière)
Serves

serves 4-6

Cook

45 minutes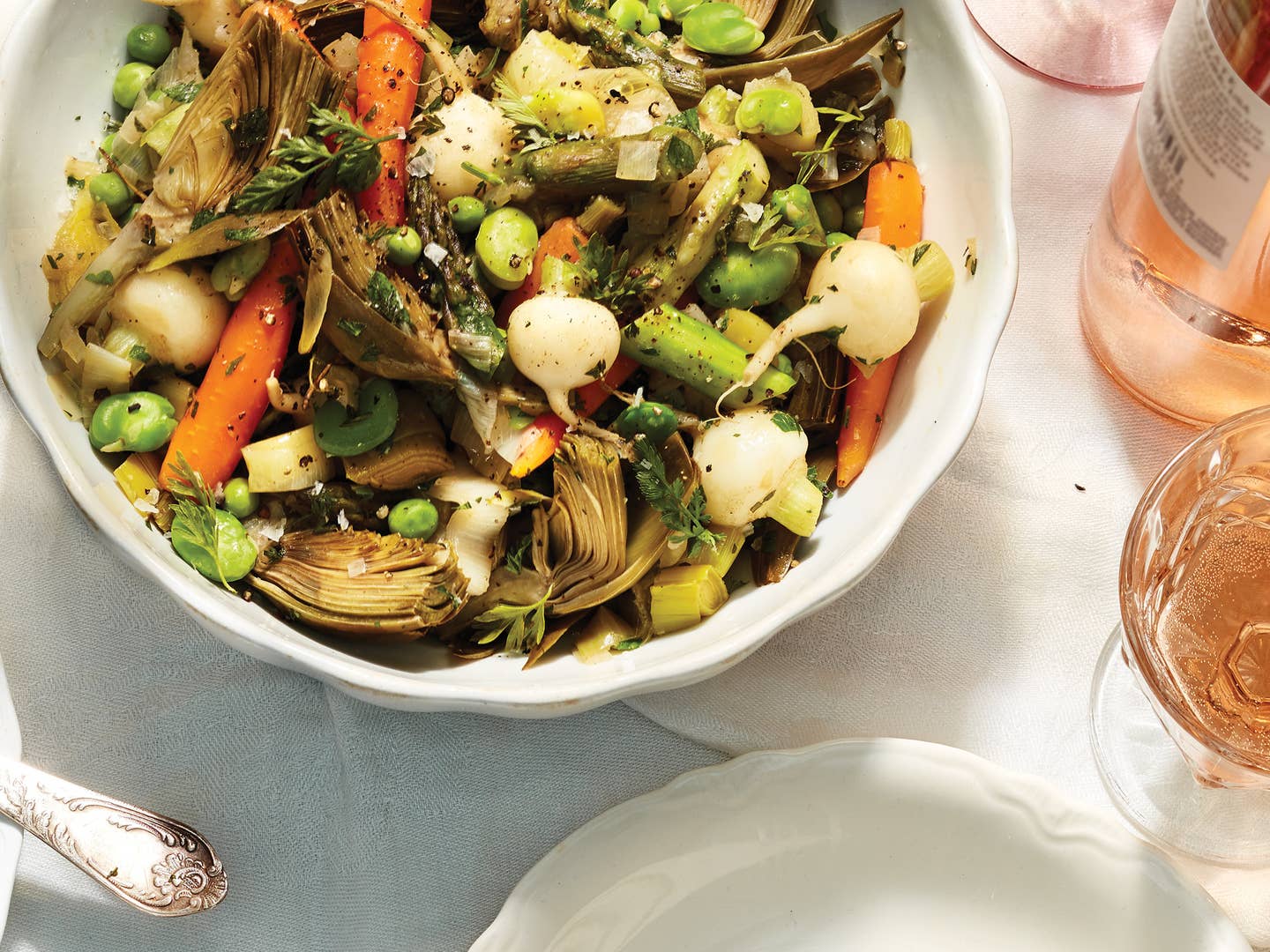 Any gently simmered mixture of vegetables is truly greater than the sum of its parts. It's important to cut the ingredients to the proper size and cook them sequentially, starting with the ones that need longer cooking. For the best flavor, err on the well-cooked side—the vegetables should not be al dente. This stew is made with tender spring vegetables, but you can substitute others throughout the growing season.
Ingredients
1⁄4 cup extra-virgin olive oil
1 large onion, finely diced
Kosher salt and freshly ground black pepper
12 small carrots, peeled
6 small artichokes, trimmed and cut into quarters
1 sprig thyme
2 cups vegetable broth or water
12 baby turnips, peeled and halved
2 medium leeks, in 1/2-inch slices, both white and tender green parts
1 cup blanced and peeled fava beans
1 cup shelled tender peas
12 stalks fat green asparagus, peeled, in 1-inch pieces
1⁄2 tsp. lemon zest
2 tbsp. chopped chervil
2 tbsp. chopped parsley
Instructions
Step 1
Put olive oil in a large skillet over medium-high heat. Add the onion and season generously with salt and pepper. Cook until softened but not browned, about 5 minutes. Add the carrots, artichokes, and thyme sprig. Season lightly and stir to coat. Reduce heat to medium, add 1 cup broth, cover and let simmer for 6 to 8 minutes, until the artichokes and carrots are cooked but still a bit firm. Add turnips, leeks, and broth as necessary, and continue to cook, covered, until turnips are tender, 5 to 7 minutes. Taste broth to be sure it is well seasoned. You may cook the stew in advance up to this point, if desired.
Step 2
To finish, add fava beans, peas, and asparagus. Cook, covered until asparagus is just done, about 4 to 5 minutes. Remove cover, raise heat and reduce cooking liquid quickly by half, about 4 minutes. Stir in the lemon zest and transfer stew to a serving dish. Sprinkle with chervil and parsley.