Recipes
Casamento's Fried Oyster Loaf Sandwich
Serves

serves 4

Cook

40 minutes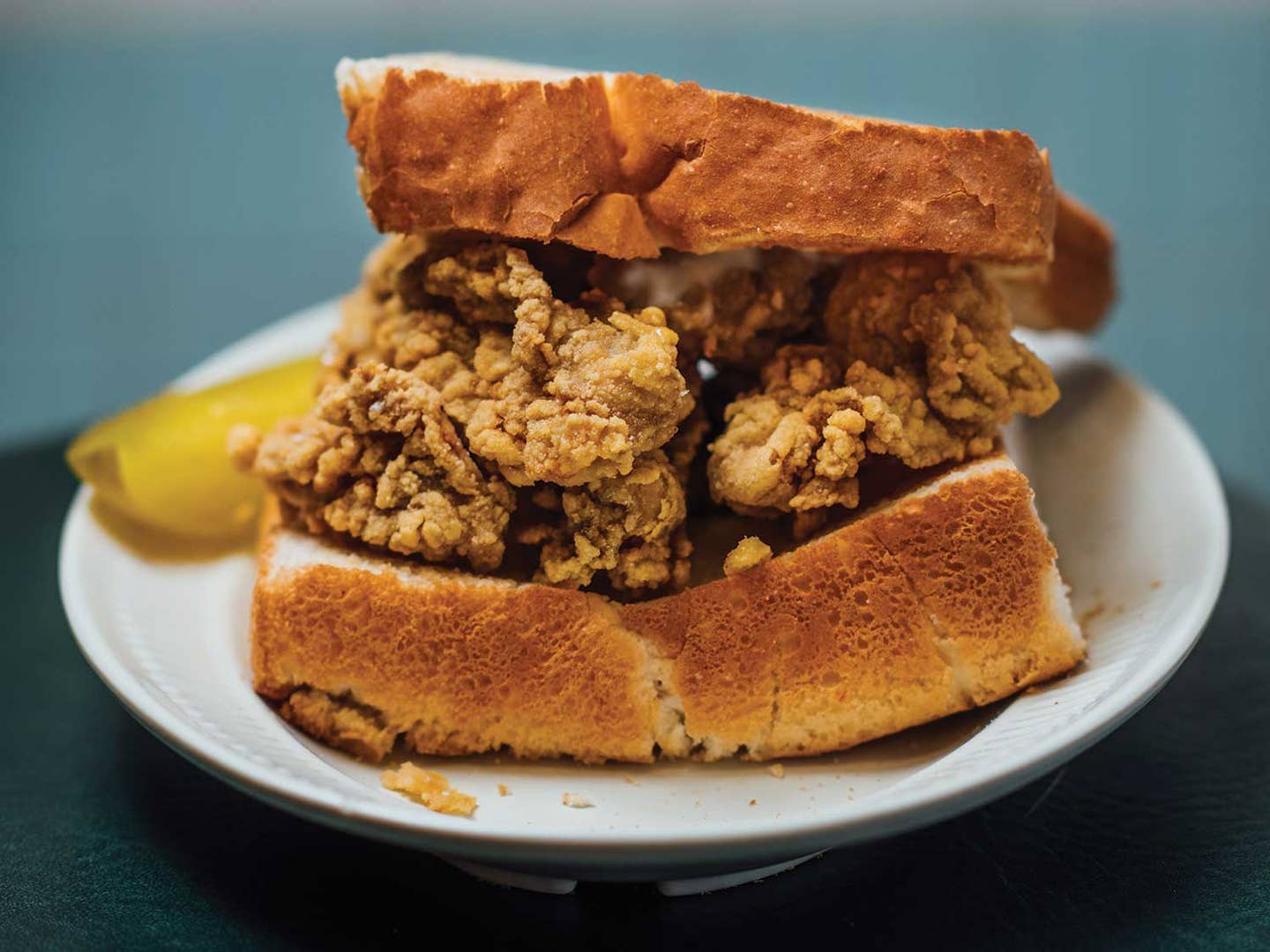 Purists eat this signature sandwich—overflowing with fried oysters—with nothing more than butter, hot sauce, a squeeze of lemon, and a cocktail sauce prepared at the table. This dressed version includes mayonnaise, lettuce, and tomato.
Ingredients
2 tbsp. plus 1 1/2 tsp. ketchup
1 tbsp. prepared horseradish
1⁄2 tsp. fresh lemon juice, plus lemon wedges for serving
2 tbsp. kosher salt, plus more as needed
Hot sauce
2 tbsp. (1 oz.) unsalted butter, at room temperature
8 thick slices soft white bread
Lard or vegetable oil, for frying
2 cups fine corn flour
40 large oysters, shucked (not rinsed)
1⁄4 cup mayonnaise
4 large tomato slices
4 large iceberg lettuce leaves
Dill pickle spears, for serving
Instructions
Step 1
In a small bowl, whisk the ketchup, horseradish, and lemon juice. Season with kosher salt and a few dashes of hot sauce. Set aside.
Step 2
Preheat the broiler. Meanwhile, on a large baking sheet, lightly butter the bread slices on both sides.
Step 3
Fry the oysters: Line a baking sheet or platter with paper towels and set it by the stove. In a large, heavy-bottomed pot fitted with a deep-fry thermometer, add enough melted lard or oil to reach 4 inches up the sides of the pot. Begin preheating over medium-high heat.
Step 4
While the oil is preheating, prepare the first batch of oysters: In a shallow bowl, whisk the corn flour and 2 tablespoons of salt. Work with 10 oysters at a time: Dredge them in the flour mixture, pressing it onto the oysters to cover, then shake gently to remove any excess. When the oil reaches 350°F, add the prepared oysters in batches, and cook, stirring occasionally with a spider strainer or slotted metal spoon, until golden brown, about 2 minutes. Transfer the oysters to the baking sheet as you continue cooking the remaining oysters.
Step 5
While the last few batches of oysters are frying, broil the bread, turning once, until golden on both sides, about 1–5 minutes per side.
Step 6
Spread 4 of the toast slices with a tablespoon of the prepared sauce. Spread each of the remaining 4 slices with a tablespoon of mayonnaise. Place 10 oysters on each of the sauce-topped toasts, then add a slice of tomato, a few leaves of lettuce, and the remaining toasts. Serve with pickle spears, lemon quarters, and hot sauce, if desired.