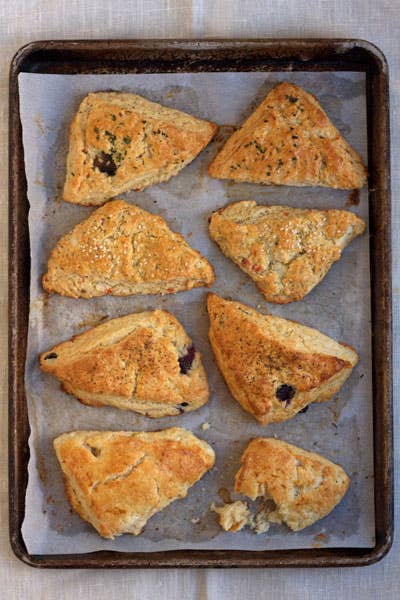 Teatime isn't complete without scones, cookies, pies, or other treats; here are 10 of our favorite recipes—both sweet and savory—to pair with an afternoon cuppa.
Decadent Trifle
Drenched in sherry and kirsch, our version of a trifle features layer upon layer of ginger cake, custard, berries, chocolate, and cream. It's a showstopper. Frozen lingonberries can be used if fresh cannot be found. See the recipe for Decadent Trifle »
These pillowy scones are the ideal accompaniment to tea and are delicious with butter, preserves, and clotted cream.
Savory Scones
A hybrid between traditional sweet scones and salty, buttery biscuits, this all-purpose dough is ideal for all sorts of savory fillings. See the recipe for Savory Scones »
A recipe in The Herbfarm Cookbook (Scribner, 2000) for lavender shortbread inspired this version of the classic cookie.
"The light, delicate fragility of this shortcake sets it apart from the dense and more traditional shortbread that figures large in Scottish cookery," says chef Jeremy Lee. "It makes a mockery of the idea that Scottish cookery is heavy and stodgy."
Plum Pudding
A plum, says Webster's, is "a raisin when used in desserts;" traditional English plum pudding hasn't had real plums in it for generations. See the recipe for Plum Pudding »