Stilton and Bacon Cheesecakes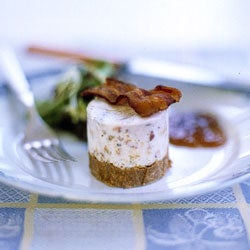 The recipe for these savory cheesecakes came from Linda Ellerbee's book Take Big Bites (Putnam, 2005); she adapted it from a recipe given to her by the chef at the George Hotel in Wallingford, England.
Stilton and Bacon Cheesecakes
Smoky bacon combined with rich, pungent stilton makes these cheesecakes extraordinary.
For the Crusts
4 tbsp. butter
1 cup finely crushed digestive biscuits or graham crackers
For the Filling
6 strips bacon, finely diced
8 oz. cream cheese, softened
4 oz. stilton, softened
½ cups shelled walnuts, finely chopped (optional)
2 strips cooked bacon, broken into thirds
2 cups mixed young lettuce leaves
¾ cups fruit chutney (optional)
Instructions
For the crusts: Grease six 2″ × 2″ ring molds with 1 tbsp. of the butter; set molds on a cookie sheet. Melt remaining 3 tbsp. butter and transfer to a small bowl. Add biscuit crumbs and mix well. Put equal amounts of the crumb mixture into prepared molds, firmly pressing on crumbs to form an even crust at base of molds. Chill crusts in the refrigerator for 1 hour.
For the filling: Cook bacon in a large skillet over medium heat until crisp, about 10 minutes. Drain bacon on paper towels, saving rendered bacon grease for another use. Using a fork, mix cheeses together in a medium bowl. Add bacon and walnuts (if using) and stir well. Pack equal amounts of the filling into molds, smoothing tops with the back of a small warm metal spoon. Cover cheesecakes with plastic wrap and chill in the refrigerator for at least 3 hours and up to overnight.
Run a small knife around inside of molds and slide cheesecakes onto six plates, crust side down. Serve cheesecakes at room temperature, garnished with a piece of bacon, with lettuces and chutney (if using) on the side.