Everything You Need to Throw a Georgian Supra Right In Your Kitchen
It's time to bust out the drinking horns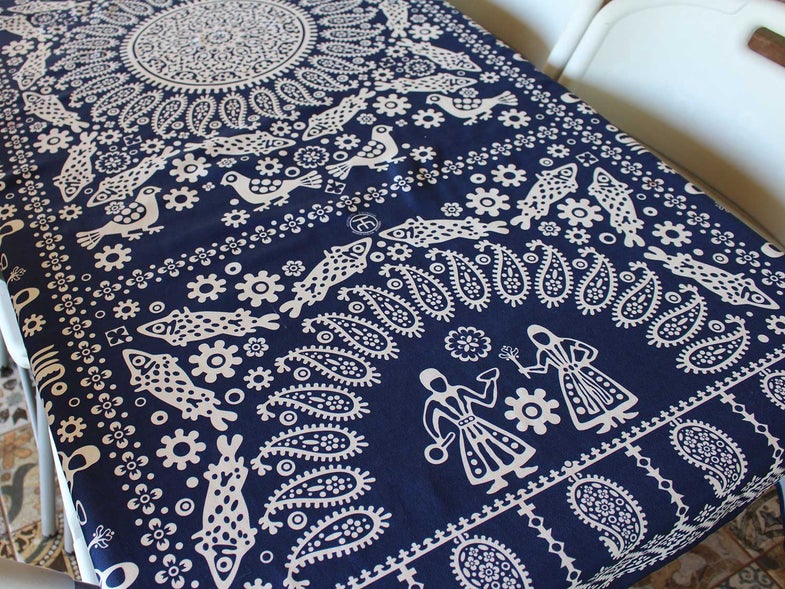 2018 may go down in history as the year we hit peak Georgia. The tiny Caucasus nation is topping all the travel hotlists, bottling some of the world's trendiest wines, and clogging our Insta feeds with gooey khachapuri and steaming soup dumplings. Three Georgian cookbooks came out in the last year—Kaukasis, Supra, and Tasting Georgia (our favorite)—and Georgian restaurants are popping up across the country from Portland to Washington, D.C., where Supra is bagging rhapsodic reviews left and right and Maydan is luring in the likes of Michelle Obama.
Translation: There's no better time to throw a supra—a traditional Georgian banquet distinguished by heartfelt toasts, gallons of wine, and an endless array of colorful, palate-bending dishes like pkhali, pomegranate-bejeweled vegetable spreads; lobiani, smoky bean-filled flatbreads; and chakapuli, tender lamb braised with puckery green plums and handfuls of tarragon.
Enshrined in UNESCO's 2017 Intangible Cultural Heritage list, the millennia-old supra ritual not only withstood the Russian (and later Soviet) culture war waged on Georgians; it helped to subvert it. As German anthropologist Florian Muehlfried writes, "Since the Russians, unlike former invaders, shared the same religion as the Georgians […] the 'self-othering' of the Georgian nation had to be based on something else: folk culture," at the heart of which was the supra, "a manifestation of 'Georgian' hospitality based on a distinct way of eating, drinking, and feasting." Dogged, up-yours feasting in the face of fraught politics—now that's a coping strategy we can get behind.
Contrary to the all-too-common narrative that the supra must be a codified ceremony with ordered toasts led by an appointed tamada (toastmaster), it can be whatever you want it to be, as long as there's good conversation, genuine toasts to family and friends, and bountiful food and wine. A supra can last for hours, so let it. However you decide to plan your Georgian feast, set the mood for a long night in and score bonus host(ess)-with-the-mostess points by seeking out these eye-catching design essentials.
Supra means "tablecloth" in Georgian, which is ironic since you can hardly see beneath the clutter of plates, bowls, and goblets at the traditional banquet that shares its name. Nevertheless, setting out a tablecloth is essential to the supra, as it honors the guest and signifies a special occasion. The design of Georgia's signature tablecloth—with its blue-and-white color palette, geometric patterns, and zoomorphic motifs—is three centuries old and recognized as a "material monument" by UNESCO. The original, dyed with indigo, was a requisite at banquets held by Kakhetian king Alexander II. If you find yourself in Tbilisi, seek out the handcrafted mail-order cloths by Nido (English assistance by phone or email: +995 322 420 842; hello@nido.ge), which are "almost impossible to stain," according to famed winemaker Iago Baratashvili, who feeds hundreds of wine tourists each month at his vineyard in Chardakhi. To our knowledge, the only spot that sells supra tablecloths stateside is—befittingly—Supra restaurant in Washington, D.C.; they're made in Georgia and come in several styles ($80-$120).
These frizzy woolen hats, donned by Georgian shepherds in highland regions like Tusheti and Khevsureti, can make anyone look like Albert Einstein with bedhead. Though the stoic mountain men of the Caucasus may beg to differ, papakhas make hilarious and highly Instagrammable party favors, especially after everyone's had a few glasses of wine.
Ketsis are unglazed terracotta bakeware that come in various shapes and sizes. Lobio, stewed red beans fragrant with khmeli suneli and fresh herbs, are often served in bulbous crocks with dainty clay lids, while shkmeruli, a garlicky fried chicken dish native to the mountain region of Racha, always arrives crisp and sizzling in a wide-mouthed ketsi. Spanish or Portuguese cazuelas are a fine stand-in, but for real-deal Georgian ketsis, you'll want to haggle at the roadside stands in and around Makatubani, an Imeretian village halfway between Tbilisi and the Black Sea known for its fine clay.
The wild mountain region of Tusheti, which shares a border with Chechnya, is known for its sky-high villages, ancient shepherding tradition, and intricate handmade textiles. Patterned rugs, often woven from naturally dyed wool, are captivating, one-of-a-kind souvenirs. See how they're manufactured in Kvemo Alvani village at master rugmaker Lili Murtazashvili's century-old house (by phone appointment only: +995 555 912 145), which doubles as a studio and museum, and ask to stay for lunch in the family's wine cellar. Murtazashvili's rugs, which can take months to make, have graced exhibitions as far afield as London and Strasbourg and can fetch thousands of dollars, but there are steals to be found at Caucasian and Oriental Carpets Gallery in Tbilisi. Insider tip: Offer half of whatever price you're quoted.
Long before the advent of wine glasses—wine has been made in Georgia for some 8,000 years—horns known as kantsi were the preferred drinking vessel. Today many Georgians preserve this ancient ritual by passing wine-filled kantsi at the supra table. Forget swirling and sipping: If someone passes you a drinking horn, tradition dictates that you must empty whatever's inside in one go. You can find all kinds of kantsi—from two-gulp shooters to arm's-length behemoths to bedazzled eyesores—at Tbilisi's Dry Bridge flea market.
The root word of megobari, or "friend" in Georgian, is gobi, a type of large wooden bowl used for communal dining. "I love the sentiment behind the gobi bowl," said Sean Fredericks, owner of Portland's recently opened Kargi Gogo Georgian Kitchen. "By sharing the food inside, we become friends. It's a lovely idea that captures the genuine sense of hospitality that is fundamental to Georgian culture." Hand-carved gobis grace country tables across the country, and there's a particularly impressive collection of them on display at the Oni Local Museum in Racha. Chef Meriko Gubeladze ushered the gobi into the 21st century at Shavi Lomi, one of Tbilisi's top restaurants, with gobis brimming with a technicolor array of Georgian mezzes such as minted cottage cheese, pickled jonjoli (bladdernut flowers), and vegetable-and-walnut pâtés. When it comes to your supra, any big wooden bowl will do, but for a truly standout centerpiece, consider investing in a hand-turned bowl by Massachusetts craftsman Spencer Peterman.
Georgian cooks reach for dried French marigold (Tagetes patula) when they want to imbue soups, stews, and slow-simmered legumes with a golden hue and subtle earthiness. Though marigold is often sold in powdered form under the misnomer "Georgian saffron," keep your eye out for garlands of the dried blossoms at traditional markets like Tbilisi's Dezerter Bazaar. "We use them to decorate our kitchens alongside strings of dried peppers and garlic," said Culinary Backstreets guide Paul Rimple, who leads tours through the market.