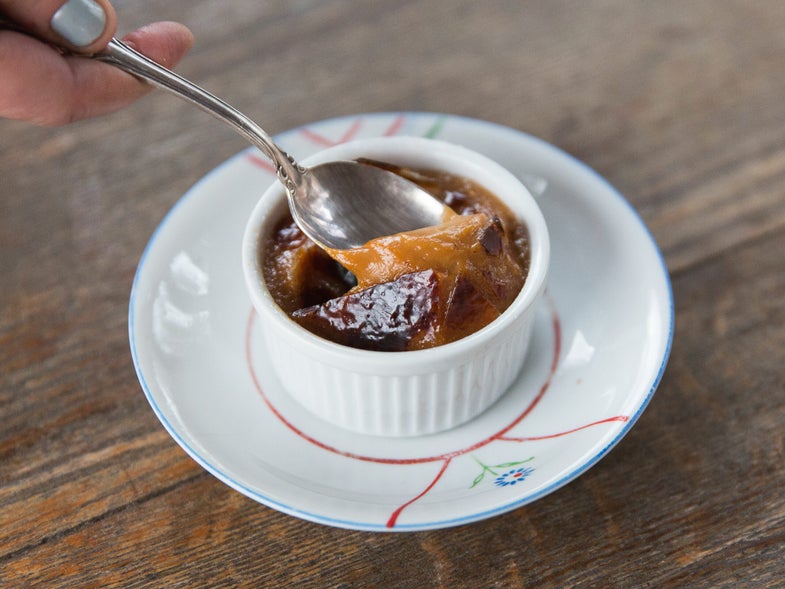 Amy Thielen's version of crème brûlée involves gjetost, a traditional Norwegian cheese with a fudgy texture and caramelized flavor. She pours the cream over a red currant compote, then brûlées the top. Break that crunchy layer with a spoon and dig into the gooey, fudgey cream.
Featured in: The Dessert to Make With the Cheese That Tastes Like Fudge
Gjetost Crème Brûlée
A sweet and savory dessert with a caramel edge and surprise bite of jam.
Time: 2 hours
Ingredients
2 tbsp. red currant compote
1 cup milk
1 1⁄2 tbsp. cornstarch
2 tbsp. unsalted butter
1 cup heavy cream
1⁄3 cup light brown sugar, plus 1 Tbsp.
2 1⁄2 cups shredded gjetost (about 8.8 oz.)
1 tsp. vanilla extract
1⁄4 tsp. kosher salt
2 tbsp. granulated sugar
Instructions
Divide compote between 6 (6-oz.) ramekins.
In a small bowl, mix 1⁄4 cup milk with the cornstarch and set aside.
Melt butter in a small skillet over medium-high. Continue cooking until browned and nutty, about 6 minutes, and set aside.
In a 4-qt. saucepan, combine the remaining 3⁄4 cup milk with the cream and 1⁄3 cup brown sugar over medium-high. Bring to a simmer, then add the gjetost. Whisk until melted, about 3 minutes. Add in the milk and cornstarch mixture and continue whisking until thick, about 3 minutes. Remove from heat and stir in the brown butter, vanilla, and salt.
Divide the pudding mixture between ramekins and smooth the tops. Refrigerate until cool, about 1 hour.
To serve, mix remaining 1 tablespoon brown sugar and the granulated sugar together. Divide the sugar mixture between each pudding evenly and brûlée.