Recipes
Grilled Artichokes with Espelette Mayo
Serves

serves 4-8

Cook

1 hour 15 minutes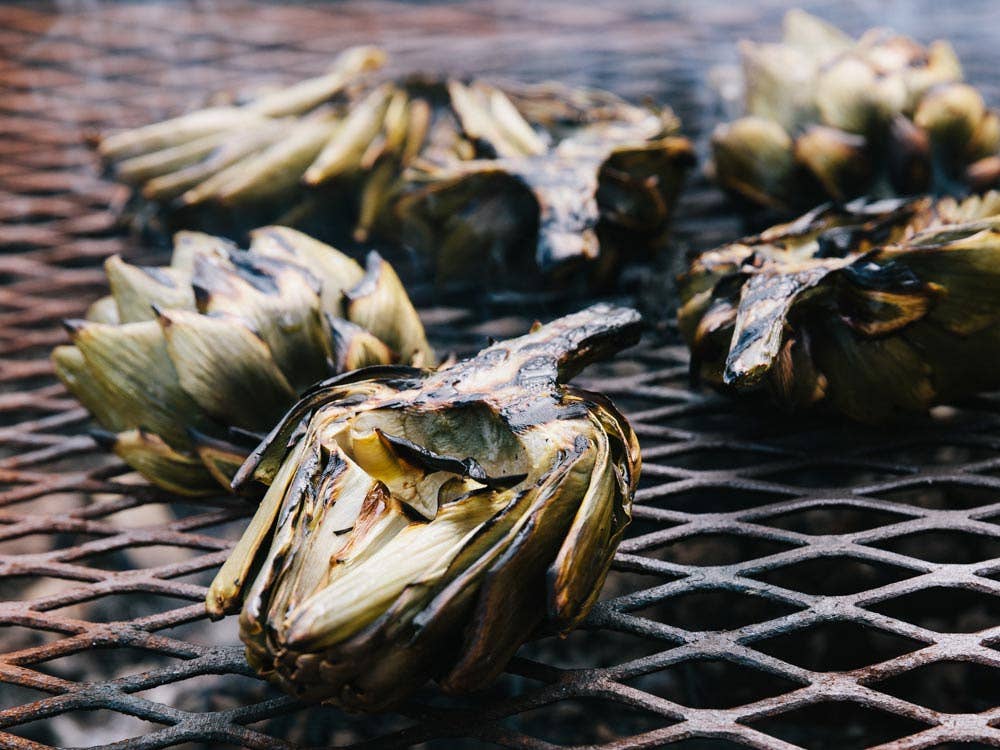 This is a recipe you should double or even triple. Trust us. Most of the preparation is done in advance, leaving just a brief sear over high heat to finish—perfect for while you're waiting for the fire to die down. Recipe adapted from Ox's Around the Fire.
Ingredients
1 cup mayonnaise, homemade or store-bought
1 tbsp. ground espelette pepper
1 tsp. fresh lemon juice
1⁄4 garlic powder
4 garlic cloves
1 lemon, scrubbed and halved
4 large artichokes
cups Kosher salt and freshly ground black pepper
1⁄2 extra-virgin olive oil, divided, plus 2 additional Tbsp. for oiling the grill
Edible flowers for garnish (optional)
Instructions
Step 1
Make the espelette mayonnaise: In a small bowl, whisk together the mayonnaise, espelette pepper, lemon juice, and garlic powder. Season to taste with salt and chill until ready to serve.
Step 2
To cook the artichokes, bring a large pot of salted water to a boil. Add the garlic cloves. Squeeze the lemon into the pot and drop in the halves. Add the artichokes, bring the water back to a simmer, cover, and cook until the bases of their stems feel tender when poked with a knife (20–25 minutes). Drain and transfer them to a cutting board to cool. This can be done up to two days in advance; store the artichokes, wrapped, in the refrigerator.
Step 3
To finish the artichokes, cut them in half lengthwise, and then scoop out the choke and some of the soft inner leaves from around each heart. Liberally season the remaining parts with salt and pepper and drizzle with 1⁄4 cup of olive oil.
Step 4
Prepare a grill to high heat (about 550°) and oil the grates with 2 tablespoons of olive oil. Transfer the artichokes to the grill flat side up and cook, uncovered, until browned and lightly charred on one side (about 5 minutes). Flip and continue to cook until grill marks appear, about 4–6 minutes more. Remove the artichokes from the grill, drizzle with the remaining 1⁄4 cup of oil, and season with more salt and pepper to taste. Garnish with edible flowers and serve with espelette mayo for dipping.