Recipes
Grilled Lamb Chops and Squash with Herb Salad and Sunchokes
Serves

serves 6 as a starter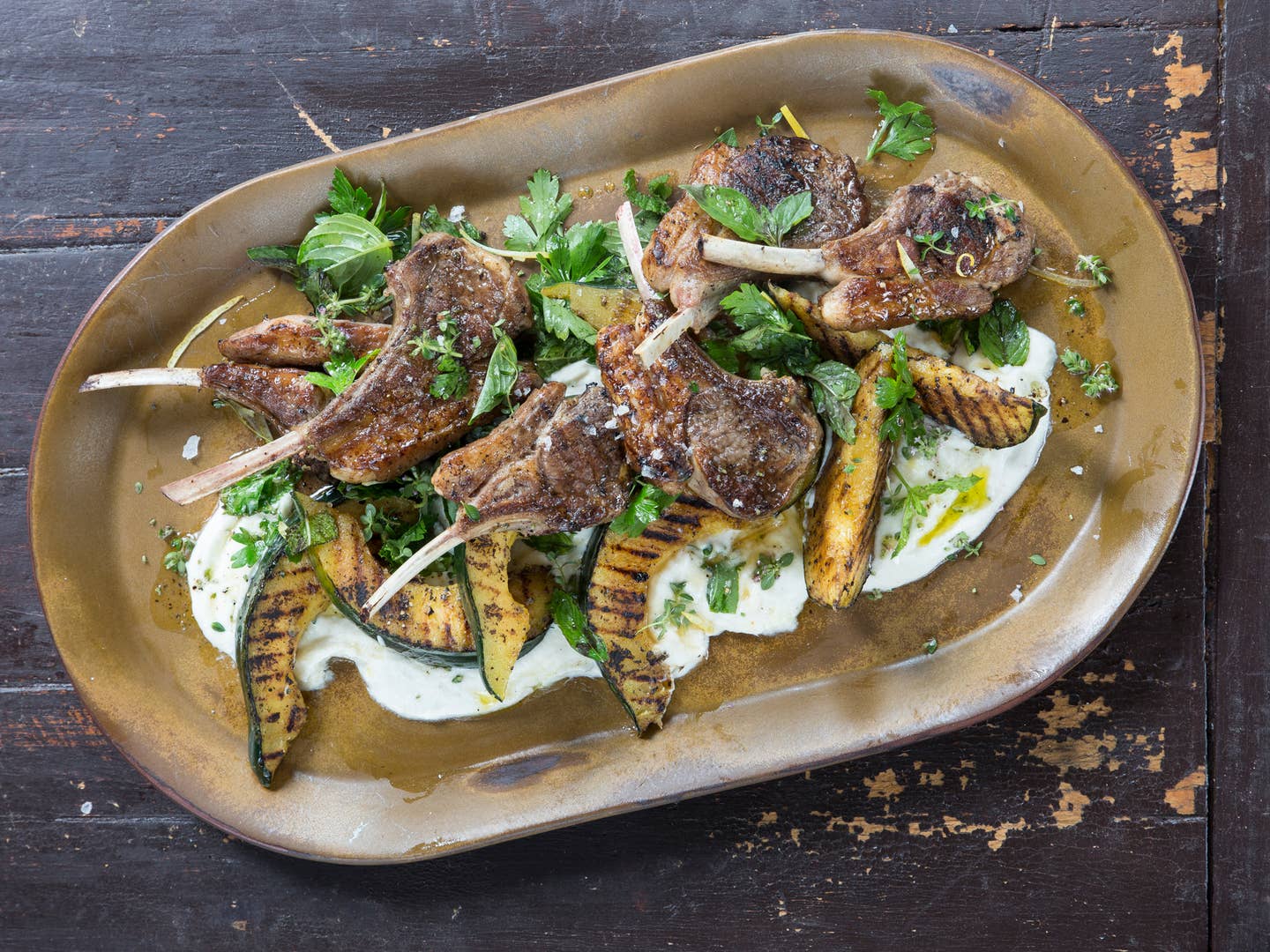 Blanching the squash pieces in this dish, adapted from a recipe by chef Dan Moss of Terroir Auburn in Clare Valley, Australia, helps to tenderize their skins and flesh so they're not undercooked when the outside is grilled to perfection. A creamy sunchoke purée and tart herb salad round out the grilled squash and lamb chops.
Ingredients
1 lb. sunchokes, scrubbed clean
1 cup heavy cream
Kosher salt and freshly ground black pepper
Freshly ground white pepper
1 acorn squash, halved lengthwise, seeds removed, and flesh cut into 12 wedges
5 tbsp. olive oil
6 lamb forequarter chops, cut 1-inch thick
1⁄2 lemon
1⁄4 cup torn basil leaves
1⁄4 cup torn mint leaves
1⁄2 cup torn flat-leaf parsley leaves
6 sprigs lemon thyme, stems removed
Instructions
Step 1
In a medium saucepan, cover the sunchokes with cold water by 3 inches and bring to a boil. Cook the sunchokes until tender, about 10 minutes. Drain the sunchokes and transfer to a blender. Add the cream, season with salt and white pepper, and purée until smooth. Spoon the sunchoke purée onto a platter.
Step 2
In a medium saucepan of boiling, salted water, add the squash and cook until just tender, about 4 minutes. Drain and transfer the squash to paper towels to cool and dry thoroughly. In a small bowl, toss the cooled squash with 2 tablespoons of the olive oil.
Step 3
Light a grill or heat a cast-iron grill pan over high. Add the squash and cook, turning once, until lightly charred and cooked through, about 6 minutes. Transfer the squash to a plate and keep warm. Season the lamb chops with salt and black pepper, brush with 2 tablespoons olive oil, and then grill, turning once, until cooked to medium-rare, about 5 minutes. Arrange the lamb chops and squash over the sunchoke purée.
Step 4
Using a vegetable peeler, peel and julienne the lemon's zest and juice the lemon. In a small bowl, whisk the juice with the remaining 1 tablespoon olive oil, and then add the zest along with the basil, mint, parsley, and thyme and toss until evenly coated in the dressing. Season with salt and pepper, and then sprinkle the herbs and zest over the lamb and squash just before serving.