Australia: The Wine Destination of the Year
Once exclusively overripe and robust, Aussie wines have mellowed into middle age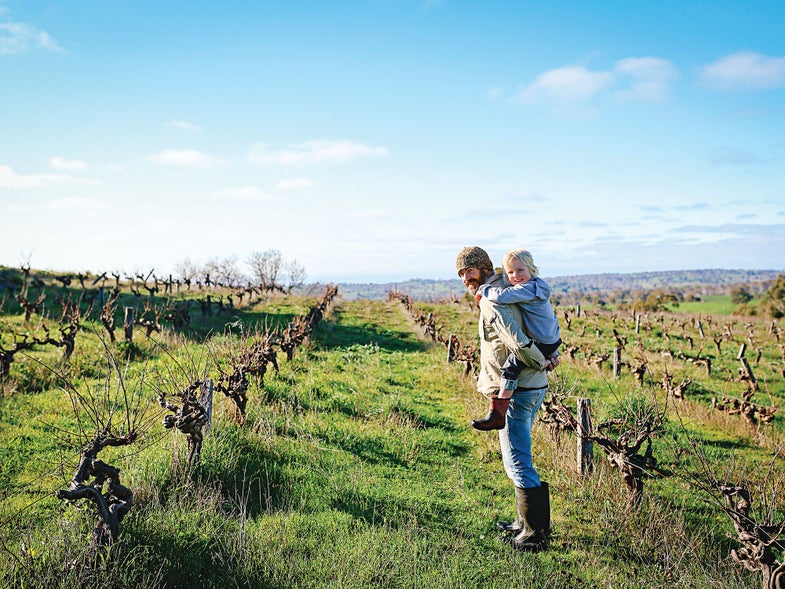 Good Taste Award Winner 2015: Australia, The Wine Destination of the Year
Was he wrong? Had time passed him by? These were things Charlie Melton needed to know.
It was 1997. For more than a decade, Melton had been making fragrant, intricate shirazes and old-vine grenaches in Australia's Barossa Valley. The Charles Melton Nine Popes, a New World version of Châteauneuf-du-Pape, had earned a reputation as one of the country's most coveted bottlings. But the Barossa was changing around him. Grapes were being left to ripen nearly to desiccation, creating bolder, heftier, more potent wines.
These souped-up concoctions—some as thick as syrup, delivering the high-alcohol kick of a cocktail—earned top scores from powerful American critics. They eventually came to define Australian wine the world over, leaving winemakers like Melton perplexed. What happened to drinkability? What happened to balance?
"It became a test of manliness," he said when I visited him at his unassuming wooden winery off a country lane in the Barossa. "How long could you keep the grapes on the vine? How ripe could they get?" I knew what he meant. At about the same time, one of the trendiest Barossa producers had visited me in Colorado. He'd pushed aside the wine I'd set out and placed his own, extra-heavy bottle on the table. "Try this," he'd said. "The alcohol's 17.1, but you can't tell." I could tell.
Hearing my story, Melton opened one of his last remaining bottles of 1989 Nine Popes. A quarter-century old, it was dusty like a relic. Yet its ethereal freshness reminded me far more of wines I'd had in, say, France's Rhône Valley than of those stereotypical brutes of the Barossa.
Just a few years ago, such wines were panned as insubstantial. Today, they're acclaimed by critics and coveted by consumers in Australia and beyond. More than that, they've become the model for an emerging generation of winemakers, who value freshness and fineness far more than heft. Melton doesn't gloat. He's busy trying to keep up with all the new wines he's suddenly eager to drink.
Forgive the blasphemy, Francophiles and Italy lovers, but right now Australia is the world's most interesting place for wine. And why not? It's a country that fills a continent. It has a wine region for every space on a chessboard and producers with roots in the 1800s. Because the sap-sucking phylloxera louse hasn't wreaked the same havoc in Australia as it has in Europe, vines many decades old are commonplace there. And lately, young winemakers have been experimenting with varieties well beyond Aussie stalwarts shiraz, grenache, chardonnay, and sémillon. There are pinot noirs from Mornington Peninsula as intriguing as any outside Burgundy. Winemakers in the far-western region of Margaret River are redefining Australian cabernet sauvignon. And emerging areas such as the Adelaide Hills are giving an antipodean twist to obscure French and Italian grapes from savagnin to dolcetto.
Hover over each region to find out why it's worth visiting
Australian wines today are easy to drink and exciting to contemplate. Better still, they offer a genuine local voice. Nowhere is this more evident than in the Barossa, a 650-square-mile zone an hour from the city of Adelaide. During the height of the points-chasing scramble, not even Napa was identified more with ripeness and power. Yet there are more than 30 soil types in the Barossa. The daily temperatures in the warmest and coolest spots can vary by 10 degrees. Such diverse sites shouldn't produce only shiraz in a single style.
There's still shiraz, much of it plenty ripe, in the valley. But momentum is growing for wines that resemble Melton's—and for those from other producers, such as Rockford and St Hallett, that never confused bigger with better. "We have old-vine shiraz and grenache," Melton said. "That will always be our calling card. But now we also have the wonderful balance of these young, wild guys."
On the porch of Abel Gibson's Ruggabellus winery in Eden Valley, which doubles as his family's home, a grill shares space with a washing machine. An antique stove heats the two-bedroom residence. "Our expectations are more modest than the previous generation's," he said when I visited him. "We're not expecting wine to make us rich."
His father tended vines at Penfolds, one of Australia's iconic producers, but Gibson found village life stultifying. He set out for New Zealand, Canada, Spain, Belize, Guatemala, Mexico. In each place, he tried to figure out what made it special.
Now he steps off his porch onto seven acres of dips and hills. The dirt here is ancient: It derives from rocks 700 million years old. The ridges have eroded to bumps; there's not a hard angle in sight. "The landscape I returned to was incredibly appealing," said Gibson, a self-taught enologist. "It was right there all that time, this mystical, enduring place that has been exposed to the elements for hundreds of millions of years. I just couldn't see it."
In its way, he now knows, the Barossa is as singular as anywhere he traveled. "This is an old-soul place," he said. "If you make wines that are all jam and alcohol, you're missing it." As we talked, we drank an ethereal grenache, then a mataró-based blend that tasted of iron, like blood in the mouth. His shiraz, which he calls syrah, cracked with energy. He explained his goal: "wines that make you feel good when you drink them."
I found those, too, when I visited Fraser McKinley at the garage-like space that is Sami-Odi. With vines planted before World War I from the Hoffmann Dallwitz Vineyard, he makes one or two shirazes annually in squat bottles with extended necks.
The wines were works in progress, anything but polished. They were filled with the tension that comes when intent meets reality. "I'd like to make a wine that tastes like beaujolais," he told me. "If I could do that, I'd be over the moon." There was beaujolais brightness in the 2013 Odi, but also the meatiness of the Barossa. The Baby Tui, from 2012, was named after his newborn daughter. McKinley seemed almost despondent discussing the wine. He intended it to have 12 degrees of alcohol; instead, the wine approached 15. "I don't know what happened," he said, apologetically.
The more I lingered with it, the more its name seemed appropriate. It was clumsy, like a newborn. Yet each sip brought something I can only describe as a beam of sunlight. I told McKinley I didn't know shiraz could have that. He flashed a sheepish smile. "That's the fruit," he said. "It doesn't have anything to do with me."
Like almost everything else in the Barossa, wine here is an informal pleasure. You could take a tour at Penfolds or Seppeltsfield, and you could probably spend $500 on a fancy bottle at a restaurant where they'd make you dress up for dinner. But mostly, a week among its towns and hillsides means tasty sips in unexpected settings, like at a sandwich shop with lunch or at a casual Friday gathering of winemakers you stumble across behind a local bakery.
I had Tim Smith's aromatic viognier at Home of the Brave, a tapas bar in a tin shed, where the ambience included an inflatable penguin and G-strings available for purchase. Another afternoon, I visited Artisans of Barossa. Started in 2011 by seven producers who were too small to handle visitors alone, it's a tasting room and community hangout with serious food. I stood at the bar watching ad men in button-downs nibble empanadas and lamb flatbread, hard at work at a Thursday happy hour. They seemed oblivious to whatever was in their glasses, but to me, nearly everything I tasted was a revelation. These wines were vital, energetic. Many consisted of varieties I never thought I'd find beyond European backwaters: aglianico, clairette, durif, graciano, ugni blanc, alone and in fascinating combinations.
Life existed in the Barossa for ages before anyone much cared about its wine, and that history keeps it feeling genuine, like somewhere you might drive to from Adelaide just for a few good meals, a spa treatment, a bit of sunshine. Then you stop in to see a winemaker—maybe Rojomoma's Bernadette Kaeding, a talented photographer who displays her works beside her steel tanks—and drink an otherworldly shiraz that tastes like blackberries. And you realize you are in the midst of one of the world's foremost wine areas.
The Louise in Marananga is a Relais & Châteaux hotel. Among its attractive offerings—infinity pool, outdoor showers, boules court—is a hefty wine list at its restaurant called, tellingly, Appellation. One afternoon I lost myself to its 50-odd pages. It's one of the few wine lists I'd ever describe as playful. Each time I came across a selection of five or six wines from a renowned producer, it would invariably be countered by something quirky and unexpected from Tasmania or Great Western or Margaret River. The cumulative effect managed to be both comic and dramatic, like a John Irving novel.
I found an equally interesting list at, of all places, a Vietnamese-inflected restaurant with the groan-inducing name of fermentAsian. With a glance, I spotted Georgian rkatsiteli, riesling from the fabled Austrian producer Nikolaihof, and page after page of Australian wines I longed to try. I drank a few with the winemaker Marco Cirillo while eating dishes I'd never seen, such as thit lon cuon la lot—betel leaves with spicy caramelized pork. The spring rolls, served with herbs, rendered previous versions I'd eaten comparatively dull and forgettable.
Later, Cirillo drove me to the Tanunda Kegel Club. The Barossa was settled by Prussians in the 1840s and its Germanic heritage still manifests itself in locally made mettwurst and busy konditoreien (cafés). But kegel, the bowling game, is surely the oddest remnant. It was introduced to South Australia by early settlers and was on the verge of extinction there—and, as far as anyone knows, everywhere—until a group of young wine professionals decided it made a fine way to spend a Thursday night.
The fee to play was $10 and a bottle. The money went toward upkeep of the facility, which consisted of a paneled room with seats for spectators, an office, and the alley. The wine lubricated the proceedings. When we arrived, they were winding down. Among the players were Adam McLean of Rockford Wines, whose father had been the guiding spirit behind St Hallett. I saw far more bottles than people there to consume them. That's typical in the Barossa. "You grab a few from the cellar and bring them along," Cirillo explained. "It's not a long conversation about wine. It's 'This is really good.'"
We talked and sipped. I heaved some balls. Soon it was nearly midnight. The cumulative effect of all that wine had me longing for my bed at The Louise. Still, I was conflicted: This was life in the Barossa, genuine and unadorned, and I had no idea when I'd be back. Finally we headed out and I turned to wave a last goodbye. There was McLean, backlit in the doorway, twisting the cap off yet another bottle, ready to pour.
The Barossa is famous anywhere wine is consumed, but most of Australia's grape-growing regions lie somewhere on the spectrum between underrated and utterly unknown. For a certain type of thirsty, curious enthusiast, they're wine's next frontier.
The Clare Valley sits an hour north of Tanunda, yet it feels surprisingly remote. The end of my Barossa visit coincided with the Clare's annual Gourmet Weekend, an oversized county fair with world-class wine. It seemed like an ideal opportunity to experience the backside of the revolution.
When I arrived, the valley smelled like autumn in New England—crisp, with woodsmoke in the air. I ate oysters on the lawn at Pikes, then barrel-tasted its rieslings, sharp and gummy. I visited Colin McBryde of Adelina, who poured wines made from obscure Italian varieties. Then I went to see Kerri Thompson.
In her early 40s, Thompson straddles Australian wine's generational divide. Nine years after starting Wines by KT, she produces rieslings that compete with the country's best, but she makes so few bottles, they're almost impossible to get in Adelaide, let alone America. "We don't have the cachet of the Barossa," she explained when I found her at a community lawn-bowls club in Watervale, pouring for festival-goers. "There's far less capital investment, far less tourism." I wasn't sure if that was an admission or a boast.
Terroir Auburn, the Clare's best restaurant, was catering from the patio. I spent $10 on chimichurri-spiced octopus with green lentils and smoked kale. Thompson gave me her rieslings. Three were dry, two were sweet, and each showed more zing and lemon-meringue juiciness than the one before. Next came a cabernet from the Churinga Vineyard with a brick-wall structure, like a sangiovese, coupled with the same racing energy of her rieslings.
I had one chunk of spicy octopus left, so I ate it with a big sip. It was a pairing as unconventional as some of the wines I'd been drinking all week. I wouldn't have thought to recommend it. It happened to be delicious.
Read more about up-and-coming wine region Mornington Peninsula »
Aussie Wines to Drink Right Now…
White
Wines By KT Churinga Vineyard Riesling 2014 CLARE VALLEY A riesling on the level of the best from Germany or Austria. From 60-year-old vines, it shows peach, grapefruit, granite, and an intrigue that will compound with age. Average $22 at winesearcher.com
Tahbilk 1927 Marsanne 2006 GOULBURN VALLEY Tahbilk has been around for 90 years, yet its top-shelf Marsanne might be mistaken for a hipster bottling. Made from grapes grown on perhaps the oldest Marsanne vines in the world. Average $25 at winesearcher.com
Frankland Estate Smith Cullam Riesling 2012 GREAT SOUTHERN Off-dry rieslings are easy to denigrate, until you try one that tastes like key lime pie with an electric current running through it—and pairs with everything from duck confit to halibut. Average $66 at winesearcher.com
BK Wines Swaby Chardonnay 2013 ADELAIDE HILLS At the second or third sip you'd swear this was French—but too creamy for Chablis, too racy for the Côte d'Or. A New World wine with European grace. Average $39 at winesearcher.com
Giaconda Estate Vineyard Chardonnay 2012 BEECHWORTH It smells like burnt matches, and then peaches and smoke, and then walnuts. Like no other chardonnay in the world. Average $105 at winesearcher.com
Red
Ruggabellus Efferus 2012 BAROSSA This wine is marginally civilized. A blend of three-quarters mataró with syrah and grenache, it tastes like a T-bone steak with a blackberry glaze. Average $37 at winesearcher.com
Jamsheed Seville Syrah 2012 YARRA VALLEY For anyone seeking a pure manifestation of the syrah or shiraz grape, Gary Mills' efforts are a revelation. Average $48 at winesearcher.com
Ochota Barrels The Fugazi Vineyard Grenache 2013 MCLAREN VALE There's no jam here, just high-toned fruit and crisp acidity. If one bottling from the emerging generation of Australian garage-winemakers is an archetype, this might be it. $58 at winesearcher.com
Jasper Hill Georgia's Paddock Shiraz 2010 HEATHCOTE Few shirazes can pull off robust tannin, sour cherry flavors, Old World earthiness, and modest (14 percent) alcohol like this one. *Average $61 at winesearcher.com
Mount Langi Ghiran Langi Shiraz 2013 GRAMPIANS From the no-man's-land of western Victoria, it manages to be both plush and weightless in the mouth, full of herbal autumnal notes, yet sweet like a ripe plum. Average $78 at winesearcher.com
…And the Recipes to Drink them With