Recipes
Grilled Pork Belly with Buttered Corn and Sour-Sweet Cherry-Jalapeño Relish
Serves

serves 4

Cook

1 hour 15 minutes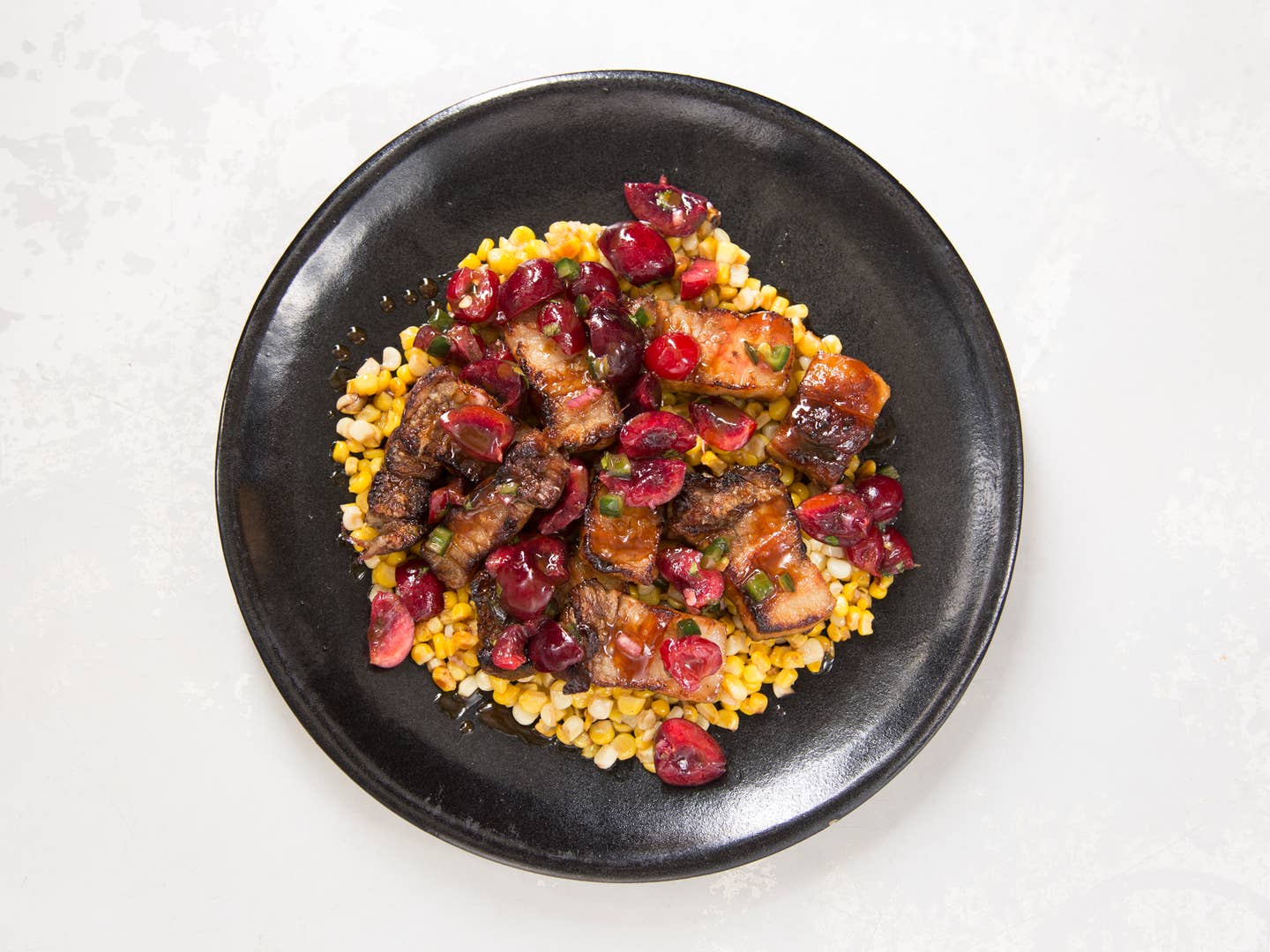 The classic combination of pork and fruit gets the ultimate summer treatment in this dish from John Karangis of Union Square Events. Made tender in an aromatic braise, pork belly gets a quick char on a hot grill before resting atop buttery sweet corn and a relish of sweet and sour cherries tossed with jalepeños and a honey-lime vinaigrette.
Ingredients
1⁄4 cup olive oil
2 (1-lb.) pork belly, skin removed
4 cups chicken stock
1 1⁄2 cups white wine
1⁄4 cup plus 2 tbsp. honey
1⁄4 cup soy sauce
1 sprig basil
1 sprig rosemary
1 sprig sage
1 sprig thyme
Kosher salt
1 1⁄2 cups bing cherries, stemmed, pitted, and quartered
1⁄2 cup sour cherries, stemmed, pitted, and halved
1 tbsp. minced chervil or flat-leaf parsley
1 tbsp. minced cilantro
1 shallot, minced
1 jalapeño, stemmed and minced
Finely grated zest and juice of 1 lime
2 tbsp. unsalted butter
1 1⁄4 cups fresh or frozen corn kernels
Instructions
Step 1
Heat the oven to 425°. In a 4-qt. saucepan, heat 2 tablespoons olive oil over medium-high. Add the pork belly pieces, fat side down, and cook until the fat renders, about 10 minutes. Remove the pork from the pan and drain all but 1 tablespoon of its fat. Return the pork to the pan and cook, turning as needed, until golden on all sides, about 10 minutes. Add the chicken stock, wine, 1⁄4 cup honey, the soy sauce, basil, rosemary, sage, and thyme, and bring to a boil. Partially cover the pan, place in the oven, and cook until tender, about 1 1⁄2 hours.
Step 2
Remove the pan from the oven, transfer the pork to a cutting board, and let cool to room temperature. Meanwhile, return the pan to the stove and bring to a simmer over medium heat. Cook the sauce until reduced to 1 cup, about 35 minutes, and then season with salt. Cut the pork belly into 1⁄2-inch slices.
Step 3
In a medium bowl, combine both cherries with the remaining 2 tablespoons honey, the chervil, cilantro, shallot, jalapeño, and lime zest and juice, and season with salt. In a 10-inch skillet, melt the butter over high heat. Add the corn kernels, and cook, stirring constantly, until tender and golden, about 3 minutes. Season with salt and keep warm until ready to serve.
Step 4
Light a grill. Arrange the pork belly slices on the grate and grill, turning, until charred on all sides, about 4 minutes. Season the pork belly with salt and then remove from grill. To serve, spread the corn on the bottom of platter and top with pork slices. Spoon the cherries onto the pork and drizzle with the sauce.