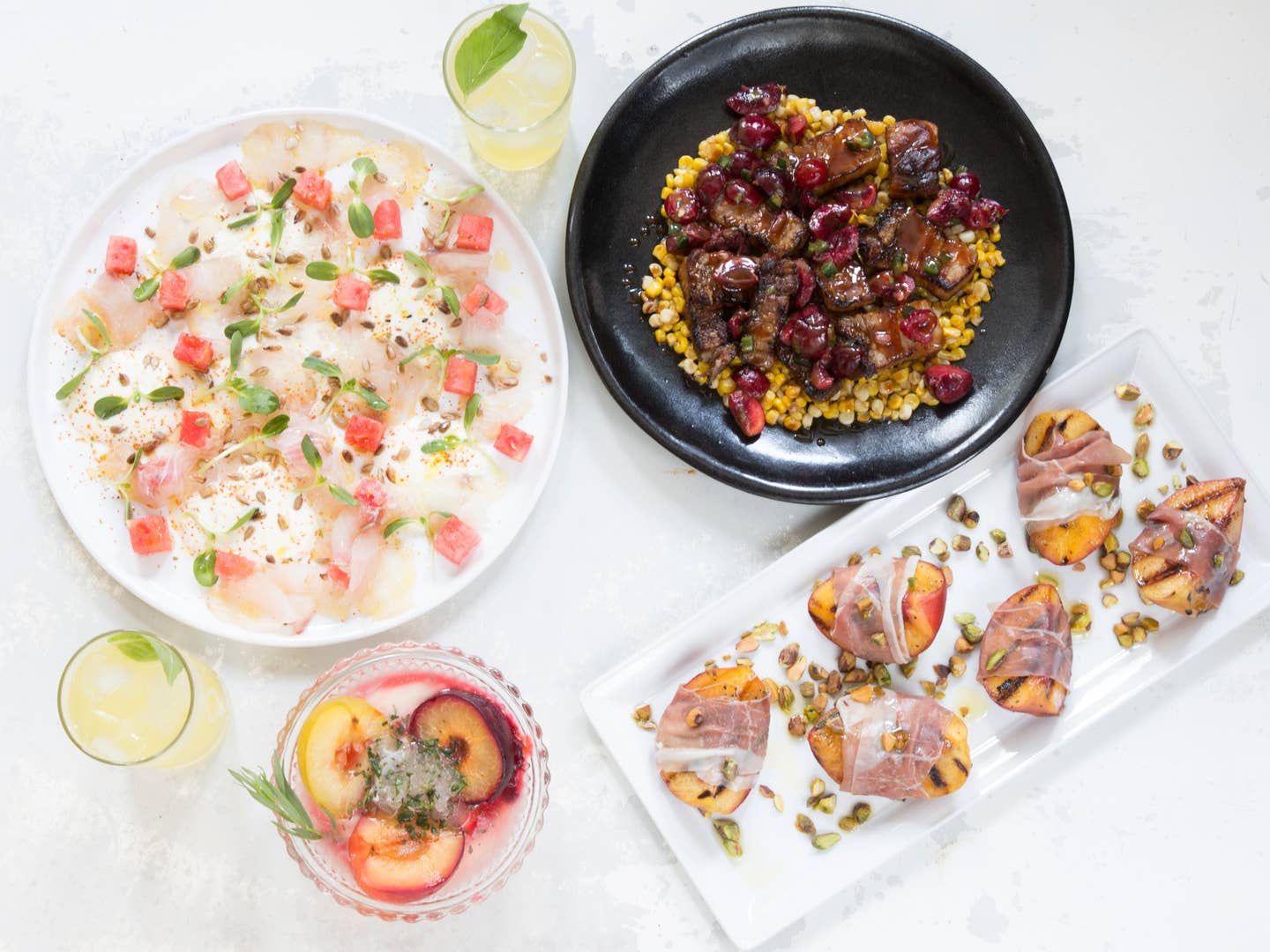 Recipes
An Elegant, Fruit-Forward Menu that Makes the Most of Summer Produce
Host an impeccable, yet stress-free, dinner party with tips from Chef John Karangis of Union Square Events
Danny Meyer, New York's legendary restaurateur and the creator of Shake Shack, is known for upholding impeccable standards at his restaurants, from Gramercy Tavern to his latest addition, Untitled. But top-notch restaurants aren't the only focus of Union Square Hospitality Group, the parent company Danny formed to shepherd his restaurants—there's also a catering and events arm, too. Chef John Karangis, executive chef of Union Square Events, leads the preparation and execution of thousands of plates nightly, supporting fundraising benefits and private events at partnering venues throughout New York City.
A peek at the Union Square Events Instagram or his own personal account will give insight into the time and collaboration it takes to create these stunning menus that must be carefully developed to please a wide variety and number of guests. A commitment to seasonality and sustainability both play a critical role for USHG; you can find Karangis regularly shopping at the Union Square Greenmarket, filling up his bags with the produce he'll use for all of his meals. He and his team work tirelessly to ensure that their menus remain approachable and recognizable. "Depending on the size and menu scope," he says, "it can take us one to several days to prepare food for an event. For example, a one hundred guest cocktail party takes 2-3 days to prepare. This consists of sourcing, prepping, and execution. A larger scale event, such as a 4,000 person seated dinner, takes several weeks to plan, with multiple tastings both internally and with the clients in addition to creating scalable recipes, logistical planning, staffing, any additional training requirements, dry runs and food and beverage prep needs."
There are plenty of tips to be gleaned from the work Karangis and his team does. Like many passionate chefs, even though he plans and produces elaborate meals night after night, he also enjoys entertaining at home for family and friends. "When I'm hosting an event, especially one that I'm cooking for, I prepare as much food in advance so I can spend as much time as possible with my guests," he says. "Of course, my goal is always to ensure the quality and presentation aren't compromised." So when we asked him to create this elegant menu for us, he shared some secret tips for the home cook that will guarantee more time mingling and less time worrying in the kitchen.
For the watermelon cocktail: You can substitute Thai basil or any of these lemony herbs for a more complex flavor profile: lemon balm, lemon verbena, lemon-thyme, or lemon-basil.

For the fluke dish: You can make everything 1-2 days prior to your party—just simply slice the fish the day of.

For the grilled peaches: This can be done in its entirety before guests arrive. Grill the peaches, cool to room temperature, and continue with the recipe; wrap it in plastic and leave at room temperature until guests arrive. Other fruits that can be grilled as substitute are watermelon, cantaloupe, nectarines, and halved citrus.

For the grilled pork belly: You can braise the pork 4-5 days in advance then cut it into slices the day of your event. You can cut the corn the day before the event. The cherry-jalapeño relish can be made in its entirety the day before as well. The day of the event would consist of sautéeing corn, heating the pork on the grill, and topping with the relish.

The entire dessert: Can be prepared 1 day in advance