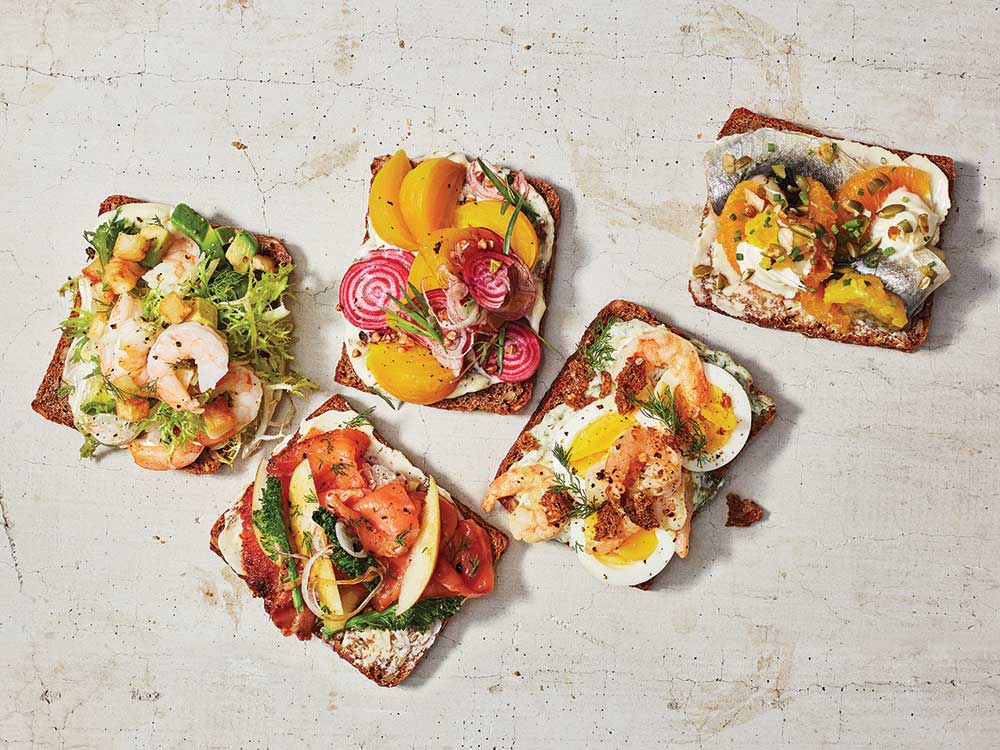 Techniques
How to Make Smørrebrød, Denmark's Contribution to the World's Great Sandwiches
A Danish guide to the precisely layered but unfussy open-face sandwich
Smørre­brød, Danish open-face sandwiches, aren't just slices of bread piled with any toppings. There are rules to them, a right way to eat them, and a whole culture of hospitality that surrounds them. The beloved national dish can be as simple as a slice of buttered bread; but rugbrød—dense and sour Danish rye—makes such a sturdy, flavorful base that hungry Danes were bound to start layering on the pickles and proteins.
But there's more to smørre­brød than just making a sandwich; as R. W. Apple, Jr. wrote, "Leave it to the Danes, those past masters of form and color, to turn sandwiches into still lifes."
Bread-eating cultures have served their dinners atop loaves of bread since time immemorial, but smørrebrød is a recent invention. The first mention of the word appeared around the turn of the 18th century, and by the late 19th century, squares of buttered dense rye topped with meat, fish, or eggs were regularly on offer in Copenhagen restaurants.
The dish was originally intended as casual pub fare, and the proper accompaniments are still Danish beer or chilled aquavit. Ida Davidsen, the grand dame of Copenhagen's smørrebrød scene, and 4th generation Copenhagen smørrebrød restauranter, told the New York Times that "'For us...smorrebrod can provide a vehicle for leftovers, the way pasta sometimes does for the Italians and crepes sometimes do for the French. You look in the refrigerator, and there's a cooked pork chop. You slice it up, sauté some onions, boil an apple with sugar and lemon, slice that, and put everything together with bread, butter and a bit of leftover gravy. A delicious lunch.''
And while the dish invites plenty of improvisation, there are still rules related to order and etiquette:
Danish-style rye bread is the most traditional base for smørrebrød. Usually fermented, it's malty and sweet with a sour tang. In other words, even a thin slice has robust flavors. However, some modern restaurants choose to show off more delicate toppings (like seafood), on slices of toasted white bread or brioche.
The bread is always primed with a thin layer of butter, goose fat, or another rich spread, which prevents the bread from getting soggy beneath juicier toppings. "In the old days, smørre­brød were basically a tsunami of meat," says Danish Chef Adam Aamann. Roasted or fried beef was classic, as was liver pâté. But even on seafood or vegetable smørrebrød—especially when the vege­tables are bitter—you always want some form of fat or richness: mayonnaise, butter, chopped avocado, or cheese (just not with fish).
3) Think Local (to Denmark)
Danes reach for small shrimp, boiled eggs, and herring (pickled or fermented)—all ingredients that are common to the region. Slotskaelderen Hos Gitte Kik, one of Copenhagen's oldest smørrebrød restaurants, offers eight different herring options. Aamann's more modern smørrebrød menu includes plenty of local produce, too. "We have beautiful fruit like plums, and the best apples," he says. He also uses beets, fennel, asparagus, and cherries when in season.
Although Aamann uses plenty of fruit in his creations—like rhubarb sauces and pork belly braised in cherries—he always goes savory. "To me, dessert smørre­brød is not really smørrebrød."
5) And Don't Forget the Cutlery
Smørrebrød are never eaten out of hand: serve and eat them with a knife and fork and always in the proper order. When sampling a variety of different toppings, pickled or smoked herring is always eaten first, followed by other seafood. Meat are to be eaten third, followed by cheese.
Two to three pieces are the typical serving size; if you prefer to sample a wider variety, cut your bread slices in half before composing petite versions.