Culture
Run, Don't Walk, for This Pasta Inspired by Jamaican Rundown
The seafood-and-coconut stew moonlights as a sublime sauce for spaghetti in this recipe from New Orleans chef Nina Compton
Serves

serves 4 to 6

Cook

2 hours 20 minutes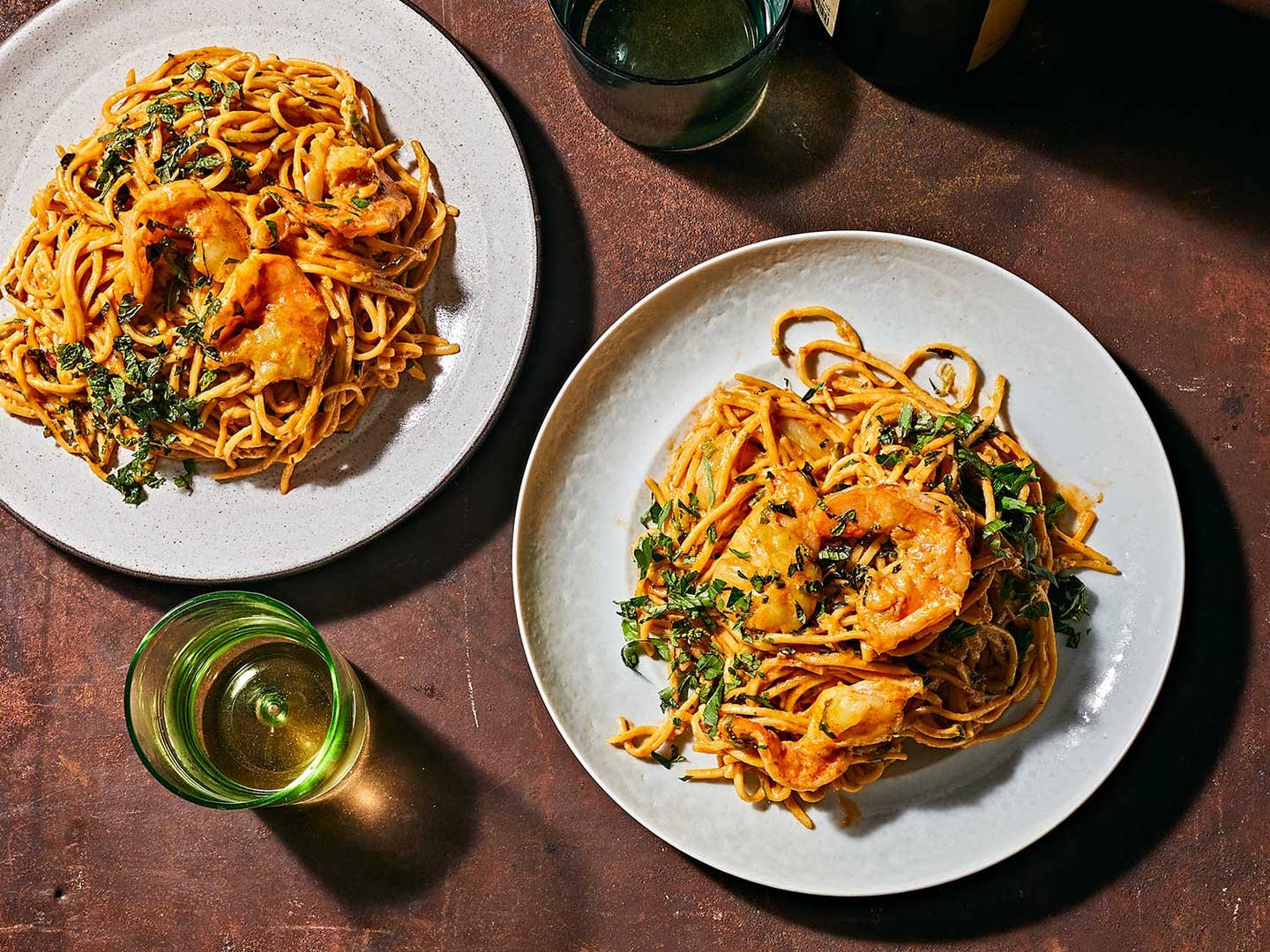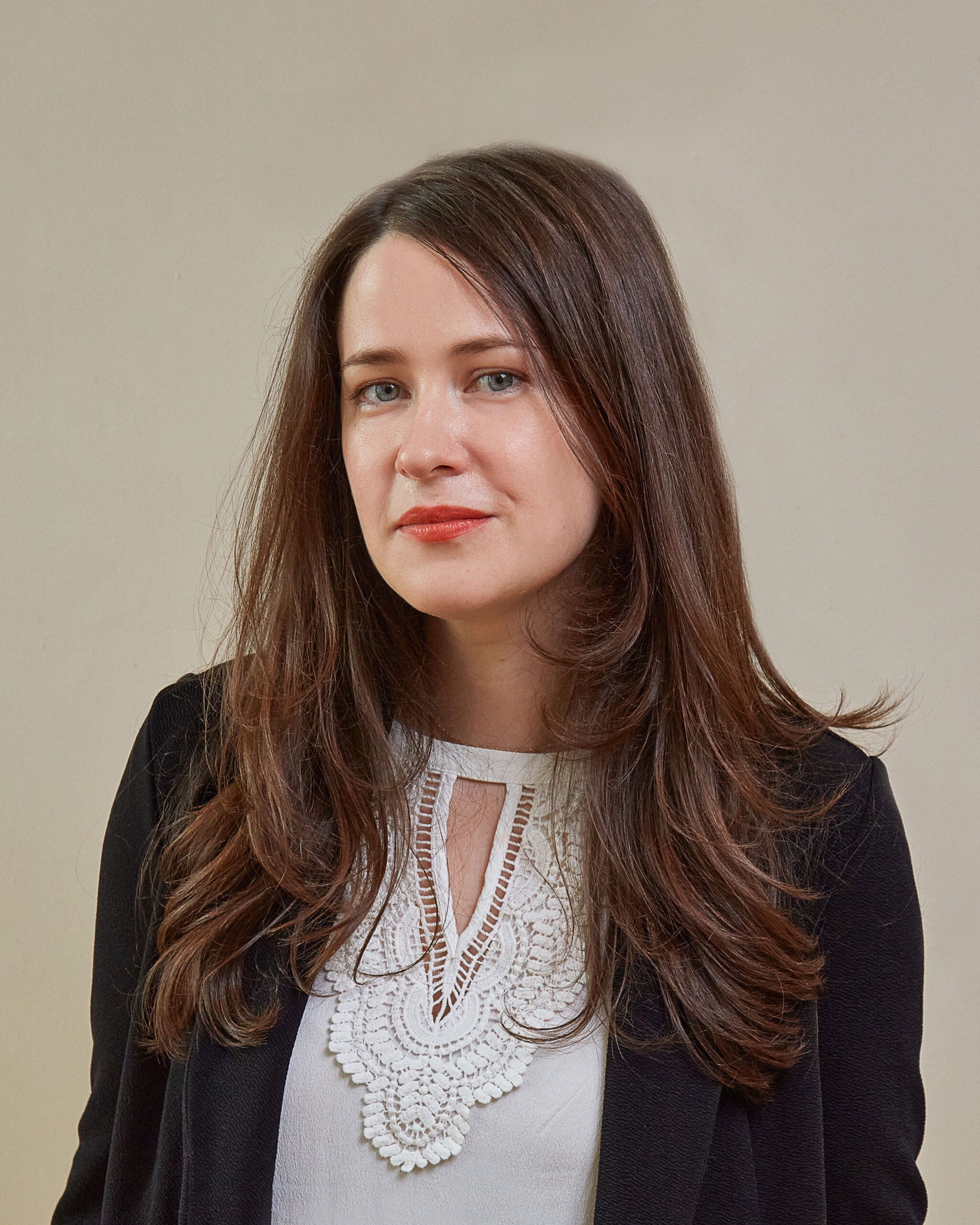 ---
When chef Nina Compton stopped by the SAVEUR test kitchen recently, she helped us see rundown—a traditional Jamaican seafood and coconut milk stew—in a whole new light. The hearty, stick-to-your-ribs dish is often served for breakfast with potatoes, rice, or breadfruit throughout the Caribbean. But Compton—who hails from St. Lucia and came up through New York and Miami's fine dining world before opening her acclaimed New Orleans restaurant Compère Lapin—had something else in mind.
While the menu at Compère Lapin is peppered with Caribbean classics that speak to Compton's roots, including conch croquettes, jerk chicken, and curried goat, she also draws deeply on her French and Italian training. Dirty rice gets packed and fried into crispy arancini; that goat curry is tossed with pillowy sweet potato gnocchi; and shrimp rundown is used to dress a tangle of fresh scialatelli pasta. Fragrant with lemongrass, ginger, and citrus, with a whisper of peppery heat, the rosy coconut stew has the familiar look and feel of Italian-American vodka sauce, but with all the tropical richness of curry.
Compton's recipe starts with a near mountain of raw shrimp shells. It's no secret that we do our best to run a zero-waste test kitchen here at SAVEUR—no small feat, considering the scale and variety of recipes we're constantly developing. Part of that effort includes my becoming somewhat of a shrimp-shell hoarder. Unless you're buying them live, nearly all shrimp is flash-frozen on the boat—the "fresh" stuff at the fish counter is typically thawed for convenience. I find I get fresher results by buying large freezer bags of shell-on shrimp and thawing only what I need. When recipes call for shelled shrimp, I peel before using and save the shells in a large, zip-top freezer bag—and I encourage you to do the same. Once the bag is full, it's time to make a batch of creamy shrimp bisque, shrimp salt, seafood gumbo—or Compton's incomparable pasta with shrimp rundown sauce. Here's how she makes it (her rundown, if you will).
Restaurants often save shells from crustaceans like shrimp, lobster, and crab; their brittle exoskeletons lend flavor, body, and richness to stocks and sauces. Always buy shell-on shrimp and save the shells in the freezer for your next batch of rundown sauce.
Sauté the Shells with Aromatics
Toast the shells in a splash of olive oil just until they turn pink, then add ginger, chile, and lemongrass. While ginger and lemongrass are not native to the Caribbean, they grow in abundance there and are often incorporated into local dishes and drinks.
Bruising the ginger and lemongrass with the side of your knife before chopping helps to break down the ingredients' fibrous structure and bring out their fragrance. A fiery chile or two adds peppery brightness to the rich and creamy sauce; Scotch bonnets are traditional in Jamaican rundown, but Compton calls for habaneros, which are sometimes easier to find. Either works, or if you're spice-shy, feel free to leave the chiles out entirely.
Build Flavor with Tomato Paste
A scoop of tomato paste adds both sweetness and a welcome note of acidity to the sauce; it also helps the shrimp shells break down more quickly, contributing body and flavor to the stock. Timing is key here: Stir in the tomato paste after the aromatics are toasted, and just before adding the coconut milk. Allowing the paste to brown and caramelize will mute the sauce's rosy tint.
The key ingredient in a classic rundown is coconut milk—and the same is true for Compton's sauce. Use a full-fat, unsweetened version—the Thai varieties that come in a cardboard carton) are minimally processed and have the smoothest texture, but canned coconut milk also works. Just make sure not to buy a low-fat version. Add 8 cups of water, bring the mixture up to a low boil, then reduce the temperature to maintain a strong simmer and cook, stirring occasionally, until the sauce is concentrated in flavor and reduced by about a third.
While the stock simmers, marinate the shrimp with plenty of olive oil and fresh citrus zest. The shrimp will cook only briefly in the rundown sauce, so infusing them with a bit of flavor early in the game lends the dish more complexity. Compton favors a mix of lemon, lime, and orange zest, but feel free to use whatever citrus you have on hand.
Finish the Pasta and Shrimp in the Sauce
Strain the shrimp stock into a large, heatproof liquid-measuring cup, pressing on the solids with a ladle or the back of a wooden spoon to extract as much liquid as possible. Transfer 2 cups of the stock to a large, deep skillet, and bring to a simmer over medium heat. Add the spaghetti (Compère Lapin makes their pasta in house, but parcooked dry spaghetti also works well) and marinated shrimp, and cook, tossing frequently until the pasta and shrimp are cooked through, and the sauce is thickened and very creamy, similar to vodka sauce.
Brighten with Fresh Herbs
Fresh herbs cut through the richness of the rundown sauce; a mixture of mint, scallions, and basil nod to the dish's more tropical flavors, but once again, use what you've got! Parsley and chives will also get the job done. Since the sauce is pretty decadent, serve with a simple green salad on the side.
And to drink? Compton suggests pairing this creamy pasta with a medium-bodied white wine, such as chardonnay.
Ingredients
¾ cup extra-virgin olive oil, divided
1 lb. shrimp shells (5 cups), plus 1 lb. medium shrimp, peeled, deveined, and butterflied, divided
One 2-oz. piece ginger, bruised and coarsely chopped (¾ cup)
1 medium stalk of lemongrass, bruised and thinly sliced (⅓ cup)
1 habanero chile, quartered
3 oz. tomato paste
4 cups full-fat coconut milk (32 oz.)
1 Tbsp. finely grated orange zest
2 tsp. finely grated lemon zest
1 tsp. finely grated lime zest
¼ cup thinly sliced scallions
Kosher salt
1½ lb. fresh spaghetti (or substitute 1 lb. dried spaghetti, boiled in a pot of salted water until halfway cooked, then drained and rinsed in cool water, cooking water reserved)
1 tsp. finely chopped fresh mint
1 tsp. finely chopped flat-leaf parsley
1 tsp. finely chopped fresh basil
Instructions
Step 1
In a wide pot over medium-high heat, add 2 tablespoons oil. Once the oil is hot, add the shrimp shells and cook, stirring frequently, until bright pink, 2–3 minutes. Add the ginger, lemongrass, and habanero; cook, stirring frequently, until very fragrant, 4–5 minutes. Stir in the tomato paste, reduce the heat to medium, and continue cooking and stirring until completely combined and very dry but not yet caramelized, 6–8 minutes more. Add the coconut milk and 8 cups cold water, increase the heat to medium-high, and bring to a boil. Lower the heat to maintain a strong simmer, then cook, stirring occasionally, until the mixture is reduced by about a third, 45–50 minutes.
Step 2
Meanwhile, marinate the shrimp: In a medium bowl, add the shrimp, ½ cup oil, and citrus zests; toss well to coat. Refrigerate until you are ready to finish the pasta, at least 45 minutes or up to 4 hours.
Step 3
Set a fine-mesh strainer over a large, heatproof liquid-measuring cup or bowl. Strain the shrimp-shell stock, pressing on the solids with a ladle to extract as much liquid as possible. Discard the solids, then measure 2 cups of the stock and set by the stove. (Reserve the remaining stock for another use; it can be refrigerated for up to 3 days or frozen for up to 3 months.)
Step 4
In a deep, wide skillet over medium heat, add the remaining 2 tablespoons oil. Once the oil is hot, add the scallions and cook, stirring frequently, until softened, 2–3 minutes. Add the reserved 2 cups stock and bring to a strong simmer; cook, stirring frequently, until the stock is reduced by half and beginning to separate, 8–10 minutes. Season with salt. Add the pasta and shrimp, and cook, stirring and tossing continuously with tongs, until the shrimp and pasta are cooked through, and the sauce is thick and creamy, 3–5 minutes. (If the sauce looks dry, add reserved pasta cooking water as needed.) Transfer to a platter, sprinkle with herbs, and serve hot.