Gluten-Free Sweet Potato Gnocchi with Gorgonzola Cream Sauce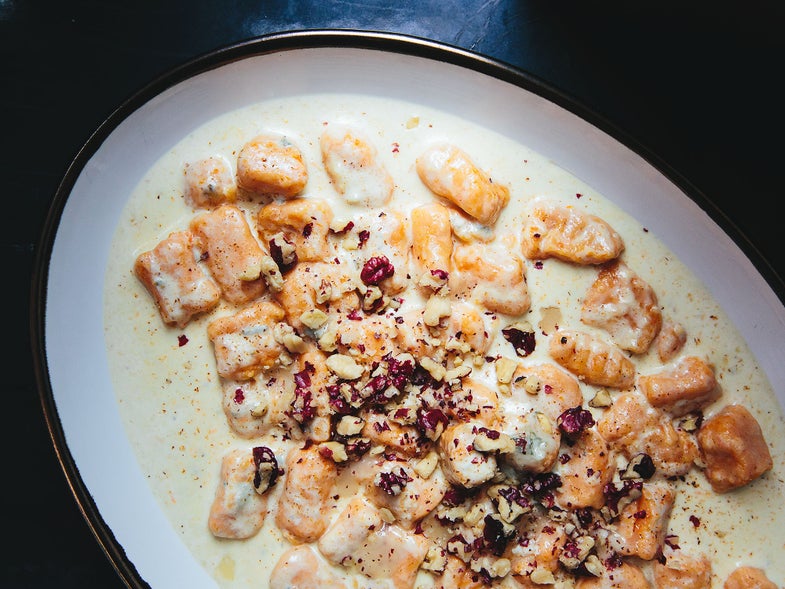 These vibrant, mildly sweet gnocchi were developed by stylist Judy Haubert as a gluten-free option to accompany Portland chef Jenn Louis' rich Gorgonzola cream sauce. If you're not a fan of Gorgonzola, a simple brown butter makes a wonderful sauce, as well. Featured in: Gnocchi 101
Gluten-Free Sweet Potato Gnocchi with Gorgonzola Cream Sauce
These mildly sweet gluten-free gnocchi are made with sweet potatoes and brown rice flour.
For the Gnocchi
Olive oil, for greasing
1 1⁄2 lb. Russet potatoes (about 2 large)
1 1⁄2 lb. sweet potatoes (about 2 large)
2 tsp. kosher salt, plus more to taste
1 cup brown rice flour, plus more for dusting
1⁄2 cup sweet potato starch
1⁄2 tsp. freshly grated nutmeg
1 egg
For the Sauce
2 cups heavy cream
4 oz. Gorgonzola Dolce, crumbled (about ¾ cup), plus more for garnish
1⁄3 cup finely grated Parmigiano-Reggiano
Freshly grated nutmeg, to taste, plus more for garnish
Kosher salt, to taste
1⁄2 cup lightly toasted walnut halves, coarsely chopped, for garnish
Instructions
Make the gnocchi: Heat oven to 400°F. Lightly oil potatoes, prick several times with a fork, and sprinkle with salt. Place on a baking sheet and bake until tender, about 1 hour. Let potatoes cool slightly, peel, and rice into a large bowl. Stir in 2 tsp. salt, the rice flour, starch, nutmeg, and egg until a soft dough forms. Transfer dough to a lightly floured surface; knead briefly until smooth. Quarter dough and cover loosely with plastic wrap. On a lightly floured surface, working with one quarter of dough at a time and using your hands, roll dough into a 40″ rope, about ¾" thick. Cut dough crosswise into 1" pieces. Using a gnocchi board or the tines of a fork, roll gnocchi over textured surface to create ridges in the dough. Transfer gnocchi to a flour–dusted, parchment paper–lined baking sheet; cover loosely with a damp towel until ready to cook.
Make the sauce: Combine cream and cheeses in a 12" skillet over medium; bring to a simmer and cook, stirring occasionally, until sauce is slightly thickened, 8-10 minutes. Season with nutmeg and salt; keep warm. Meanwhile, bring a large pot of salted water to a simmer. Add gnocchi in 2 batches and cook until gnocchi float to surface, 3-4 minutes. Remove gnocchi with a slotted spoon and transfer to pan with sauce; toss to coat. Divide between plates; Garnish with gorgonzola, nutmeg, and walnuts.