Recipes
The Best Jamaican Jerk Chicken
Pimento wood and dark, crispy edges give this island barbecue its signature flavor.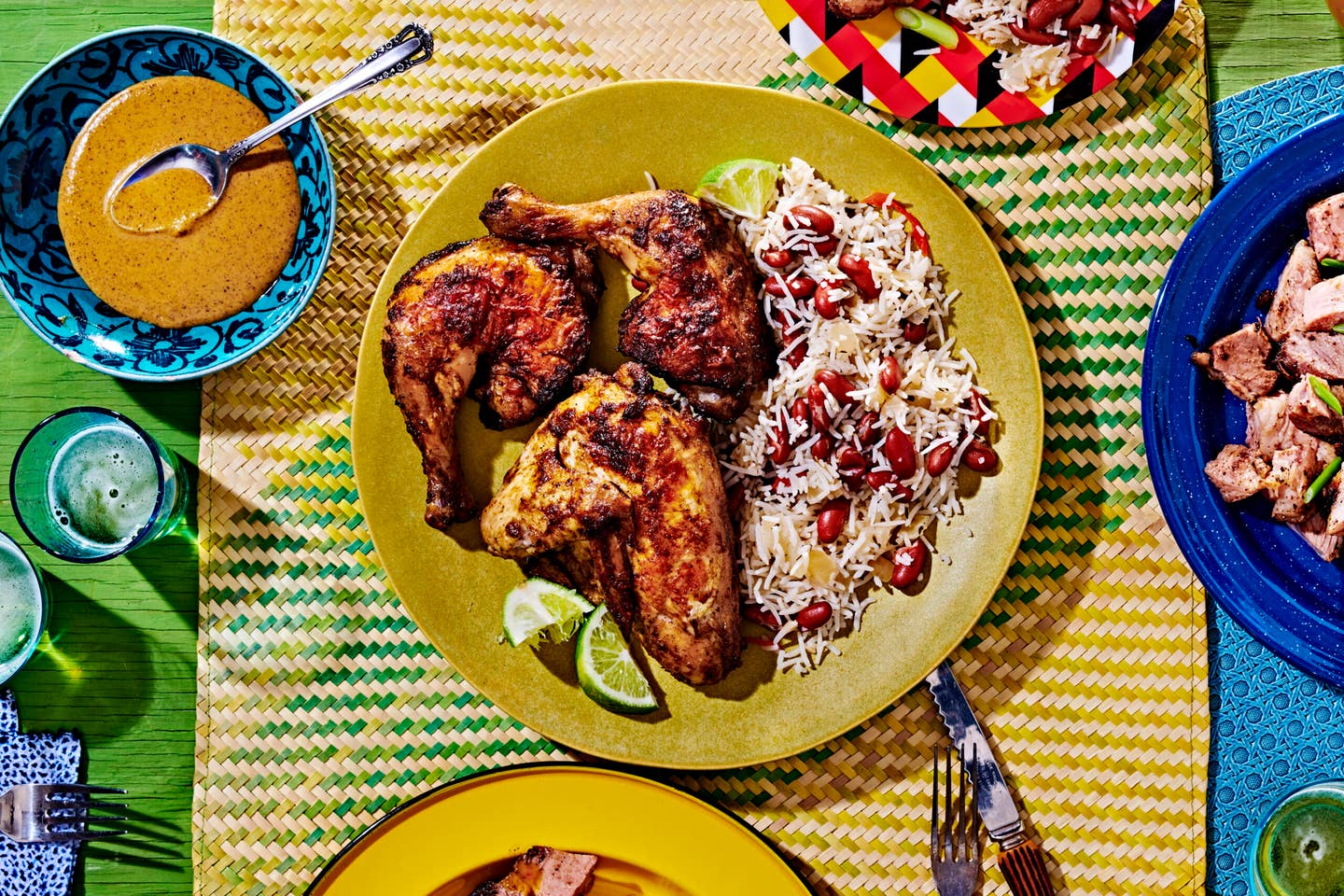 The key to jerk chicken that tastes like it does in Jamaica is to use pimento wood on the grill and make sure your meat gets those dark, crusty edges. This recipe, adapted from Jamaican cookbook authors Michelle and Suzanne Rousseau, includes a grill method and a simpler oven method. Since you won't be getting any smoke indoors, toast the whole spices in a dry, heavy skillet until fragrant before adding them to the marinade to give the finished dish its characteristic depth. Pimento leaves and wood chips can be purchased online at pimentowood.com.
Ingredients
For the marinade:
6 Scotch bonnet chiles, stemmed and seeded
3 scallions, trimmed and coarsely chopped
¾ cups vegetable oil
¼ cups fresh thyme leaves
2 medium garlic cloves
2 tbsp. strong brewed coffee
2 tbsp. distilled white vinegar
1 tbsp. plus 1½ tsp. whole allspice berries
1 tbsp. plus 1½ tsp. peeled, chopped fresh ginger
1 tbsp. dark Jamaican rum
2 tsp. kosher salt
1½ tsp. molasses
1 tsp. coriander seeds
¼ tsp. ground cinnamon
Pinch freshly grated nutmeg
For the chicken:
One 3–4-lb. whole chicken, butchered into quarters
Pimento branches and pimento leaves, if using grill method
Lime wedges and Scotch bonnet hot sauce, for serving
Instructions
Step 1
Make the marinade: To a food processor, add the chiles, scallions, oil, thyme, garlic, coffee, vinegar, allspice, ginger, rum, salt, molasses, coriander, cinnamon, and nutmeg. Pulse only until slightly chunky. (You will have about 1⅓ cups.) Reserve one-quarter of the marinade for serving; refrigerate. To a large zip-top freezer bag, add the remaining marinade and add the chicken quarters and turn several times to coat. Seal and refrigerate for 1–2 days.
Step 2
For the grill method: Gather enough pimento wood chips and pimento leaves to form a base for the chicken, with a few inches of buffer around the sides. Soak the chips and leaves in water for at least 20 minutes (this will help them release flavorful smoke instead of igniting).
Step 3
When ready to cook, preheat a gas or charcoal grill to cook with 2-zone heat: Build an indirect, medium-high heat source on one side of the grill. Directly next to (but not on top of) the heat source, spread out the soaked pimento leaves in a single layer, and place the soaked chips in an even layer atop the leaves to form a bed for the chicken.
Step 4
Place the chicken, skin-side up in a single layer but not touching, atop the leaves. Cover the grill and let cook, refueling with more charcoal as necessary to keep the heat at around 350°F. Stop when the chicken skin is charred and crispy, the juices run clear, and the internal temperature reaches 140°F, about 1 hour 15 minutes.
Step 5
For the oven method: When ready to cook, set a rack in the center of the oven and preheat to 475°F. Line a baking sheet with aluminum foil, and set a rack on top. Transfer the chicken to the rack, and place in the oven. Roast skin-side up until it's charred and crispy, the juices run clear when poked with a knife, and the internal temperature measures 140°F, 35–40 minutes for breasts and 50–55 minutes for legs.
Step 6
Serve the chicken pieces whole, with lime wedges, hot sauce, and the reserved marinade on the side.