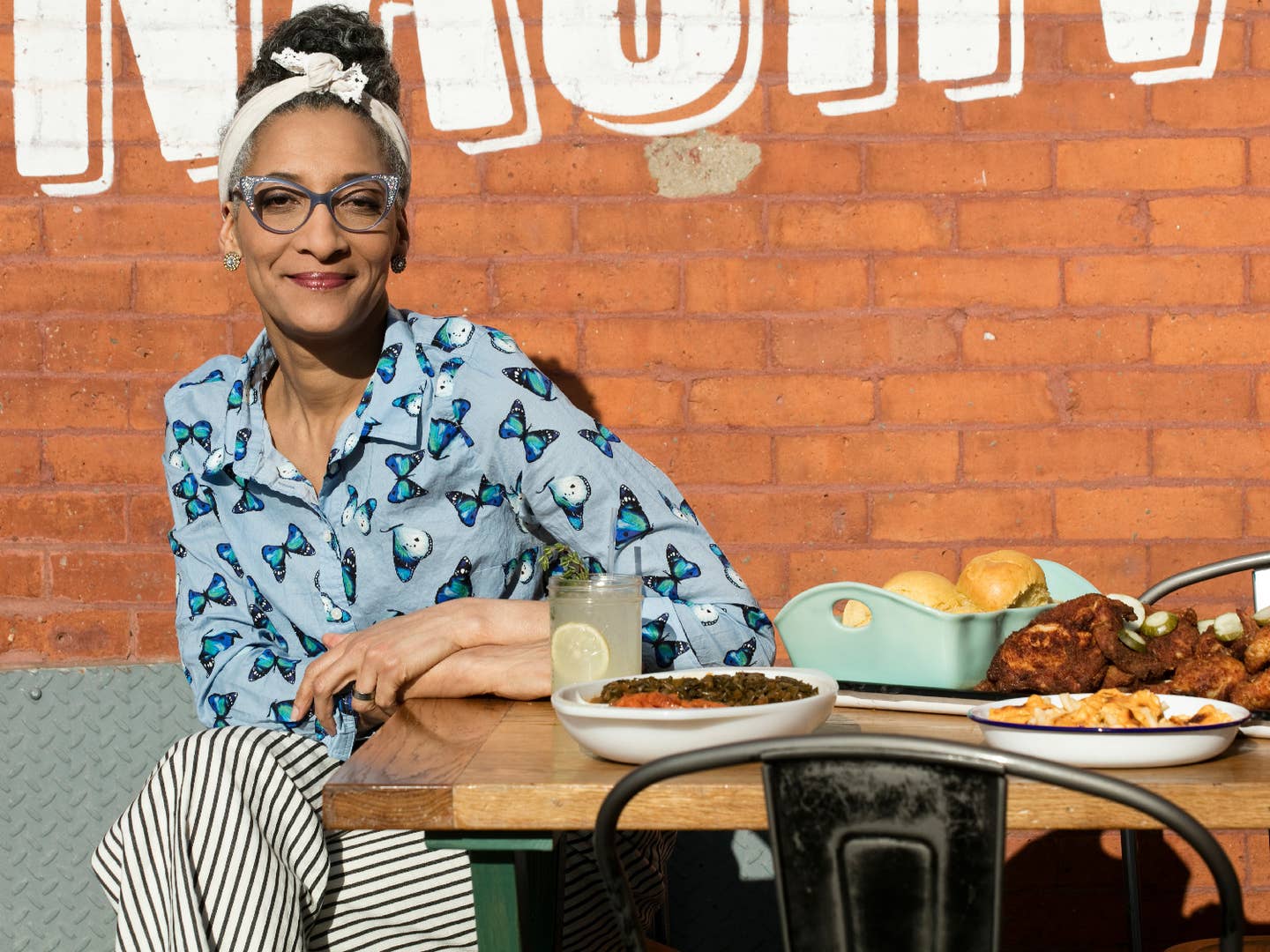 Culture
Four African-American Chefs on the Importance of Juneteenth
Carla Hall, Marcus Samuelsson, JJ Johnson, and Jerome Grant share what the famous Emancipation holiday means to them
You can learn a lot about a culture by looking at its food: How a dish is cooked and served is often rooted in years of tradition, passed down from one generation to the next. The food of Juneteenth, the oldest known celebration of the end of slavery in America, is no exception. On June 19, 1865, more than two months after the surrender of General Robert E. Lee to the Union and more than two years after President Abraham Lincoln's official Emancipation Proclamation, the enslaved African-Americans living in Galveston, Texas were informed that slavery had finally been abolished. Today, this belated liberation is commemorated with Juneteenth, a holiday that's widely observed not only in Texas, but all over the South and in cities across the United States.
Food has always played an important part in Juneteenth gatherings, from soulful dishes like collard greens, fried chicken, and cornbread to red foods that have come to symbolize perseverance and resilience, such as watermelon and strawberry sodas.
When it comes to the culinary landscape today, black chefs are still fighting to get African-American cuisine the recognition it deserves. Black and brown cooks have always been the backbone of the restaurant industry, but it remains a struggle for many to rise to the level of prestige enjoyed by their white peers. For Juneteenth this year, I spoke to four prominent black chefs about their unique approaches to cooking African-American food and how they each celebrate the holiday of liberation.
Perhaps best known for her stint as a co-host of the talk show "The Chew" and her numerous appearances on the "Top Chef" series, chef Carla Hall has always used her love of food and her infectious smile to connect with people. But it wasn't necessarily easy: "The biggest challenge was not seeing myself, or my food, anywhere in the industry," she says. "You don't even see it as a possibility. The pride of understanding my culture gave me more confidence in being a chef."
For the Nashville native, food has always been tied to family and tradition. But it wasn't until Hall started to dig deeper into her roots that she developed a true understanding of the foods she grew up eating and of where they fit into African-American culture, a journey she explores in her cookbook, Carla Hall's Soul Food: Everyday and Celebration. The book includes one of her go-to recipes for Juneteenth gatherings, a vibrant, tangy watermelon salad with red radishes, habanero-pickled red onions, and lime salt. "Juneteenth is a time to celebrate and reflect on our community and our collective history of fighting for liberation and equality," she says.
For Marcus Samuelsson of New York City's Red Rooster, food is about all about community. The Ethiopian-born, Swedish-raised chef may not have roots in Harlem, but he has found a home in its thriving restaurant scene. "Cooking doesn't live outside society," he says. "Cooking lives within society. Racism is within cooking just as anywhere else, and I think that you overcome it by working really hard and having mentors that guide you through. I look at the blessings of being black. I look at what it's given me and the opportunities it's given me."
Since opening Red Rooster, Samuelsson has played an integral part in showcasing the neighborhood's diverse restaurants and giving a platform to local black chefs by participating in events like the Harlem Dine-In Series. When it comes to celebrating Juneteenth, he says, "So much about blackness and our history—oral or written down—has either been taken away or there has always been a false narrative. So when you have dates [like Juneteenth] that mark our history in terms of liberation, I think of the strength of that."
Inspired by his upbringing, Johnson's culinary style makes inspired use of Caribbean flavors and African spices. "I'm offering my lens on the pan-African experience," he says. "I cook pan-African food because I'm made up of the diaspora. I'm West Indian, Afro-Puerto Rican, and African-American. I'm not blending cultures; I'm expressing how they've lived together over hundreds of years." Celebrating Juneteenth, Johnson continues, is "an opportunity to fill in the missing pages of history by honoring the price our ancestors paid for faces they'd never see."
Jerome Grant's approach to cooking has very much been informed by his own history: he learned the basics of Filipino cuisine from his mom, explored Caribbean food while spending time with his paternal grandparents in Jamaica, and grew up all over the United States. "I take a lot of pride in my culture and family traditions," he says, "and it is important to me that I incorporate various pieces of African-American culture into my food. I want to tell the stories of the African diaspora and how we shaped American cuisine as we know it today."
In 2016, Grant was named the executive chef of Sweet Home Café, the restaurant inside the Smithsonian's historic Museum of African American History and Culture in Washington, D.C. Two years later, he released a cookbook with historians Lonnie Bunch and Jessica B. Harris called Sweet Home Café Cookbook: A Celebration of African American Cooking, which was nominated for a James Beard Award. In addition to offering recipes from the café itself, the book delves into iconic African-American dishes and shines a light on the oft-overlooked contributions of black cooks to American foodways.
For Grant, Juneteenth "is a day of gratitude for those who have fought and paved the way for our generation today, a day of celebration for the successes of our people, but also one of reflection. It's a reminder of all the work that is still needed to be done for our future."