Watermelon Recipes That Celebrate Summer's Juiciest Fruit
Cool off with pickles, salads, cocktails, and smashes.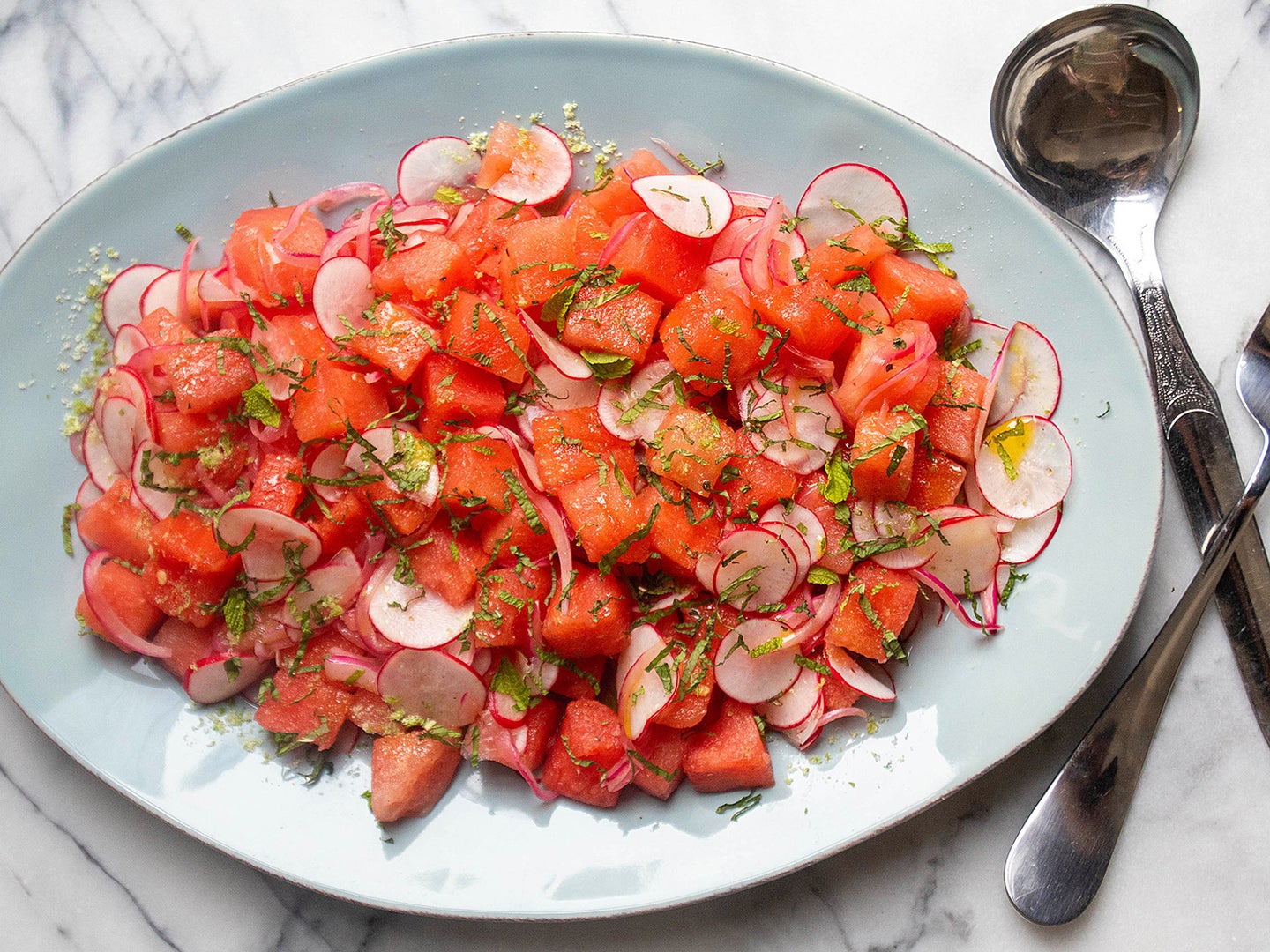 Watermelon is an undeniable symbol of summer. Bursting with juice and sweetness, few things are more refreshing on a hot summer day  than a big slice nibbled straight off the rind, but the juicy melon also makes a wonderful ingredient for both sweet and savory recipes.
Crimson Sweet, the familiar, extra-large green-skinned watermelon, is a standard find on fruit stands in the summer months,  But there are dozens of other varieties to explore; don't be afraid to branch out at the farmers' market. Seek out the tiny, pink-fleshed Little Baby Flower; the massive Moon and Stars—an heirloom watermelon that can reach 40 pounds; and the Yellow Doll, which boasts particularly soft flesh and a golden rind.
Once you lug your melon home, team the sweet fruit with briny, crumbly cheeses, such as feta or cotija, or blend the flesh with spirits and ice for a refreshing summer cocktail. And don't relegate the watermelon rinds to the compost heap. Simmer them in vinegar to make delicious pickles—they make an excellent foil for smoked or grilled meats.
Breakfast, brunch, or snack, we could serve (and eat) this quick-cured, no-cook fish dish from John Karangis of Union Square Events, any time of day. It works exceptionally well as a summer starter, served with a savory lime yogurt and refreshing cubes of ripe watermelon, then sprinkled with flecks of shichimi togarashi: a spicy, tangy, earthy Japanese spice mix. Get the recipe Cured Fluke with Yogurt, Watermelon, Sunflower Seeds, and Togarashi »
Homemade lime salt brings out the sweetness of fresh watermelon in this lively salad and plays well with the crisp radishes and tangy onions. Get the recipe for Watermelon Salad with Habanero-Pickled Onions and Lime Salt »
Even when summer gets away from us at the restaurant and we're not able to pickle and preserve the heck out of everything in our path, we somehow find a way to make these pickles: It feels good to make something translucent and crispy out of stuff that's potentially going to be thrown out. Get the recipe for Watermelon Rind Pickles »
This refreshing summer soup, adapted from La Guarida restaurant in Havana, is meant to be served lightly chilled. Olive oil, garlic, pink peppercorn, and smoky grilled shrimp round out the sweetness from the strawberries and watermelon. Add ¼ teaspoon of sugar if the fruit is more tart than sweet. Get the recipe for Strawberry, Watermelon, and Tomato Gazpacho »
This substantial summer salad is a tribute to the "everything tastes better grilled" philosophy of cooking, one with which I am currently obsessed. Here, watermelons get even sweeter from the flames, shrimp gets crisp and plump, and avocado turns deliciously smoky. Get the recipe for Grilled Watermelon, Avocado, and Shrimp Salad »
Fresh watermelon, basil, and cayenne combine with pisco—a fruity, spicy eau de vie distilled from grapes—for a sweet-spicy summertime cocktail from bartender Cliff Mejia of New York's Analogue. Get the recipe for Red Lady »
For a Southeast Asian spin, add fish sauce, chile, and Thai basil to the classic combination of watermelon and feta. Get the recipe for Watermelon, Feta, and Jalapeño Salad »
For this summer refresher, Eric Johnson of Sycamore Den in San Diego makes a syrup with ripe watermelon and sugar, then combines it with sherry, gin, and muddled lemon. Get the recipe for Gallagher Smash »
Juicy sweet watermelons go savory in this summery no-cooking-required soup from Anna Watson Carl. Spicy bite comes from jalapeños and red onions, while tomatoes and tart lime juice provide acidity. Get the recipe for Watermelon Gazpacho »
Exceedingly well-balanced, this juicy cocktail from John Karangis of Union Square Events gets its sweetness from yellow watermelon, herbal freshness from Chartreuse and basil, and an astringent kick from tequila. While red watermelon will work in a pinch, you won't get the clarity of color unless you spring for the yellow. Get the recipe for Watermelon-Basil Cocktail »
In this refreshing salad, watermelon at the peak of its sweetness is tossed in a zesty vinaigrette with spicy radish sprouts. Get the recipe for Watermelon Salad with Cilantro, Radish Sprouts, and Cotija »
In this summer salad, watermelon is a sweet counterpoint to the briny pungency of feta and olives. Get the recipe for Watermelon, Feta, and Olive Salad »
A specialty of the Indian state of Rajasthan, this delicious curry plays the sweet, juicy flesh of the watermelon against a complex background of chiles and spices. Get the recipe for Watermelon Curry »
A bright mix of watermelon, gin, Aperol, lemon juice, and a splash of club soda, this drink from Stella Rosa Pizza Bar in Santa Monica is well-balanced, effervescent, and not too sweet. Get the recipe for The Merchant's Wife »
Sweet watermelon balances the heat of Scotch bonnet chiles in this summery tequila-based drink. Get the recipe for Watermelon Cooler »
From the school of waste-not-want-not eating comes pickled watermelon rind: a spicy, tangy, tender treat from a something more often discarded. Get the recipe for Watermelon Rind Pickle »