Watermelon Salad with Habanero-Pickled Onions and Lime Salt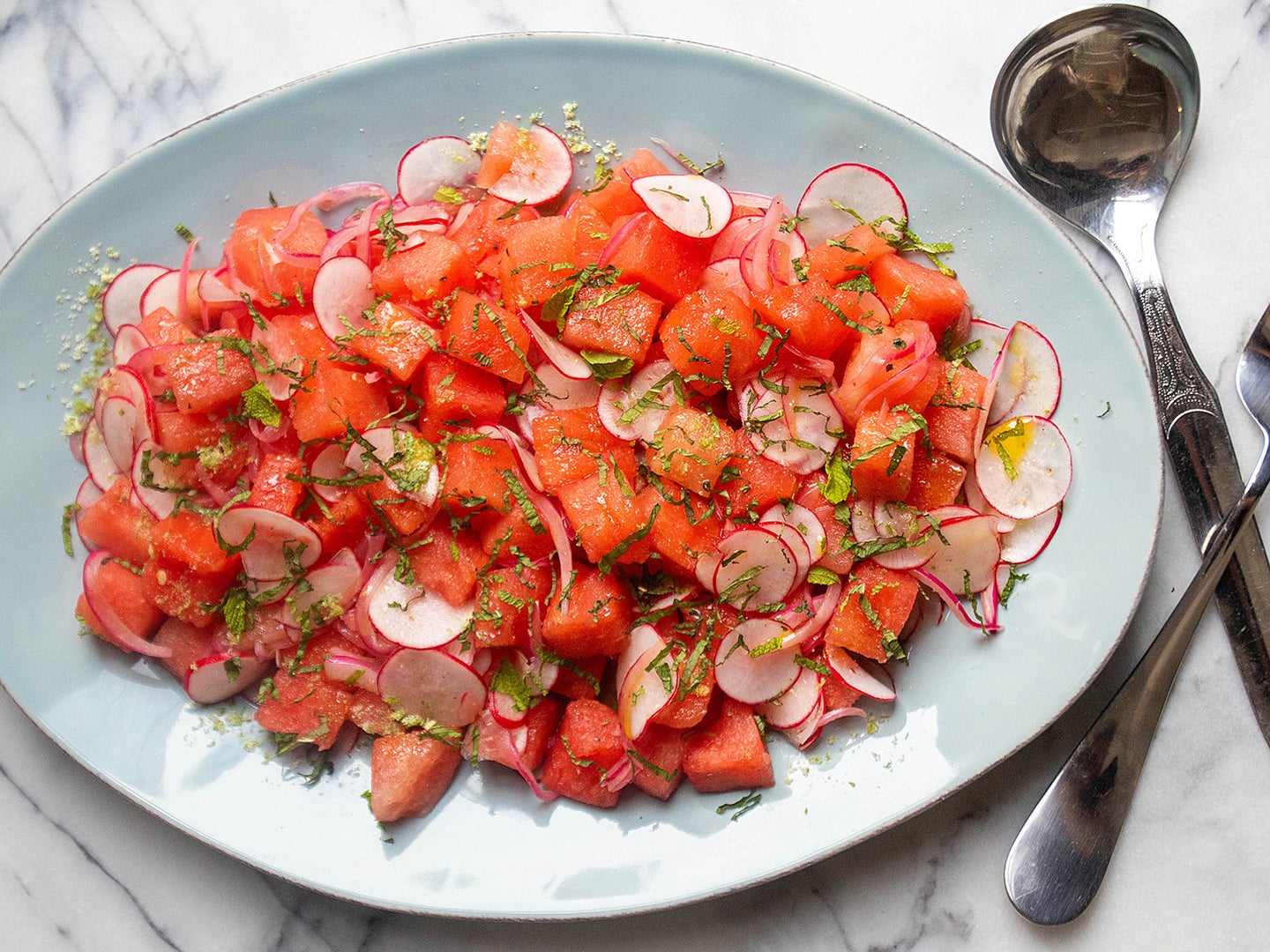 Red food and drinks are a fixture of Juneteenth gatherings, both a symbol of the hardships overcome by slaves and a celebration of traditional red-tinged special-occasion ingredients from Africa, such as hibiscus and kola nuts. Watermelon and spice are also found at many Juneteenth parties, and this recipe, adapted from chef and TV personality Carla Hall, combines both for a refreshing summery salad with a tangy bite.
Featured in: Four African-American Chefs on the Importance of Juneteenth
Equipment
Watermelon Salad with Habanero-Pickled Onions and Lime Salt
In this Juneteenth recipe from celebrity chef Carla Hall, red ingredients take center stage: sweet chunks of watermelon are tossed with crunchy radishes and spicy pickled onions.
Time: 4 hours, 20 minutes
Ingredients
½ medium red onion (4 oz.), halved and thinly sliced with the grain
1 habanero chile, stemmed, seeded, and thinly sliced
1 fresh or dried bay leaf
½ tsp. sugar
1 Tbsp. plus 1¼ tsp. kosher salt, divided
¼ cup apple cider vinegar
2 tsp. finely grated lime zest
7 medium red radishes (5 oz.), thinly sliced
4½ lb. seedless watermelon, rind removed, flesh cut into 1-inch cubes
Freshly ground black pepper
2 Tbsp. thinly sliced fresh mint leaves
Extra-virgin olive oil, for drizzling
Instructions
In a small bowl, add the onion, chile, bay leaf, sugar, and ¼ teaspoon salt; toss well to combine. Pack the onion mixture into an 8-ounce jar, then add the vinegar, cover tightly with a lid, and shake well. The pickling liquid may not cover the onion mixture at first, but the onions will wilt over time and end up immersed. Refrigerate for at least 4 hours or up to 1 week, shaking occasionally.
In a spice grinder or small food processor, pulse the lime zest and 1 tablespoon salt until combined. Transfer to an airtight container and set aside. (The lime salt can be stored at room temperature for up to 3 months.)
Fill a medium bowl with ice water and stir in the remaining 1 teaspoon salt until dissolved. Add the radishes and set aside until very crisp, about 5 minutes. In a strainer set over the sink, drain the radishes, discarding the soaking liquid, then return the radishes to the bowl. Drain the onions, discarding the pickling liquid and the bay leaf, then add them to the bowl with the radishes. Add the watermelon, season with pepper, and gently toss with your hands until combined. Transfer to a large platter, top with the mint and a drizzle of oil, and sprinkle with lime salt to taste just before serving.