Impress Your Friends With These Korean Scallion Pancakes
You can add shrimp, ramps, little squid, or a multitude of other things to these easily adaptable pancakes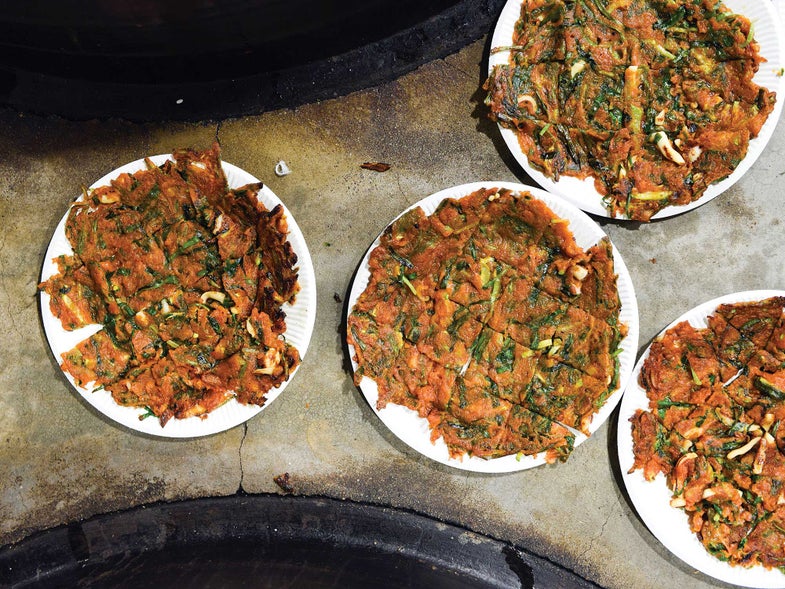 Give us crispy scallion pancakes, or give us death. Sure we're a bit dramatic, but we're not fooling around with these crispy fried Korean pancakes, which come from New York Korean chef Hooni Kim. The pancakes provide the perfect platform for a multitude of possible ingredients, including (but not limited to) garlic chives, ramps, small squid, shrimp, Korean chiles, or julienned carrots. These pancakes, called jeon in Korea, are made with doenjang, a fermented soybean paste that is a staple in many Korean pantries.
The key to getting that extra crispy exterior is to make sure the batter is kept very cold, and the pan is very hot and slicked with oil. A simple dipping sauce of soy sauce, mirin, rice vinegar, and sesame oil make these the perfect afternoon snack or side dish accompanied by other Korean favorites.
These pancakes were featured in Matt Rodbard's Journey to the Home of Korea's Mother Sauces; give it a read to see how doenjang and other Korean chile pastes are made.