Large-Batch Negroni Sbagliato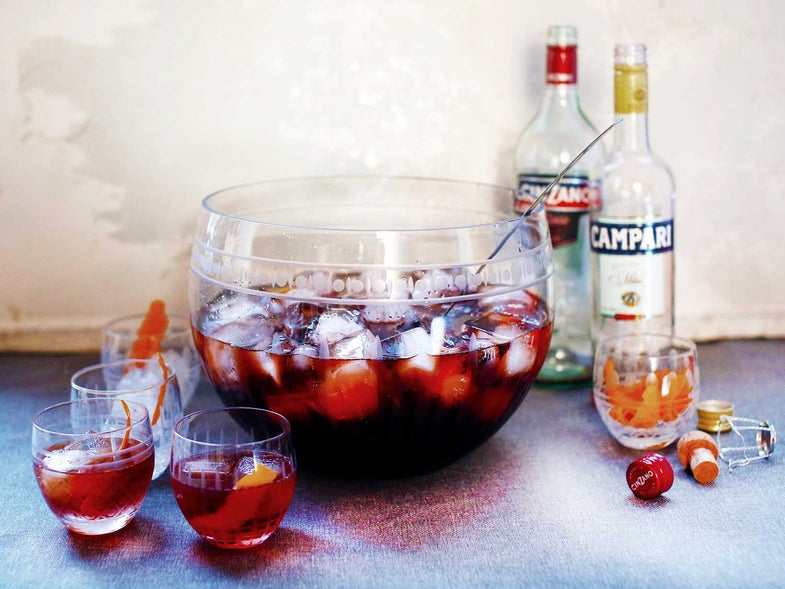 Jeffrey Morgenthaler, bar manager of Clyde Common in Portland, is known for barrel-aging cocktails and other fancy bartender tricks. But when he throws a party, he makes this lightly bitter, pop-and-pour punch that's as easy as 1-2-3.
Featured in: The No-Measuring Three-Ingredient Cocktail Plan
Large-Batch Negroni Sbagliato
Cocktail parties don't get any easier than pouring three whole bottles—in this case Campari, red vermouth, and prosecco—straight over a punch bowl of ice.
Time: 5 minutes
Ingredients
1 (750-mL.) bottle Campari, chilled
1 (750-mL.) bottle Cinzano sweet vermouth, chilled
1 (750-mL.) bottle prosecco, chilled
Rind from 1 large orange, cut into long, thin ribbons with a vegetable peeler
Instructions
In a large punch bowl filled with ice, pour the Campari, Chinzano vermouth, and prosecco. Stir, then garnish with strips of orange rind. Ladle into rocks glasses or punch cups to serve.