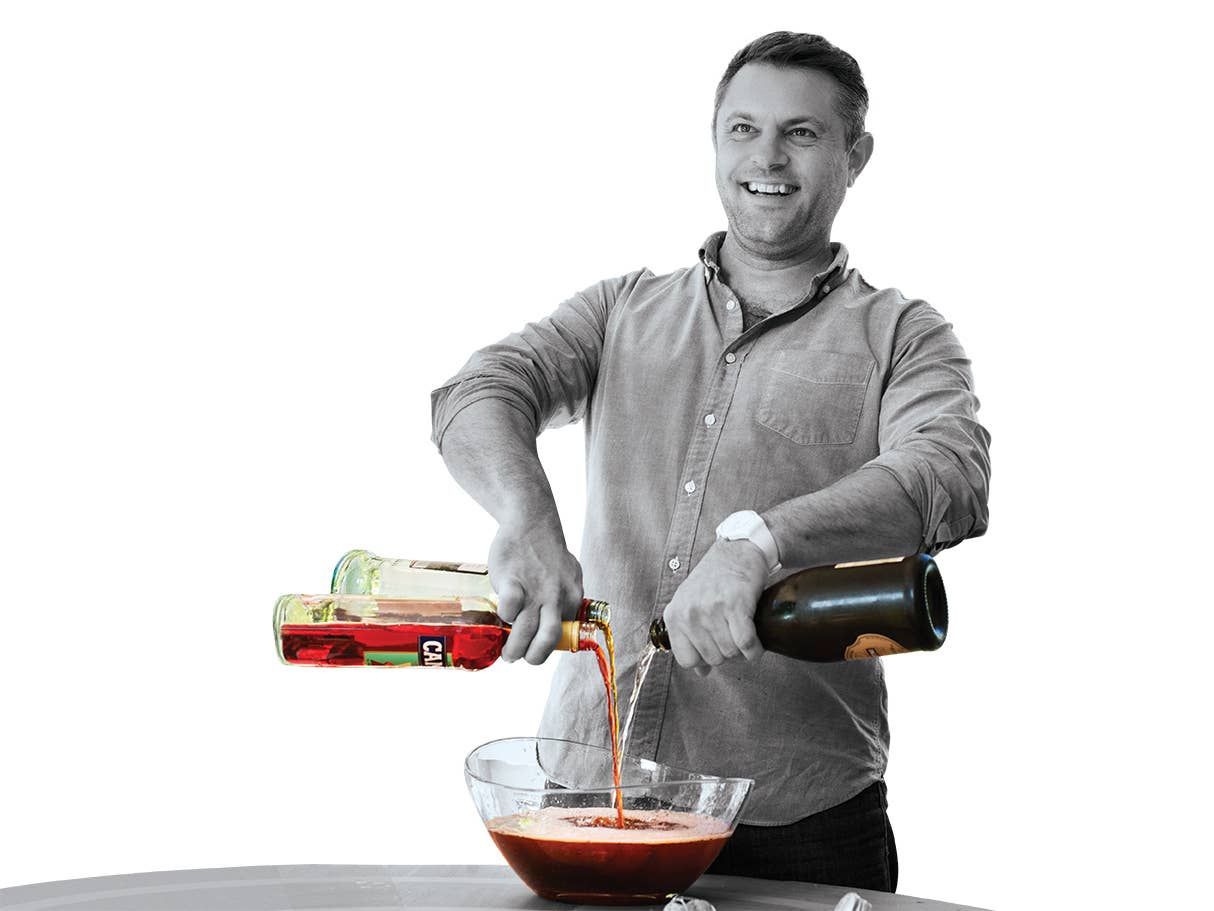 Drinks
The No-Measuring Three-Ingredient Cocktail Plan
And five other ideas from pro bartenders for sweat-free entertaining
Throwing a cocktail party shouldn't be an undertaking. Here, a few of our favorite drink-slingers offer their tips and tricks to ensure you—the host—are having as much fun (if not more!) than your guests. They're easy adjustments that will make it seem like you went the extra mile, instead of taking the easy road. We also offer up some regional tippling customs so that you can imbue your gathering with a bit of international flavor.
MAKE A THREE-BOTTLE COCKTAIL
You won't find a simpler drink in the world than pouring three bottles into a bowl for a large-batch Negroni Sbagliato—a combination of Campari, sweet vermouth, and prosecco (which takes the place of the traditional gin). Jeffrey Morgenthaler, bar manager of Clyde Common in Portland, is known for barrel-aging cocktails and other fancy bartender tricks. But when he throws a party, he makes this easy, lightly bitter drink. Here's how: Chill one bottle each of Campari, Cinzano sweet vermouth, and good, inexpensive prosecco. Dump all three in a serving bowl with a hefty block of ice and serve with big ice cubes.
SQUEEZE CITRUS THE NIGHT BEFORE
If you decide to go the sour-mixed-drinks route, the conventional wisdom on citrus juice is that it goes bad within a few hours. "That's a myth," says Don Lee of Cocktail Kingdom in New York City. "I did a bunch of tests, and no one will notice if the juice was squeezed the night before." The booze will preserve the citrus in pre-batched cocktails.
Erick Castro of San Diego's Polite Provisions keeps pre-made cocktails in 750 ml bottles (you can use empty wine or liquor bottles) in his fridge for hosting on the fly. We especially like the Full Windsor, his riff on the Vieux Carré.
Castro also posts a menu with ingredients, so that no one needs to interrupt a conversation to find out what's in the drink.
USE A BUNDT PAN FOR DECORATIVE ICE
Morgenthaler uses a cake pan and simple garnishes for showstopping ice. To make it, put edible flowers or citrus wheels in a Bundt pan or square Tupperware container, cover with ice, add water to the top, and freeze for two days. Once it's frozen, run the pan under hot water to release the mold.
BUY YOURSELF A BOTTLE OF VERMOUTH
A host who always has a glass in hand is a host who is having fun. But that calls for something lower proof. To that end, Toby Maloney of The Violet Hour in Chicago recommends Dolin Blanc on the rocks with a grapefruit peel. It's tasty, it's festive, and you can sip on it all night.
VIETNAM.
The Vietnamese phrase that follows each toast is tram phan tram, which means "100 percent." After standing up and consuming 100 percent of their drinks, revelers shake hands as a sign of camaraderie.
KAZAKHSTAN.
Drunk both ceremoniously and casually, kumis (traditionally made of fermented mare's milk) is the country"s national drink. It's customary to pour whatever is not finished back into the communal jug, so that nothing is wasted.
GEORGIA.
At feasts in this former Soviet republic, a tamada, the official toast master, leads a series of 20 or more toasts. For each round, the tamada gives a rousing speech before anyone can drink.
BOLIVIA.
Miners commonly drink sugarcane-based cocoroco, which is more than 90 percent alcohol. They also leave it in the tunnels for El Tio, the lord of the underground, in exchange for safe passage.