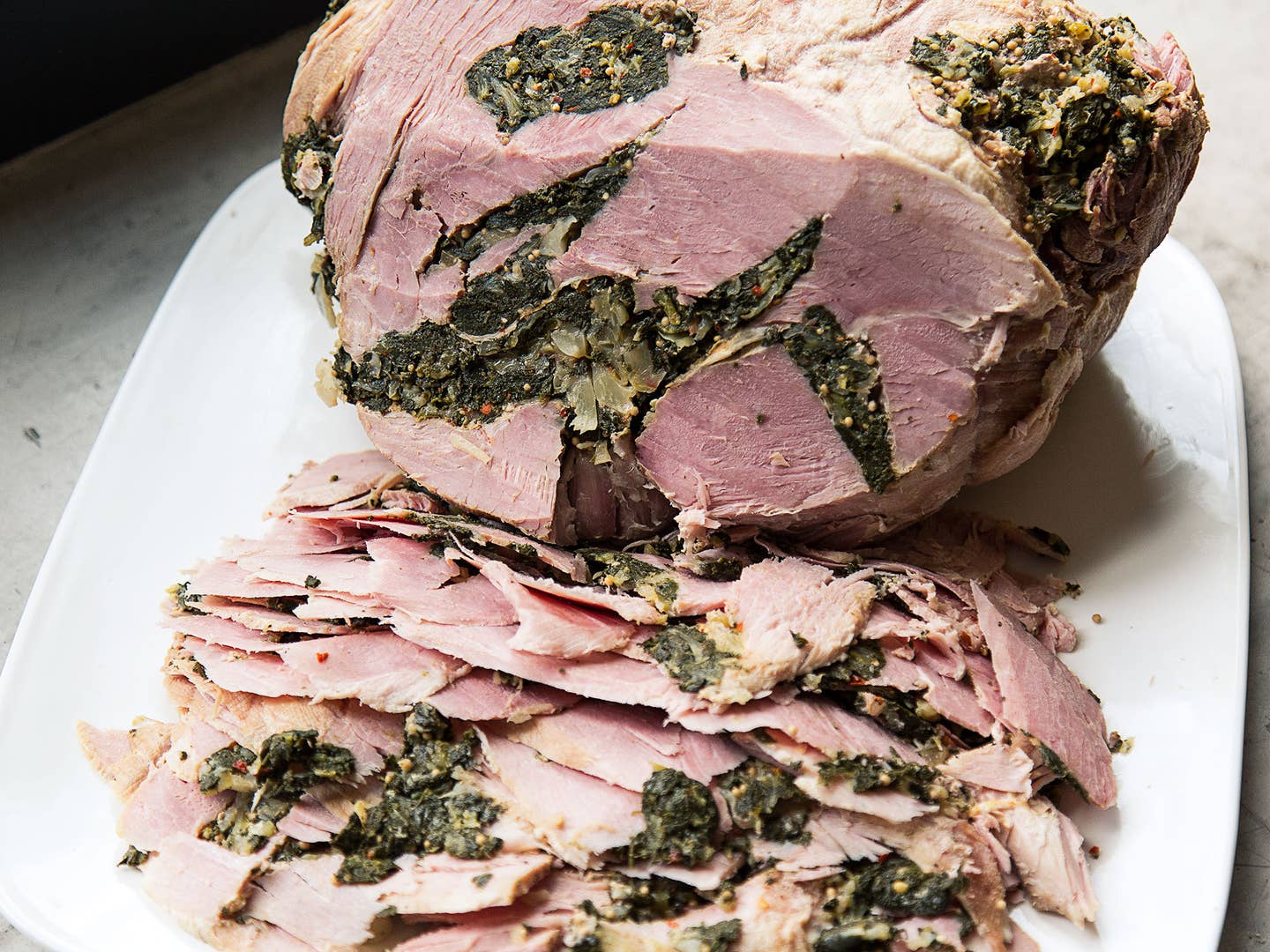 Recipes
Maryland's Ultimate Holiday Ham
Chef Mike Price showcases southern Maryland's contribution to our favorite holiday dish
You don't want to make Maryland stuffed ham on a Tuesday. First you have to debone and butterfly the a joint of pig, and the whole thing can take upwards of five hours to cook, which doesn't happen in the oven. No, Maryland stuffed ham is a dish for when you have some time to spend on it, but the result—a triumphant tender ham, loaded with spicy greens—is well worth it.
Mike Price, executive chef at Market Table in Manhattan, is a Maryland native. His mom taught him the recipe, and his grandma taught her. The dish has its roots in southern Maryland, St. Mary's County specifically, a dagger-shaped peninsula surrounded by rivers and the Chesapeake Bay. But you won't find crabs and oysters in this dish. Instead, cabbage, kale, and onions are blanched, cooled, squeezed dry, and mixed with cayenne, salt and pepper. This mixture is stuffed into the pork shoulder that you previously deboned and butterflied. The whole thing is wrapped in cheesecloth, tied up, and cooked in a heavily seasoned liquid to essentially corn the meat. But that's only the beginning. In order to ensure the ham holds its shape for the big reveal, it needs to chill in the refrigerator overnight.
What happens next is entirely up to you. You'll want to gather everyone and make the first slice a spectacle though. Maryland stuffed ham is traditionally sliced thin and served cold. So you can do just that, "but it's great on a toasted sandwich with a lot of Dijon mustard," Price says. Either way, this one is definitely worth the year wait and day-long cook time.