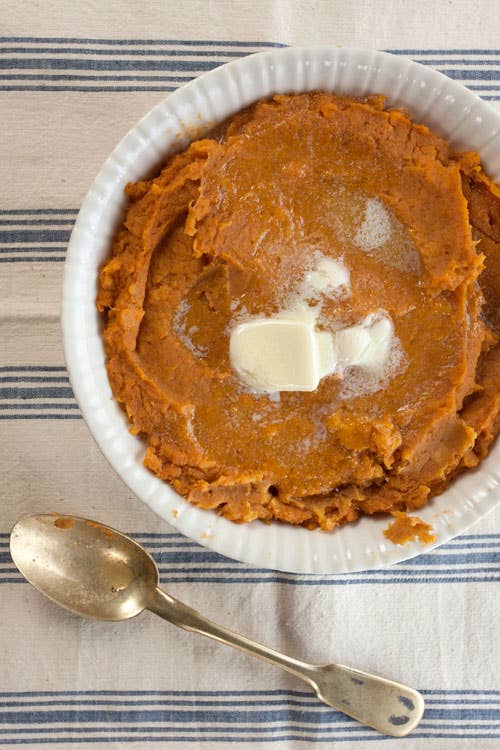 Techniques
How to Make the Most of Mashed Sweet Potatoes
Maple syrup and cinnamon give these mashed yams a rich depth
Potatoes are truly a miracle root vegetable. You can mash them, slice them, roast them, fry them, and no matter what, they come out on top. Mashed potatoes may seem like a cop out in a world where a potato can become a french fry, but au contraire: there is no end to the ways mashed potatoes can be elevated to star status. You can add créme fraiche to make them extra rich and creamy, or mix in boat-loads of garlic (30 cloves, to be precise) if you are a firm believer in the gospel of Julia Child. There is no wrong way to enjoy potatoes, and they are all delicious.
This is all the same for sweet potatoes, only more so, because their sweet, nutty flavor works with of those savory preparations above but also sweet ones. We'll take sweet potato pie over most pumpkin pies.
These Maple Butter Mashed Sweet Potatoes show off everything these yams can do. Mashed with rich, woodsy maple syrup and cinnamon, these potatoes skew almost more dessert than main course, but make a comforting pairing with cold-weather meals like roast meats. Boil peeled and cut sweet potatoes until tender, around 25 minutes. Drain before returning to saucepan along with butter, syrup, cinnamon, and salt pepper. Mash and add more butter if you'd like (we recommend you do). The result is a buttery and bright side dish worthy of your Thanksgiving menu. It wouldn't be wrong to grab seconds for dessert, either.