Recipes
Mexican Braised Spare Ribs With Squash and Corn
Serves

serves 4 to 6 people

Cook

2 hours 30 minutes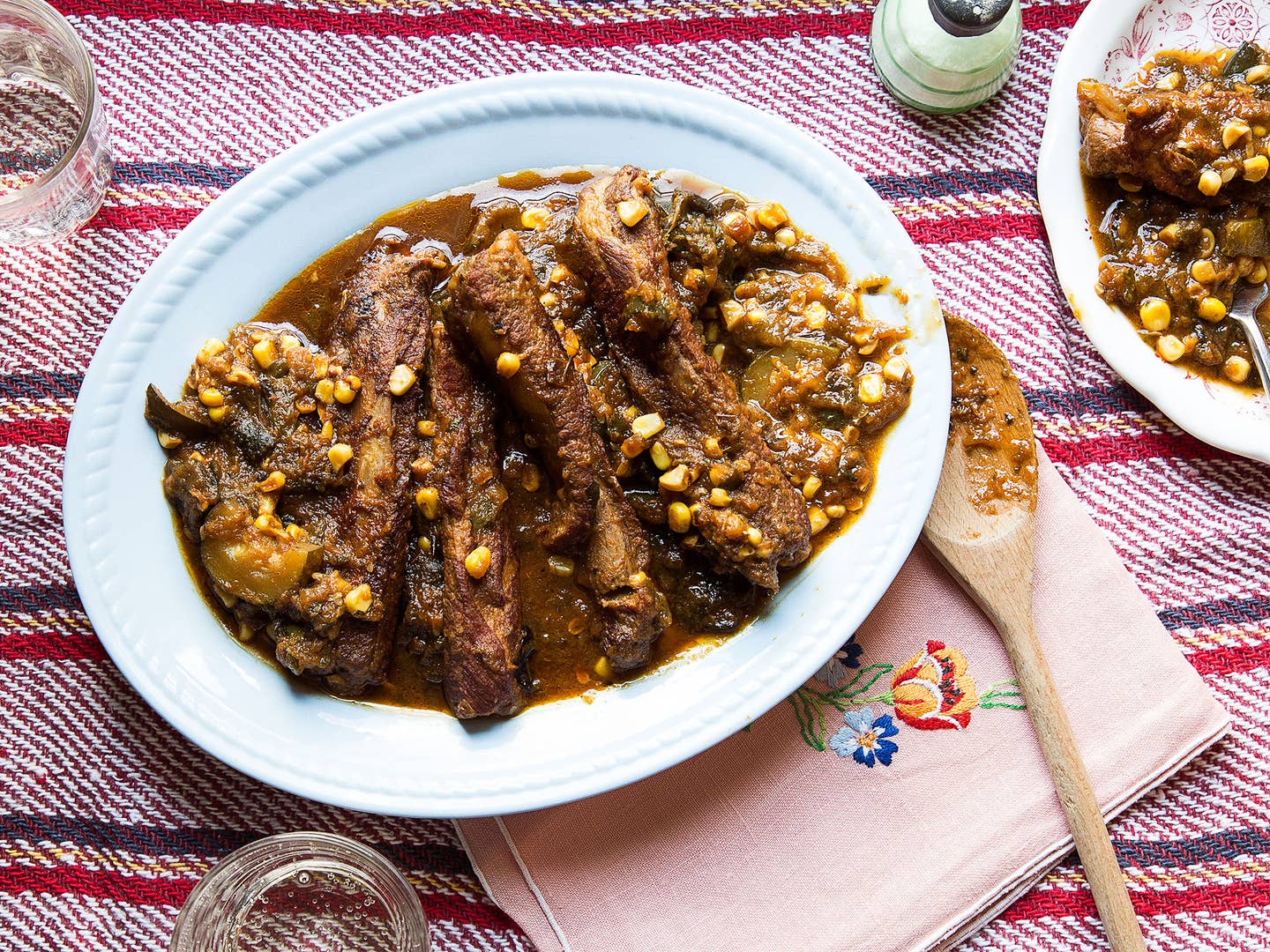 Braise pork ribs with a homey, vegetable-rich sauce with a touch of heat, and use the leftovers for tacos. This is a classic recipe from Mexican cooking sage Josefina Velázquez de León.
Ingredients
5 poblano chiles
1⁄2 lb. tomatoes
2 garlic cloves
1 yellow onion
1 1⁄2 lb. pork spare-ribs
Kosher salt and freshly ground black pepper
2 tbsp. lard
1 1⁄2 lb. zucchini, trimmed, halved lengthwise and sliced on the bias
3 ears of corn, kernels removed and saved, cob thrown away
4 cups beef stock
1⁄2 lb. firm Mexican cheese, for serving
Instructions
Step 1
Heat the oven to broil. Place poblanos on a baking sheet and cook, turning as needed, until charred, about 15 minutes. Set aside to cool slightly, then trim, remove the seeds, and thinly slice.
Step 2
Meanwhile, cover tomatoes, garlic, and onion with water and bring to a boil. Reduce heat to a simmer and cook until the tomatoes are soft, 5 minutes. Drain, discarding liquid, place tomatoes, garlic, and onion in a blender, and purée until smooth.
Step 3
Heat the lard in a large saucepan over medium-high. Season ribs with salt and pepper and, working in batches, cook, turning as needed, until browned, about 6 minutes, and transfer the ribs to a plate. Add the reserved tomato purée, the zucchini, and the corn to the pan and cook, stirring, until most of the liquid has evaporated, about 5 minutes. Add the stock and the ribs and cook, uncovered, until thick and the ribs are tender, about 1 1⁄2 hours. Serve on a platter.