Recipes
Meyer Lemon Shortbread Cookie Sandwiches
Serves

makes about 20 cookie sandwiches

Cook

3 hours 30 minutes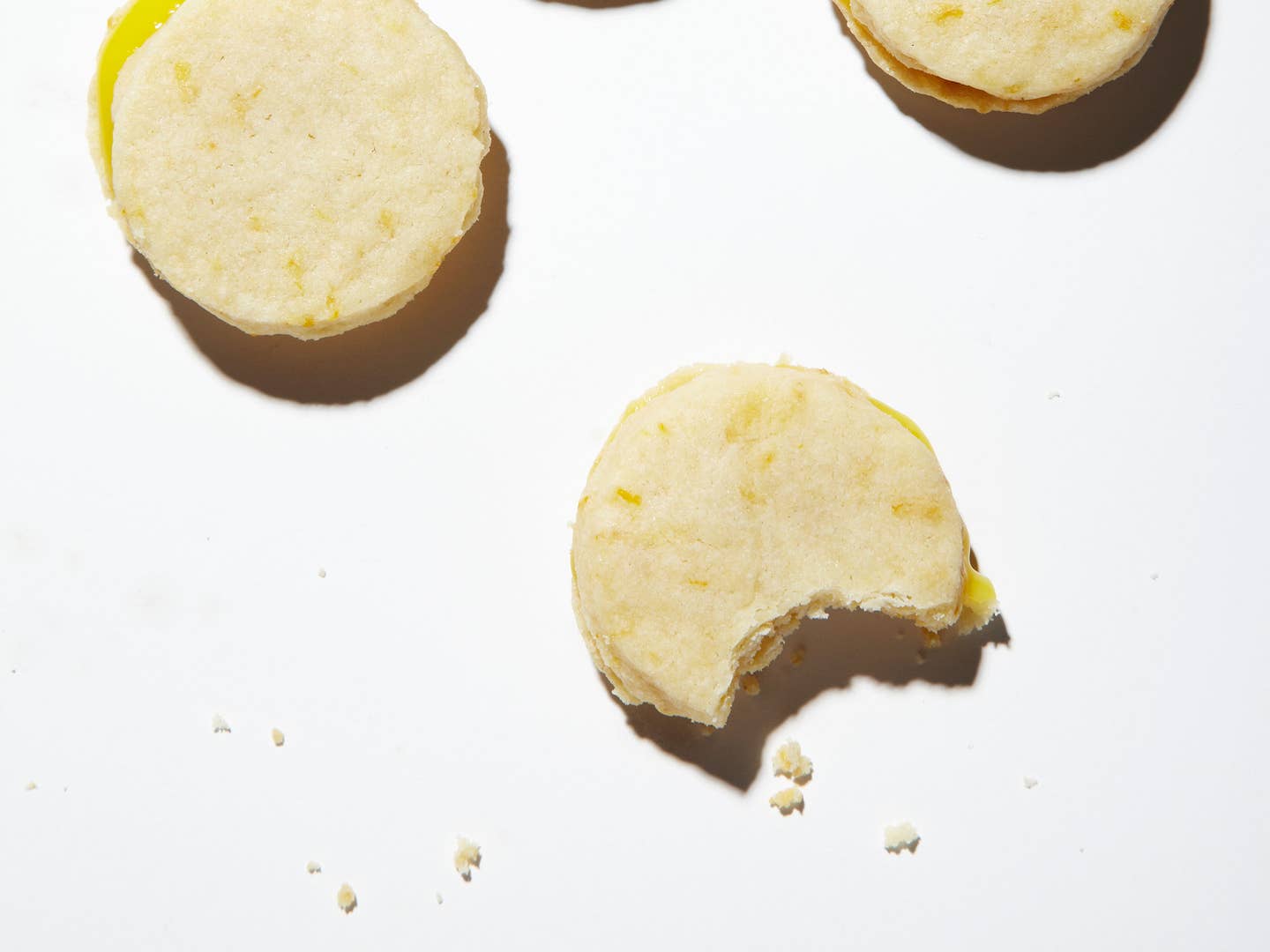 Fragrant Meyer lemon zest goes into these shortbread cookies from pastry chef and author Emily Luchetti. She then uses the sweet–tart juice to make a silky citrus curd that sandwiches two cookies together.
Ingredients
For the Meyer Lemon Curd
1⁄4 cup sugar
1 large egg, plus 2 egg yolks
1⁄4 cup fresh Meyer lemon juice
1⁄4 tsp. kosher salt
1⁄2 tbsp. chilled unsalted butter
For the Shortbread Cookies
1 1⁄3 cups (6 oz.) all-purpose flour, plus more for dusting
12 tbsp. chilled unsalted butter, cut into 1/2-inch cubes
6 tbsp. sugar
1⁄4 tsp. kosher salt
Finely grated zest of 2 Meyer lemons
Instructions
Step 1
Make the lemon curd: In a small saucepan, whisk the sugar with the egg and yolks until smooth, and stir in the juice and salt. Place the pan over medium heat and cook, stirring constantly, until the curd begins to thicken and bubbles start to break the surface, about 5 minutes. Remove the pan from the heat and stir the butter into the curd until smooth. Scrape the curd into a small bowl, press a sheet of plastic wrap against the curd, and refrigerate until the curd is chilled, at least 2 hours.
Step 2
Make the shortbread cookies: In the bowl of a stand mixer fitted with a paddle, combine the flour with the butter, sugar, salt, and zest and beat on medium-low until the dough comes together. Scrape the dough onto a floured sheet of parchment paper and shape into a disk. Lightly flour the dough and cover with another sheet of parchment. Using a rolling pin, flatten the dough until it's 1⁄4-inch thick and peel off the parchment. Using a 1 3⁄4-inch-round cutter, stamp out dough circles and place 1 inch apart on parchment paper—lined baking sheets, rerolling scraps once to get about 40 rounds total. Chill the baking sheets for 30 minutes.
Step 3
Heat the oven to 300°. Place the baking sheets in the oven and bake, rotating the sheets front to back and moving them from top to bottom halfway through cooking, until the cookies are lightly golden on the bottom, 12 to 14 minutes. Transfer the sheets to a rack and let the cookies cool completely.
Step 4
To serve, spoon 1 teaspoon of the lemon curd on the bottom of half the cookies and sandwich with the remaining cookies. Serve immediately or chill for up to 1 hour.