Recipes
Normandy-Style French Onion Soup
Michel Roux's secret? A glug of crisp, Norman cider.
Serves

serves 2 to 4

Cook

1 hour 10 minutes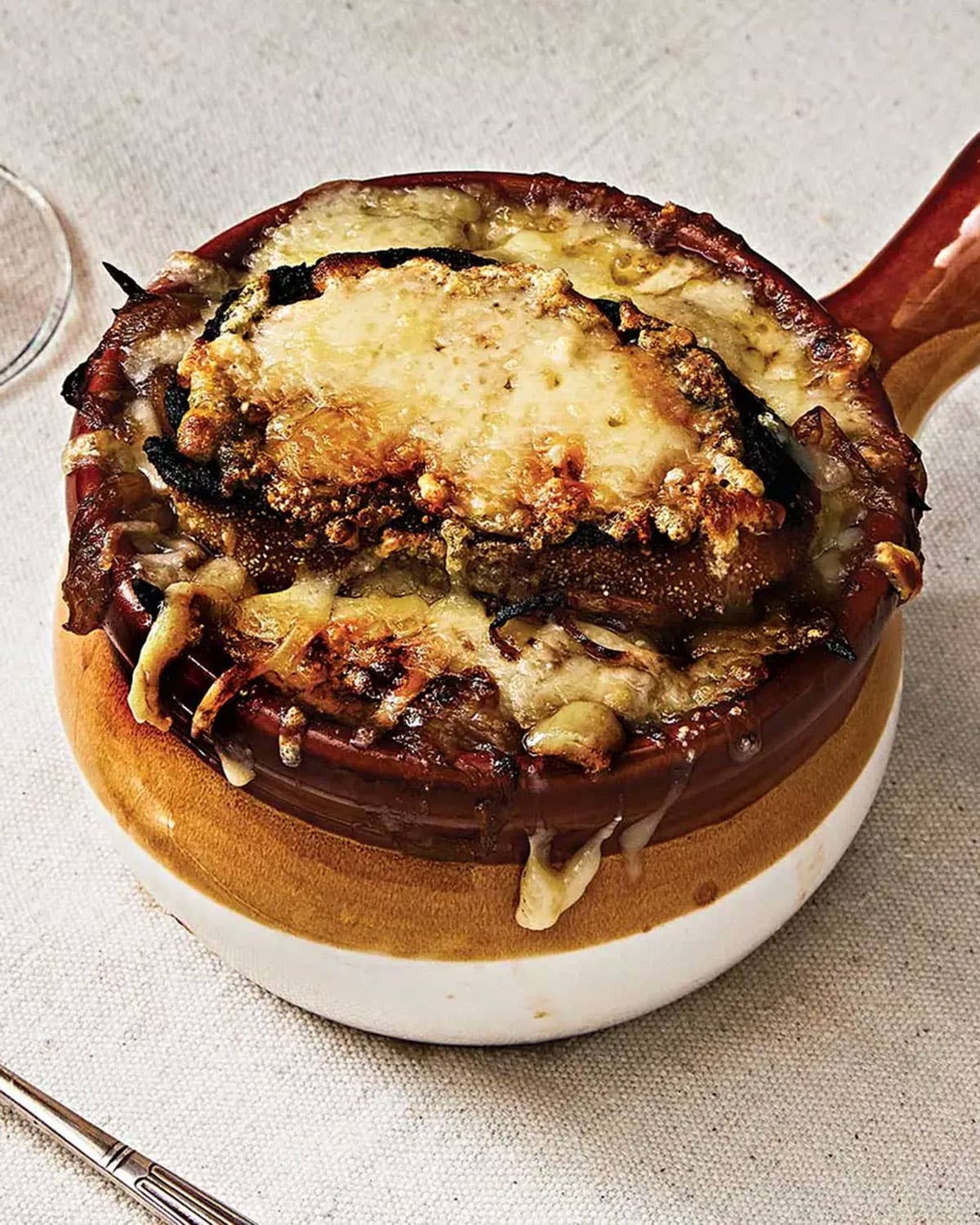 This soul-warming onion soup came from the late, great French chef Michel Roux, who opened London's Michelin starred Le Gavroche in 1967. His version took a Norman spin on the cheesy classic with a splash of dry cider. Add this and all of our French specialties to your repetoire.
Ingredients
5 tbsp. unsalted butter
2 medium yellow onions, thinly sliced
2 Italian parsley sprigs
2 fresh thyme sprigs
1 bay leaf
1 rosemary sprig
1 cup dry, Norman-style hard cider, divided
1⁄4 cup all-purpose flour
2 3⁄4 cups chicken stock
Kosher salt and freshly ground black pepper
oz. Four ½-inch baguette slices, cut on the diagonal
2 oz. coarsely grated Gruyère cheese (1/3 cup)
1⁄4 cup heavy cream
Instructions
Step 1
In a medium pot set over medium high heat, melt 3 tablespoons butter. When the foam begins to subside, add the onions and cook, stirring frequently, until golden, 35–40 minutes. Tie the parsley, thyme, bay leaf, and rosemary into a bundle with kitchen twine and add to the pan along with 1⁄2 cup plus 2 tablespoons cider. Bring to a boil, then lower the heat to maintain a simmer, and cook until the alcohol evaporates, about 5 minutes. Remove from heat and set aside.
Step 2
In a second medium pot set over medium heat, melt the remaining 2 tablespoons butter. When the foam begins to subside, add the flour and cook, stirring constantly, until the roux is just slightly toasty, about 2 minutes. Slowly pour in the stock, whisking constantly, then bring to a full boil. Lower the heat to maintain a simmer and cook until thickened, about 15 minutes. Scrape the reserved onion-and-cider mixture into the stock and cook until slightly reduced, about 15 minutes. Remove and discard the herb bundle, then season the soup to taste with salt and black pepper.
Step 3
Meanwhile, heat the broiler. Place the baguette slices onto a small baking sheet and broil, flipping once, until lightly golden and toasted all over, about 2 minutes. Divide the remaining cider between two heatproof bowls. Ladle the soup into the bowls, then top each bowl with the toasted baguette slices. Place the bowls of soup on the baking sheet and sprinkle with the Gruyère. Drizzle the cream over the cheese, then transfer to the oven and broil until the cheese is golden and bubbling, about 2 minutes. Serve immediately.
Watch How to Make French Onion Soup