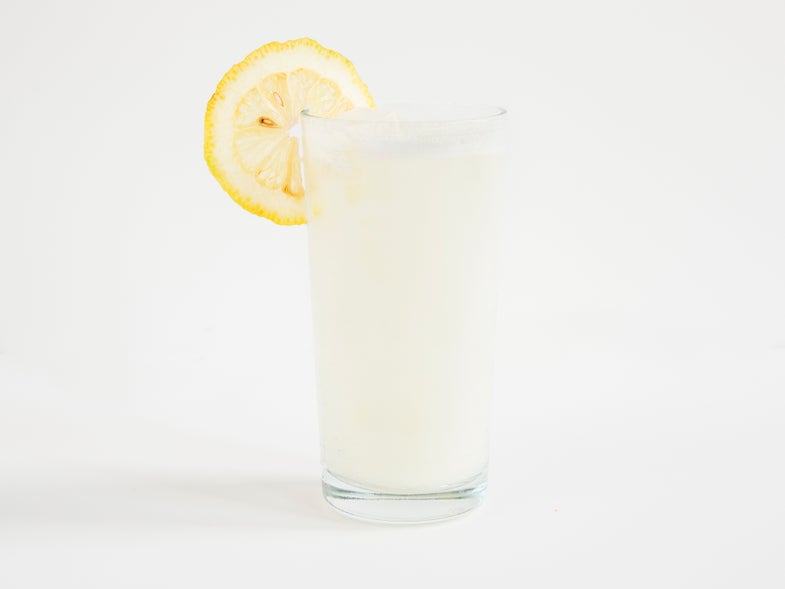 Matteo Malisan, bar manager of The Zetter Townhouse in London, gave us the recipe for this modern, light twist on a classic milk punch. It uses gin instead of the more traditional whiskey, making it a perfect summer drink.
Featured in: 21 Cocktails for our 21st Birthday
Yield: makes two cocktails
Ingredients
For the Milk Syrup
1⁄2 cup Sauvignon Blanc
1⁄3 cup sugar
1⁄4 cup fresh lemon juice
1⁄4 tsp. vanilla extract
Zest of one lemon
1 (4-inch) piece of orange zest
1⁄2 cup milk
For the Cocktails
2 1⁄2 oz. soda water
1 3⁄4 oz. gin
1 1⁄2 oz. milk syrup
1 1⁄2 tsp. fresh lemon juice
Lemon slice, for garnish
Instructions
For the milk syrup, combine wine, sugar, lemon juice, vanilla, zests, and 2 tablespoons water in a small saucepan over high; boil. Remove from heat and let sit for 30 minutes to allow the flavors to meld. Strain, discarding solids, and cool.
Heat milk in a small saucepan over medium until bubbles start to form at the edges, about 8 minutes. Remove from heat and stir in syrup; cool.
To make the cocktail, stir soda water, gin, milk syrup, and lemon juice over ice in a Collins glass and garnish with a lemon slice.