16 Essential Vietnamese Ingredients That Belong in Your Pantry
Underbelly chef Gary Ly shares the fresh, dried, and canned goods to buy before tackling traditional Vietnamese recipes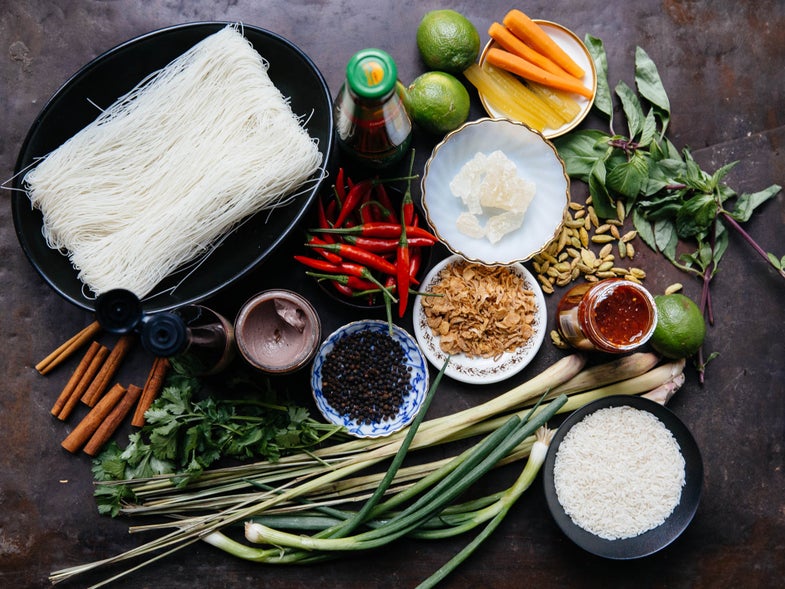 Vietnamese cooking is all about balance. You see it in the national dish, a double-digit hour-simmered beef broth with rice noodles (hello, pho), and plenty of other steamy, soulful noodle soups, which are laden with fresh herbs, potent spices, searing chiles, dashes of fish sauce, and squirts of citrus.
It's a culinary reflection of the Buddhist-inspired five-element philosophy, which pairs a natural element with a flavor: wood to sour, fire to bitter, earth to sweet, metal to spicy, water to salty. Every dish must demonstrate harmony between the elements, and their corresponding flavors. And although recipes vary from city to city and region to region, a common theme across all of Vietnam is contrasting textures—fleshy and chewy ingredients are often served with crunchy ones, like soft rice noodles layered with fatty pork, crunchy fresh vegetables, and crispy fried onions.
At Underbelly—Chris Shepherd's pork-centric critical darling of Houston, Texas—you can see this approach in action. Underbelly isn't a Vietnamese restaurant, but its focus on creole cuisines taps notably into the local Vietnamese population, with fish sauce finding its way into a plate of crispy farmer's market vegetables and locally-caught snapper getting the traditional Hanoian cha ca treatment with dill, peanuts, and bun, or rice noodles.
These are familiar ingredients to Underbelly's newly-promoted (and first-ever) chef de cuisine Gary Ly, a first-generation Vietnamese American who at the age of 10 discovered he wanted to cook for a living after watching his mother make traditional Vietnamese dishes at home. Off the clock, Ly often cooks these same foods for himself, so he knows a thing or two about how to stock a Vietnamese pantry.
Ready to tackle our list of essential Vietnamese recipes? To help, we asked Ly to drop some knowledge on the ingredients found in every Vietnamese household, as well as what brands he recommends purchasing. But first, check for an Asian or specialty grocer near you, as some of these items may not be found at every supermarket. From fish sauce to sambal oelek, here are the 16 essential ingredients for a modern Vietnamese pantry.
Known as nuoc mam in Vietnam, fish sauce is made by pressing, salting, and fermenting anchovies, a process that results in a dark, amber-hued liquid. Like olive oil to Italian cooking, fish sauce is the cardinal ingredient in the cuisines of Vietnam, Thailand, Laos, and Cambodia. An extremely versatile condiment, it can be diluted with water and sugar for dipping sauces, splashed into broth, or mixed with palm sugar to glaze and caramelize meaty clay-pot "casserole" dishes. When choosing a fish sauce, consider the nitrogen grading—20°N is the average; 40 is optimal.
Ly recommends: Red Boat fish sauce, which is notable for being a first-press, extra-virgin fish sauce at 40°N. Use it as a base for nuoc cham, literally "dip sauce," as well as as a salting agent in countless other dishes ranging from pho to bun cha.
This viscous sauce is made from essence or reduction of boiled oysters that's mixed with sugar and water and thickened with cornstarch. The result is a savory but also sweet and caramel sauce that works best in sautées as it's able to spread evenly through foods. A staple of Cantonese and Southeast Asian cooking, it's used mostly commonly in the Vietnamese culinary world to tone down the bitterness of leafy greens and add a sweetness to a beef cubes dish called bo luc lac, or "shaking beef."
Ly recommends: Lee Kum Kee Panda Brand oyster sauce, which is available at most Asian grocers.
Rarely used in large amounts, this sauce is still "necessary to have in the house," according to Ly. Pungent in smell and rich with bold, umami flavor, the gray-ish colored paste is made simply with fermented silver shrimps and salt. Though it's often used for marinating or sautéeing, it's most famous in bun rieu, a beloved Southern noodle soup made with tomato broth, freshwater crab, and sometimes escargot.
Ly recommends: Lee Kum Kee finely-ground shrimp sauce. Just a tiny spoon can make a difference in soups, as a dipping sauce for meats, or even in pickling veggies like Korean kimchi.
Rice is served with almost every meal in Vietnam, and making rice is often the first thing we learn to do in the kitchen as children. Ly says, "I love noodles, but I can't go without rice. You have to have it with every meal." Fragrant and floral, jasmine rice adds another element of flavor as an complement to umami-rich sauces and sour-salty broths. It's important to note that unlike sushi rice or regular white rice, jasmine rice is drier and not glutinous, but can still hold together when cooked properly.
Ly recommends: Jasmine rice brands, such as Super Lucky Elephant, Milagrosa, or Krasdale. Look for rice imported from or grown in Thailand or Vietnam.
Pickled vegetables
Called do chua, or literally "sour things" in Vietnamese, these veggies can be found jarred in nearly every Vietnamese household. There's no specific regulation on the types of vegetable use but they most commonly include: cabbage, carrots, cauliflower, and mustard greens. Given the saltiness and pepperiness of many dishes, the tangy, slightly sweet pickled veggies are often presented as side dishes to add a pop of brightness.
Ly recommends: Pickling your own veggies. He says, "My recipe is half a gallon of water to a quart of distilled vinegar, a cup of sugar, and a half of cup of salt. Drop the vegetables in and let them sit for about four to five days.
Ly says, "To be honest, I'm not sure why it's used so often. It's just how I was taught." In many Vietnamese kitchens, cooks use rock sugar as opposed to granulated sugar, especially when intricately flavored broths for dishes like pho and bun bo Hue. The unrefined nature of the rock candies allow for a more nutty sweetness, one more reminiscent of the original sugarcane.
Ly recommends: Yellow or golden rock sugar, which will contained the desired impurities.
Sriracha may be the condiment du jour, but when it comes to cooking, sambal oelek cannot be beat. Though less pronounced than sriracha in terms of sugar and vinegar, sambal oelek delivers a stronger, more balanced heat that pairs well with other key ingredients like fish sauce, rice, and pickled vegetables. Named after the Indonesian words for hot sauce (sambal) and mortar and pestle (oelek), the sauce is chunkier and less finely ground than its famous squirt-bottle cousin.
Ly recommends: Huy Fong "rooster brand" sambal oelek. Made by the same company that produces sriracha, this sambal oelek comes in a glass or plastic jar with a gold label and green lid.
While pho employs banh pho—the same rice stick noodle used in pad Thai—a modern Vietnamese pantry is just as likely, if not more likely, to have a pack of thin, vermicelli noodles, called bun. Ly says, "A lot of Vietnamese dishes are very similar—some just swap rice for rice noodles, but they are basically the name." His favorite dish with bun is bun thit nuong cha gio, which tops the noodles with char-grilled pork, eggrolls, greens, peanuts, and mixed fish sauce. It's hearty enough to fill you up but light enough that you don't feel stuffed afterwards.
Ly recommends: Thin, rice vermicelli noodles (as opposed to the broader, wider varieties).
Fresh Herbs
Most Vietnamese noodle soups, and a handful of appetizers, employ the same exact combination of fresh herbs—cilantro, green onion, Thai basil, and mint—as garnish. Whether it's northern pho, central bun bo Hue, or southern hu tieu, it's safe to assume that before serving, you'll throw on a pile of roughly chopped herbs whose fragrant juices seep into the steaming broths, and whose stalks and stems provide a slight crunch to offset the chewiness of noodle and meat. Vietnamese eggrolls receive the addition of lettuce leaves, which are used to roll them up with mint, cilantro, and basil.
Ly recommends: Cilantro, green onion, Thai basil, and mint, as staples. When preparing eggrolls, also keep large leaves of lettuce. Depending on the dish, additional herbs may include sawtooth herb, banana blossom, Vietnamese coriander, and mung bean sprouts.
Birdseye Chile
Ly notes that Vietnamese food is generally not as spice-forward as Korean, Thai, and Indian food. When serving Vietnamese food, chiles are sliced and served plain in a small ramekin, or mixed into nuoc cham dipping sauce or shrimp paste. Most Vietnamese families grow these Thai birdseye chiles at home, picking them when ready for use. While not a necessity, chiles are always presented as an optional condiment for those who love spice.
Ly recommends: Red Thai chiles, thinly sliced. Take care to avoid wiping your eyes after coming into contact with these!
Sprinkled on top of many dishes to add a nutty, onion taste, these fried shallots are easy to make. Simply steep chopped shallots in oil, on low heat, until caramelized, straining the mix and keeping the shallots as a garnish, and the oil for cooking. Ly says, "Sometimes, when I have friends coming over, I use the shallot oil and cook lots of green onions with garlic. Then I pour the mix over steamed clams that have already been opened. Vietnamese cuisine has a lot of dishes you can drink with, and that's definitely one of the best."
Ly recommends: Making your own fried shallots, but you can also purchase them in stores or online.
Cinnamon from Vietnam has a bigger bark and higher level of spice than the Indonesian varieties commonly sold here. It's also sweeter in smell. Used in many stocks and soups, including the broth for pho, goes in pho, it lends an undertone of warming sweetness. Generally, one stick of cinnamon is enough to flavor an entire pot.
Ly recommends: Vietnamese cinnamon, such as King Arthur Flour Vietnamese cinnamon.
Like cinnamon, black pepper in Vietnam is also different than the pepper we commonly find here. When served fresh, peppercorns appear green at first, turning black within an hour. Ly says, "Vietnamese people love, love, love black pepper. On everything.
Ly recommends: Vietnamese peppercorns, or fresh peppercorns, if you ever have the opportunity to get your hands on them. The flavor is much more pronounced.
Along with star anise, clove, and cinnamon, cardamom helps form the spice base for soups, including pho. While black cardamom is commonly used in Vietnamese cooking, Ly prefers green cardamom for a more delicate, restrained flavor in savory dishes.
"Every Vietnamese household that I've gone to has either stalks of lemongrass or lemongrass in a jar," says Ly. "There's always a form of lemongrass." The grassy herb is used most commonly for braising meats, often alongside fish sauce, sugar, and chilies. It adds lemony, bright, and citrusy notes that "get people salivating."
Loads of Fresh Lime
In addition to fresh herbs, Vietnamese dishes are often, if not always, finished with a lime wedge. Ly says, "There's something magical about the combination of lime, onions, and cilantro—and we're not the only culture that uses the combination. It brightens everything up and makes any dish more rounded." If you're eating a Vietnamese soup, whether it's mi quang or bun bo hue, you almost always start with a squeeze of lime before you dig in.
More From The Modern Pantry