Mussels with Tomatoes and White Beans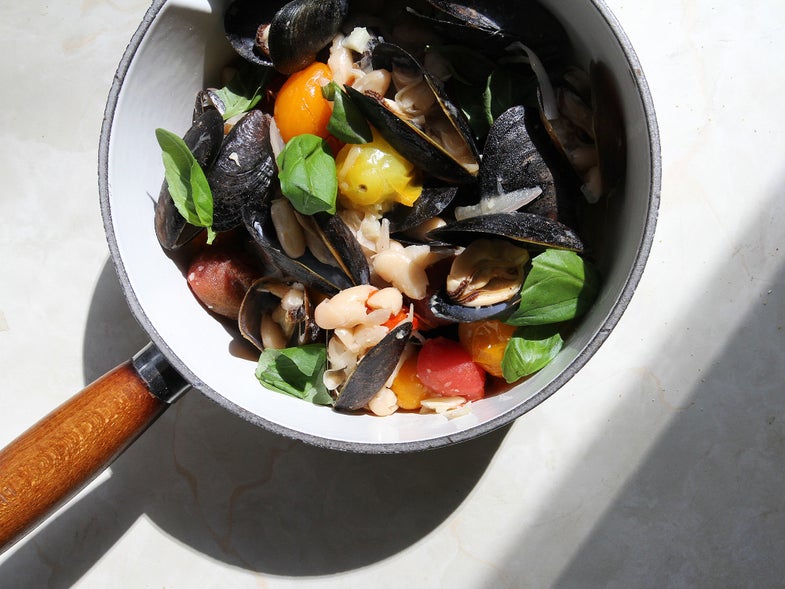 Some of my favorite meals have come about from trying to use up leftover ingredients from recipes we're testing for the magazine. This dish is one example; faced with a bunch of mussels that would otherwise go to waste, I grabbed some other ingredients we had on hand in the kitchen—a can of beans and some cherry tomatoes—plus a few things I already had in my pantry at home. After tasting dishes at work all day, something simple and not too heavy is usually in order when dinner rolls around, and this fits the bill: It's brothy and light and takes just a few minutes to prepare and cook, which is just enough time to enjoy a glass of white wine while the mussels open. You'll want some crusty bread to sop up all the broth. —Farideh Sadeghin, test kitchen director
Mussels with Tomatoes and White Beans
Mussels with cannellini beans and tomatoes are the perfect filling meal any time of year.
Time: 10 minutes
Ingredients
2 tbsp. olive oil
2 cloves garlic, thinly sliced
1 shallot, thinly sliced
1 pint cherry tomatoes
2 lb. mussels, cleaned and de-bearded
1 (15-oz.) can cannellini beans, drained and rinsed
Kosher salt and freshly ground black pepper, to taste
1⁄2 cup white wine
1⁄2 cup basil leaves, torn
Instructions
Heat oil in a 6-qt. saucepan over medium-high. Add garlic and shallot and cook until soft, 2 minutes. Add tomatoes and cook until just beginning to burst, 2 minutes more. Add mussels, beans, salt, and pepper and cook 1-2 minutes; add white wine and cover. Cook until mussels begin to open, 3-4 minutes. Add basil and serve immediately.