Recipes
Nectarine, Blueberry, and Vanilla Bean Hand Pies
Serves

makes 6 hand pies

Cook

2 hours 30 minutes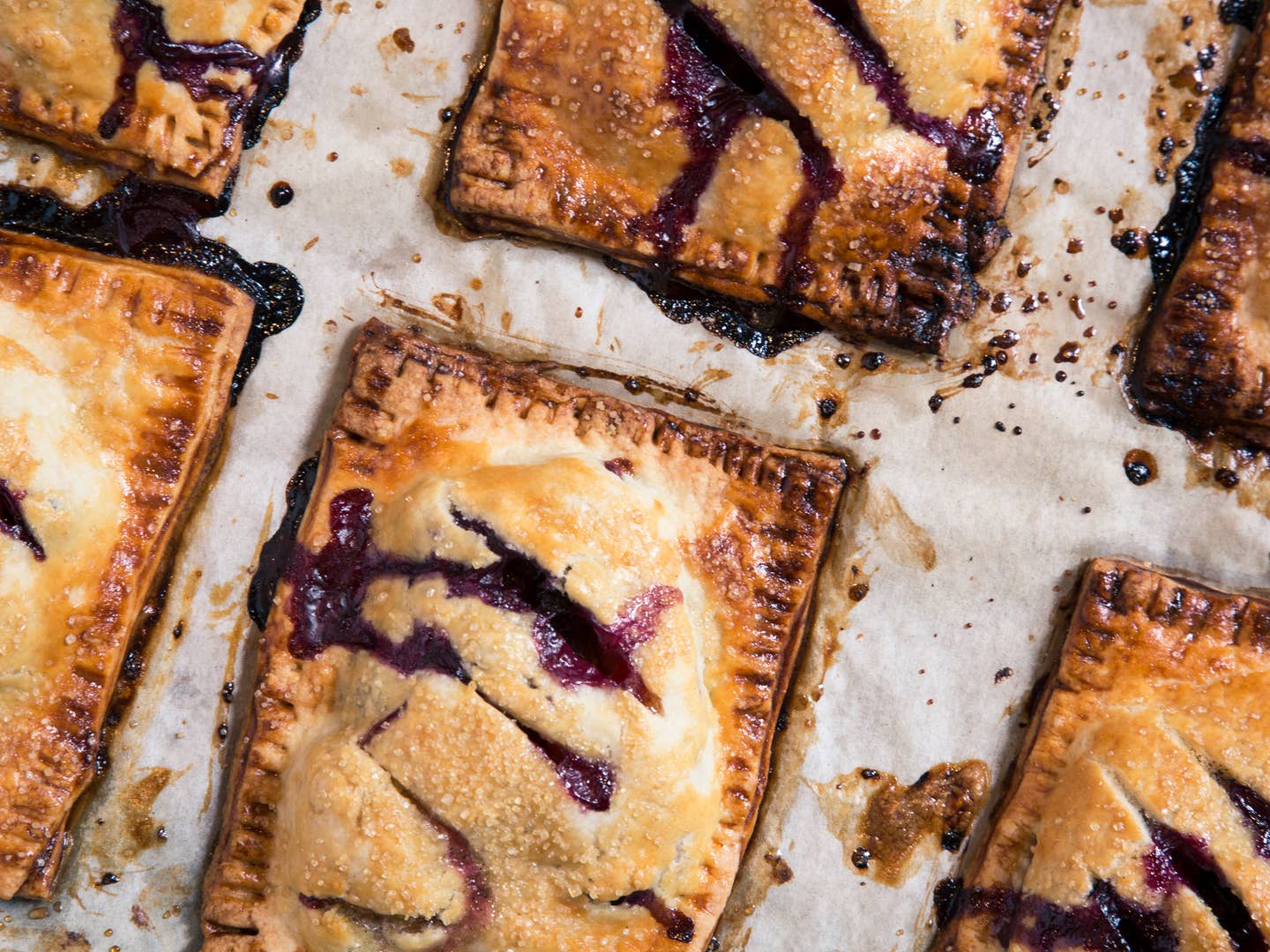 Erin Patinkin and Agatha Kulaga of Ovenly in Brooklyn give us their recipe for nectarine, blueberry, and vanilla bean hand pies, which work equally well for breakfast as they do dessert.
Ingredients
2 3⁄4 cups all-purpose flour
2 tbsp. plus 2 tsp. granulated sugar
1 tsp. kosher salt
2 stickes plus 1 Tbsp. chilled unsalted butter, cut into 1/2-inch cubes
1⁄2 cup blueberries
1⁄4 cup packed light brown sugar
2 large nectarines, halved, pitted, and cut into 1/4-inch slices
1 vanilla bean, split lengthwise and seeds scraped
1 egg yolk
1 tbsp. turbinado sugar, such as Sugar in the Raw
Instructions
Step 1
In a food processor, pulse 2 1⁄2 cups of the flour with 2 tablespoons of the granulated sugar, and the salt until combined. Add the 2 sticks of butter, and pulse until pea-size crumbles form. Pour in 1⁄4 cup ice-cold water and process the dough until it just comes together. Scrape the dough out onto a work surface and shape it into a ball. Halve the dough and then flatten each half into a 6-inch disk. Wrap each disk in plastic wrap, and refrigerate at least 1 hour.
Step 2
Heat the oven to 425°. In a large bowl, mix the remaining 1⁄4 cup flour with the remaining 2 teaspoons granulated sugar, the blueberries, brown sugar, nectarines, and vanilla seeds until the fruit is evenly coated.
Step 3
On a lightly floured work surface, roll one dough disk into a 12-x-14-inch rectangle. Trim the dough to a 10-x-12-inch rectangle, and then cut the dough into six 4-x-5-inch rectangles. Arrange the dough rectangles on two parchment paper-lined baking sheets spaced 2 inches apart. Divide the filling among the rectangles, placing a mound in the center of each.
Step 4
Whisk the egg yolk with 1 tablespoon of water to make an egg wash, and brush it along the edges of each rectangle. Cut the remaining 1 tablespoon of butter into small pieces and dot the top of each mound of fruit. Repeat rolling and cutting the other dough disk and then cover each mound of fruit with another dough rectangle, pressing to adhere the top and bottom dough rectangles to each other. Crimp the edges of each hand pie with a fork and then cut three small vents in the top of the pies.
Step 5
Brush the pies with the remaining egg wash, and sprinkle with the turbinado sugar. Bake until golden brown, about 30 minutes. Let cool slightly before serving.