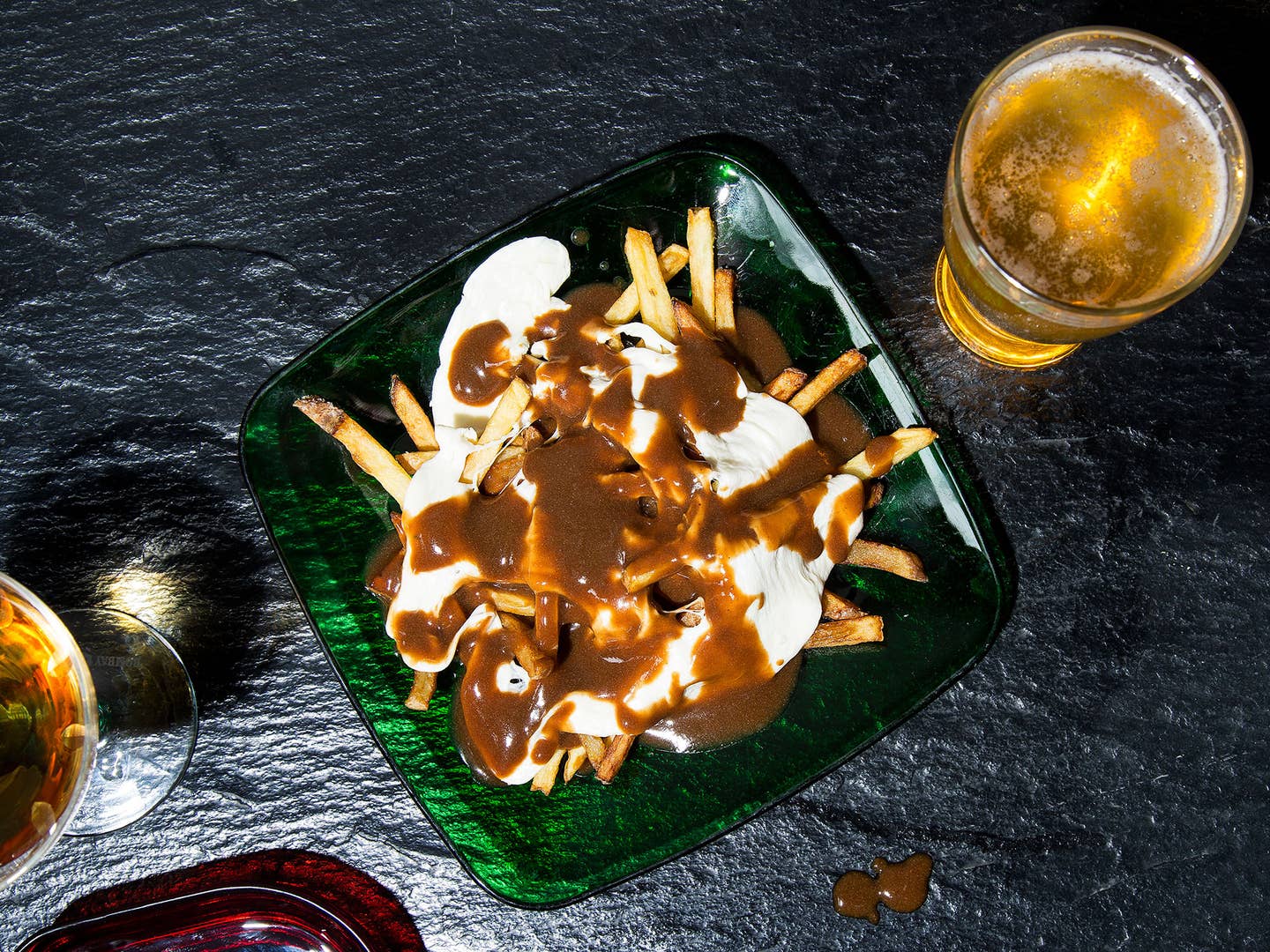 Culture
There's No Drunk Food Like Disco Fries
Fried potato + melted cheese + gravy is good everywhere, but this drunk food is a Garden State exclusive
What do apex predators, babies and diner waitresses have in common? They can all smell your fear.
I must have been giving off a particularly pungent musk of terror one recent afternoon at the Tick Tock Diner, a busy operation in Clifton, New Jersey wedged between a cemetery and the world's most cutthroat Trader Joe's parking lot. The second Lauren Santos exited the kitchen with my order—an open-faced reuben the size of a bear trap, 50/50 corned beef/pastrami because I couldn't pick a meat—I felt my eyes stretching to match the circumference of the manhole plate barely containing my lunch.
"I know," said Santos, her own peepers heavy with caloric pity. "It's like, 'Whoa...where do I begin and where do I end?'"
Yes, this sandwich was mythic, but it was just part of the overall shock and awe. There was also my side dish: disco fries, soaked in savory brown gravy and shrouded in fistfuls of stretchy, melty mozzarella that enveloped the potatoes in an unbreakable body lock. They're the real reason I trekked out to Tick Tock, a slightly notorious joint that's far from shy about portions—there's literally a neon roof sign instructing you to "EAT HEAVY" in capillary-red capital letters.
A diner staple in a state studded with diners, disco fries are one of those New Jersey classics that speaks to a familiar American folk-food paradox: They're served everywhere you look, yet it's impossible to confirm where they came from.
"This was the originator," says Santos confidently, gesturing around Tick Tock's 350-seat expanse right after I ask her where disco fries were born. She has the lineage to back it up. Santos is the third generation to work at Tick Tock, which opened in 1948—her grandmother was a server here for 30 years, followed by her mother, who waited tables for 20. "There's no blood going through me, honey," she adds. "It's gravy and mozzarella cheese."
Grilling Santos and others about the etymology of "disco fries" produces a consistent refrain: They're called that because they were the preferred late-night meal of the polyester-clad disco crowd, at its peak from the mid-'70s to early '80s. This makes sense on paper. Crispy french fries, a salty gravy, and ooey-gooey cheese that stretches like DiGiorno is the holiest of drunk-food trinities, as any fan of poutine will corroborate. (This poutine historian draws a direct corollary between the dishes; I haven't personally found concrete connections, aside from near-identical ingredients.)
While colloquial chatter dates disco fries all the way back to the days of Saturday Night Fever, Pat Romano, a restaurant chef turned food trucker who's built a career on the dish, offers an interesting alternative theory. Now in his mid-40s, Romano says he first heard the term "disco fries" in the early 1990s, when he was a hard-partying twentysomething hitting up bars and clubs in Manhattan and North Jersey.
"We got the fries just to sit in [the diner], and you'd get a soup cup of brown gravy," says Romano of his crew's post-clubbing ritual, which usually included a stop at Broadway Diner in Summit. "Cheese fries were on the menu, too, but nobody had heard of putting it all together."
Eventually, someone did ask for the whole deal on one platter, and this hangover-preventing power move spread like a salacious rumor. The unusual name comes into play, as Romano remembers it, as a result of the old-fashioned Flos hemming in the hordes. Though the term was already antiquated at the time, Romano and his peers came to be known as "the disco crowd" among the diner waitstaff—an industry variation on the sweet, stuck-in-her-ways granny who still calls jeans dungarees.
"The history part? I lived it! It wasn't like I heard about it," says Romano of this time, which has clearly influenced his current endeavor: About a year ago, he launched his Romano's Disco Fries, a mobile operation that sells the dish at events and festivals.
He's far from the only New Jerseyan to have disco fries stick with, and to, them. Mike Isabella, the D.C. chef and restaurateur, grew up plowing through them well past the witching hour at the now-closed Seville Diner in Westwood. He included a recipe for "a cleaned-up version," with peewee potatoes, slab bacon gravy, and ricotta salata, in his 2012 cookbook, Crazy Good Italian. "It hits all those comfort food notes...fried, crunchy, salty, creamy and cheesy," he says.
"We never thought about all the added benefits that come with naming yourself after diner food," says Boselovic. On tour, club promoters are always excited to serve the DJs the most comparable local fry-based specialty. "And we never say no."
While the proper-noun Disco Fries never cause a stir when it comes to consuming approximations of their namesake, a question lingers at the heart of every lower-case disco fries discussion: Which style of fry is superior?
Tick Tock uses long, thick steak fries, deemed the best and only choice by my friends Sande Friedman and Alex Furst, Montclair natives who are my go-to sources for hyper-granular North Jersey food takes. (They're basically The Lone Gunmen, if you replaced conspiracy theories with the indigenous viands of Bergen, Essex and Morris counties.) "Steak fries are very important—they're the only ones with enough heft and body to carry the gravy and cheese," says Sande.
Romano, meanwhile, believes the crinkle-cut fry is the superior selection for use on his kitchen rig. "The crinkle holds the cheese and gravy—just grabs it," he says. I've seen discos done with waffle fries, though this is a divisive move among purists. I tried my personal favorite version—those crispy, generic, Restaurant Depot-style taters, thicker than Mickey D's shoestring but skinnier than steak—at the quaint Nautilus Diner in Madison.
All this hullabaloo over an appetizer ordered by people who are often too wrecked to remember ordering it might seem like overkill, but that very fact is what's led to the disco fry's longevity. Drinking is ritualized, and drunk-eating is too, especially in a place like New Jersey, where the 24-hour diner culture is celebrated and cultivated as a point of statewide pride. Gravy and cheese over crispy potatoes, on its own, does not belong to anyone. But disco fries, and all the debate and post-last call lore that comes with them, are an all-out New Jersey production.
"What makes them great?" pondered Romano, repeating my very open-ended question back to me. "I guess alcohol."