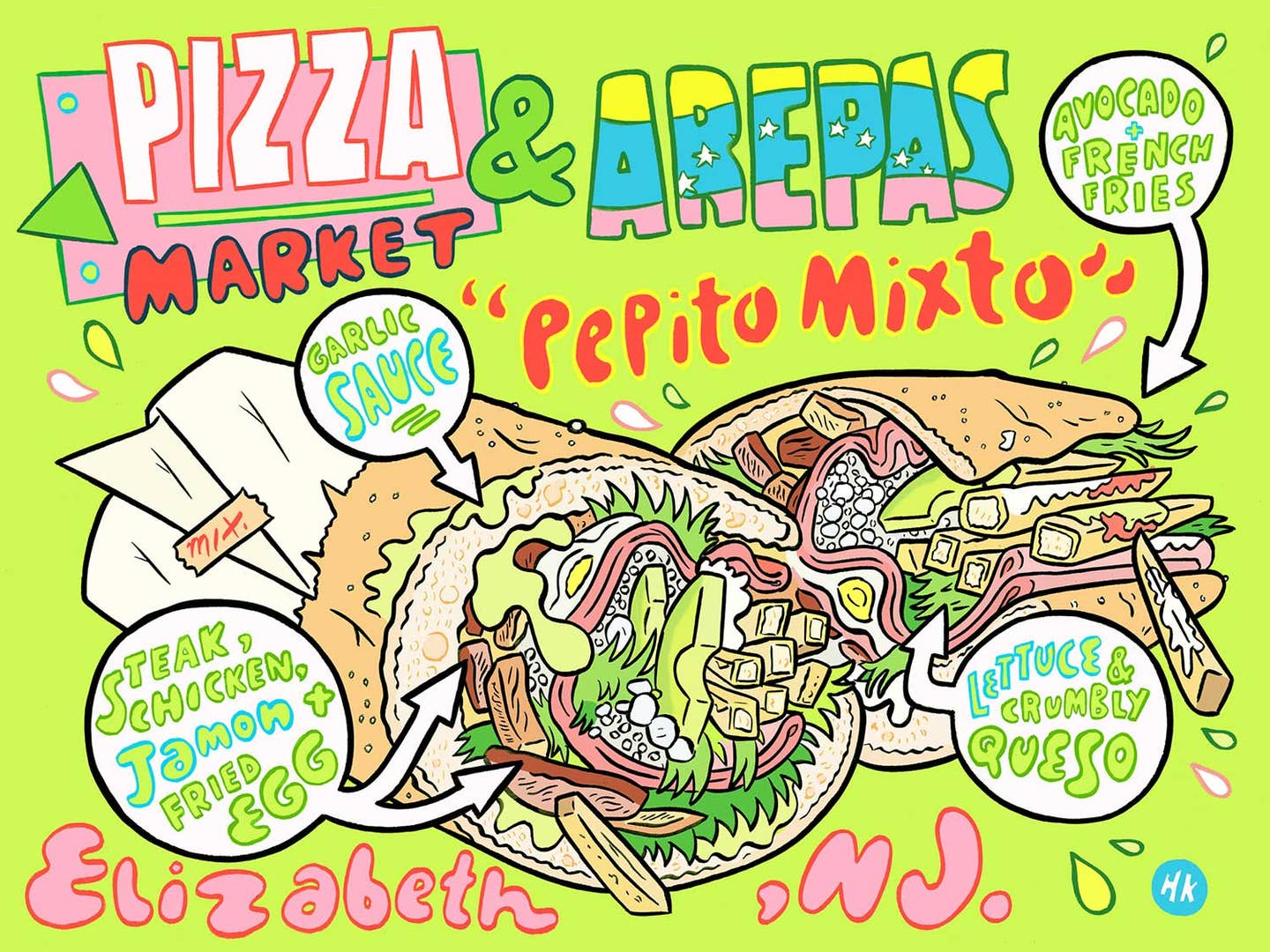 Recipes
The Venezuelan Sandwich of our Dreams Is from…New Jersey
Exploring "accidental fusion" and discovering the Pepito in Elizabeth, NJ
One recent rainy Saturday, I took a drive out to Jersey in search of something new and exciting for lunch. I have found that the working-class communities of North Jersey—little downtowns with a diverse population, a mix of old and new—are the perfect area to search for all things delicious and under-the-radar. My destination for the day was Elizabeth, a city of some 125,000 directly across the bridge from New York City. It's a perfect example of this kind of community: its downtown is gritty but charming, dotted with beautifully preserved old-school Italian butcher shops alongside eateries opened by and patronized by newer immigrants. A world class hot dog joint, Tommy's, is a few doors down from Peruvian and Cuban restaurants, an Italian sausage shop rumored to be the inspiration for The Sopranos' Satriale's, a Latin-American Smoothie stand, and a long-standing Portuguese bakery. It's both old-school east coast and a veritable outdoor international food hall with nary an Edison bulb in sight.
The only challenge is where to eat, what to focus on. It's painful to walk by Tommy's—probably in my top 10 hot dogs in the world—without picking up double Italian stuffed with fried potatoes, but today I'm here for the Venezuelan pizza shop. Pizza Market & Arepas is a colorful little corner spot that's been on my list for a while, as "Old School Pizza Shop Repurposed By New Immigrants" is my current favorite category of restaurant. You see these cross-cultural neighborhood spots all over the tri-state area these days, newer arrivals cranking out both their local grub and their homeland's cuisine, with all sorts of fusion things in between, either on purpose or completely by (delicious) accident.
Not all of these "accidental fusion" places are great —I've driven hours out of my way for Colombian Poutine and Indonesian Fried Chicken that were made carelessly or just didn't work—but I had a good feeling about this place. It looks just your average-looking corner pizza joint, but as I pop in, it is decorated with Venezuelan flags, and a couple tables of families and construction workers in for lunch, all eating the more Venezuelan fare—not a pizza slice in sight. Pizza isn't always the thing to get at these places. We're here to dig deeper into the menu—arepas, of course, but also "baked hotdogs", pepitos, and something called a "Venezuelan Club Sandwich".
The namesake arepas are really good, the stuffed-corn-cake cachapas even better, but not anything I'd never seen before. The mysterious club sandwich was unavailable, so they suggested the Pepito instead. And so out comes this monster sandwich, looking like all my North Jersey South-American sandwich dreams come true. They start with a standard medium hoagie roll, but somehow mold, shape, and stuff it beyond the realms of possibility, rolled tightly in wax paper into a perfect tube, landing on the table looking more like a burrito than any hoagie or torta, but really unlike anything I've ever seen: wild layers of shredded lettuce tucked behind pink ham and wrapped around warm chunks of cooked chicken and strips of steak. Look around some more and there's a fried egg, a pile of crispy french fries, avocado, and pink and green sauces coating every surface. Holy mother of God. But is it good? Of course it's good. Think the best Torta or Cubano you've ever had, jazzed up with some Venezuelan love, and crossed with a California-style carne-asada-french-fry burrito.
Read More from Hawk's Illustrated America
It is true that we are in the age mutant gimmick sandwich for Instagram, and I agree that this trend is boring. But the Pepito is more than that. What makes this sandwich sing is the dance between the toasty bread, delicious meat, crispy fries, rich egg, creamy avocado and sauce, it's just good. One word of warning: this thing is a mess. Keep it rolled into the wax paper as long as possible, or you'll end up eating most of it with a knife and fork like I did.