Recipes
The Original Nachos? Maybe.
The man's name was Ignacio Anaya. His nickname was Nacho. When asked what he called the dish he'd just wiped up, Ignacio replied, "Nacho's especiales."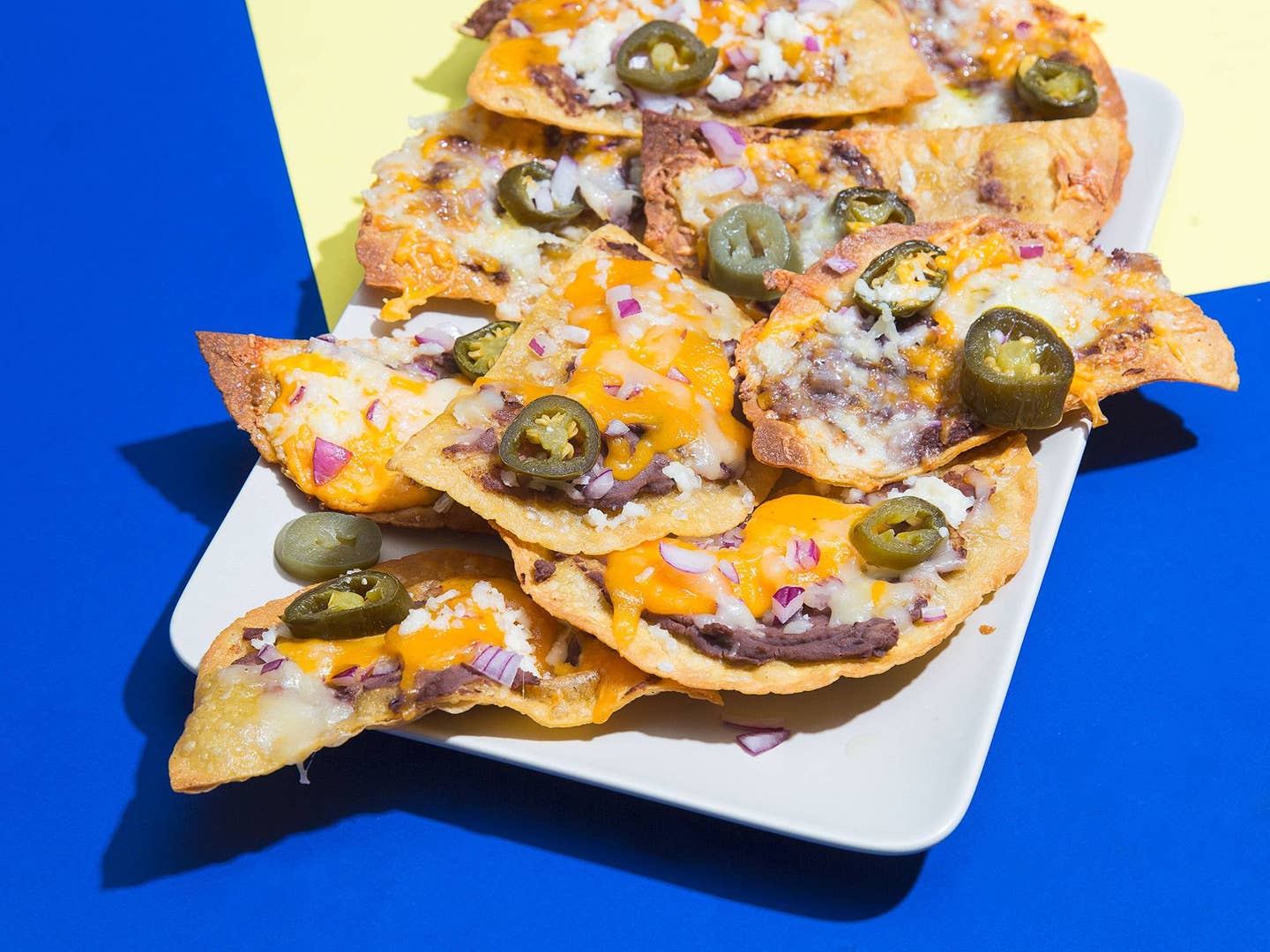 A balance of pickly, salty, cheesy, and crisp, this recipe—
One night in Mexico in 1943, at the Victory Club restaurant in the Mexican border town of Piedras Negras, some U.S. Army wives showed up hungry. The kitchen was already closed, but Ignacio Anaya, the maître d' that night, was fast on his feet. He ran back to the kitchen and threw together a quick snack: fried tortilla pieces topped with melted cheese and cold, pickled slices of jalapeño. This simple recipe is inspired by his ingenuity. Here's tip: When deep-frying your own tortillas, look for soft tortillas made with all corn (and no flour) for the crunchiest results.
Ingredients
Vegetable oil, for frying
10 soft corn tortillas, cut in half
Kosher salt
1⁄4 cups refried black beans
1 medium shallot or 1/4 red onion, minced
1⁄2 cup shredded orange cheddar cheese (1 1/2 oz.)
1⁄2 cup shredded Monterey Jack cheese (1 1/2 oz.)
1⁄2 cup crumbled queso fresco or Cotija cheese
20 pickled jalapeño slices, or to taste
Instructions
Step 1
Set a paper-towel-lined tray next to the stove. In a large, high-rimmed skillet, add enough vegetable oil to reach 1 inch up the sides of the pan. Set over high heat until a deep-fry thermometer reads 350°. Working in batches as needed to avoid overcrowding, add the tortillas and fry, turning once, until crisp but not browned, about 30 seconds on each side. Remove, transfer to the prepared tray, and season with salt.
Step 2
Meanwhile, preheat the broiler. On a large baking sheet lined with foil or parchment paper, place the chips in a single layer. Spread each chip with a thin layer of refried beans and sprinkle them with half of the shallot. Top with the cheddar and Jack cheeses, then the queso fresco. Garnish with the pickled jalapeños and the remaining shallot.
Step 3
Transfer the baking sheet to the oven and broil until the cheeses are just melted and the chips are lightly singed on the edges, about 5–7 minutes (watch closely to avoid burning). Transfer to a platter if desired, and serve immediately.