Pan Roasted Duck Breast with Scotch Broth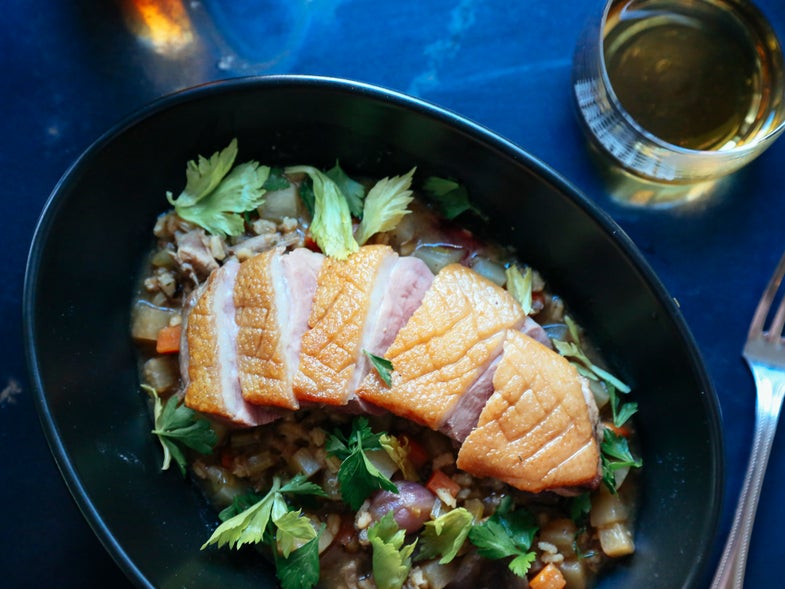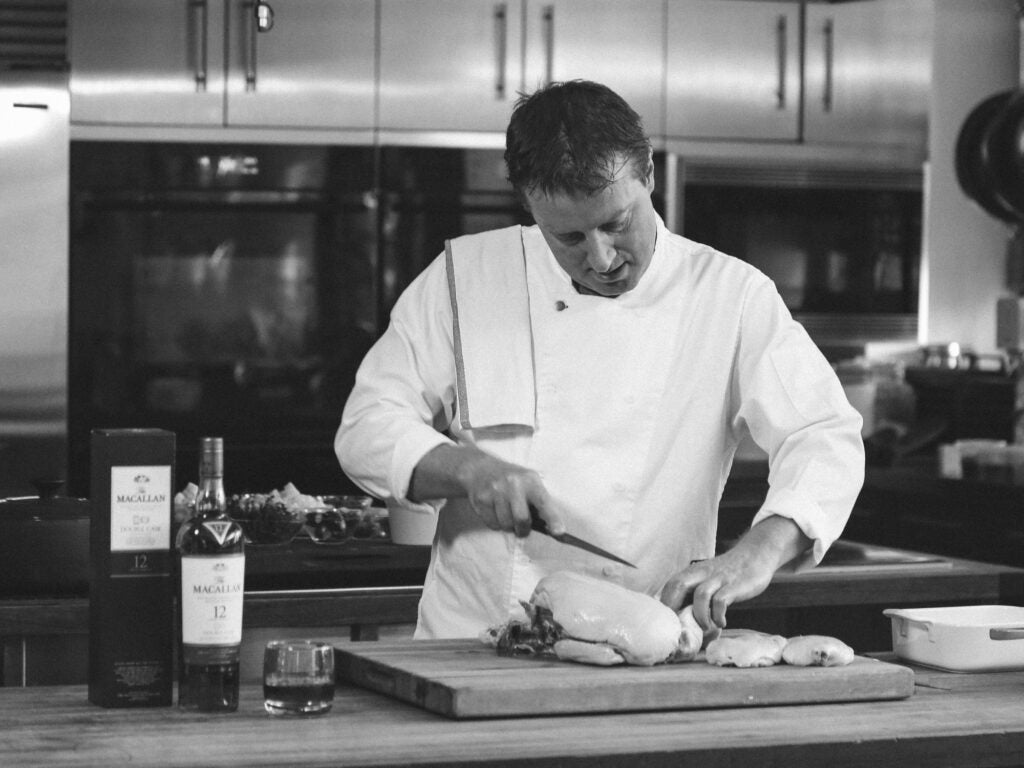 How chef Matthew Hardner's cooking has been influenced by both American and Scottish cuisines
Featured in: Two Worlds, One Dish
Pan Roasted Duck Breast with Scotch Broth [sponsored]
Medium-rare duck breast served atop Scotch broth which is amped up with a dark duck stock.
Scotch Broth
1 leek, chopped
2 celery sticks, diced
2 onions, diced
2 carrots, diced
1 turnip, diced
1 potato, diced
1 qt. dark duck stock
1 cup pearl barley
handfuls fresh parsley leaves
splashes olive oil
salt and pepper to taste
Instructions
Place the leeks, onions, carrots, celery and splash of olive oil in a medium sauce pan and cook till transparent, approximately 20 minutes
Add in the stock, potatoes, turnips, and barley and cook further for 45 minutes. Adding a splash of water if necessary.
Season with salt and pepper, mix in meat from duck legs, and finish with fresh parsley.
---
Slow Roasted Duck Legs & Pan Fried Duck Breast
2 legs from a Long Island Duck
2 breasts from a Long Island Duck
Instructions
For the duck legs: While you're making the scotch broth, have the duck legs in the oven. Preheat oven to 325 degrees. Rub the duck legs with oil, salt, and pepper. Place on a baking tray and cover with foil cook for 1 ½ – 2 hours until the meat falls away from the bone. Once done, pull apart meat and mix into scotch broth.
For the duck breasts: Score fat side of the duck breast on a cross hatch diagonal. Season with salt and place into a cold non stick pan fat side down on a medium heat, the fat will slowly render and you may need to remove some while cook depending on the size of the breast. Cook for 8 – 10 minutes, turning it over and continue to cook for and additional 2 – 4 minutes. Allow to rest for 10 minutes. Slice and serve over Scotch Broth