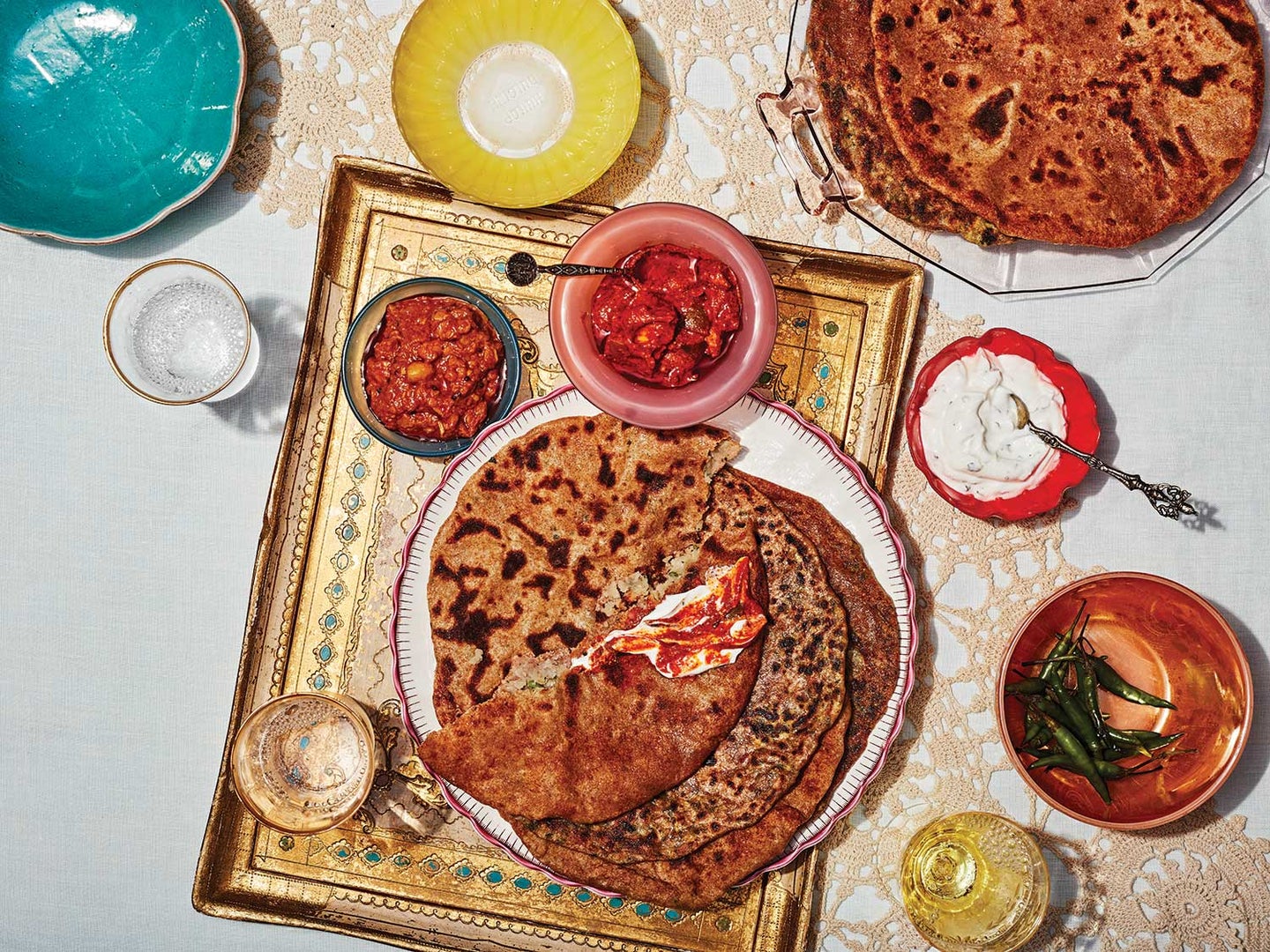 Paneer is a mild, crumbly cheese that absorbs flavors well and doesn't melt, making it a great low-moisture filling for flatbreads.
Featured in: Parathas Are a Carb-Lover's Dream Come True
Equipment
Ingredients
For the dough:
1 cup whole-wheat flour, plus more for dusting
¼ tsp. vegetable oil
¼ tsp. kosher salt
For the paneer filling:
One 8 oz. piece paneer, finely grated (2 cups)
1 cup finely chopped fresh cilantro (leaves and stems)
1½ tbsp. finely chopped fresh mint
1 small Indian or Thai green chile, finely chopped
1½ tsp. kosher salt, plus more as needed
¼ cup ghee or vegetable oil
Achar, chutney, raita, or yogurt (optional)
Instructions
Make the dough: In a medium bowl, add the flour, oil, salt, and ½ cup room-temperature water, and stir with a fork until a dough forms. Knead with your hands until the dough is smooth, soft, and slightly sticky, but not too wet. Wrap tightly in plastic wrap, and refrigerate for at least 20 minutes or up to overnight.
Meanwhile, make the filling: In a medium bowl, add the paneer, cilantro, mint, chile, and salt. Mix well, then taste and add more salt as needed.
Divide the dough into 4 equal portions, rolling each of them into a ball. Repeat with the paneer filling.
Generously dust a clean work surface with flour. Lightly coat a dough ball with flour, then use a rolling pin to roll it out into a 6-inch circle, rotating it as needed to maintain a circular shape and adding more flour to the work surface as needed to prevent sticking. Place a paneer ball in the center of the circle, then pull the edges of the dough over the top of the ball to enclose the filling. Pinch together the edges of the dough to seal completely.
Flip the paratha over so the seal is on the bottom. Then use a rolling pin to roll it out into an 8-inch disk. Repeat filling and rolling the remaining parathas.
Warm a medium cast-iron skillet over medium-high heat, and set the ghee in a small bowl next to the stove. Once the pan is hot, add a paratha. Cook for 2 minutes, until browned and blistered, then flip. Add 1½ teaspoons of the ghee to the surface of the paratha, and spread it around with a spoon. Cook for 2 minutes, until the other side is starting to brown and blister. Flip once more, and add 1½ teaspoons of the ghee to the top of the paratha, spread it around, and continue cooking until the underside has dark-brown spots, about 1 minute. Flip again, and cook the other side until dark-brown spots form, no more than 1 minute. Transfer the paratha to a plate, wipe out any residual flour from the pan, and continue cooking the remaining parathas in this manner. Serve hot, with achar, chutney, raita, or yogurt, if desired.