8 Parisian Kitchen Tools to Turn Your Home into a French Bistro
How to bring a bit of Paris into your kitchen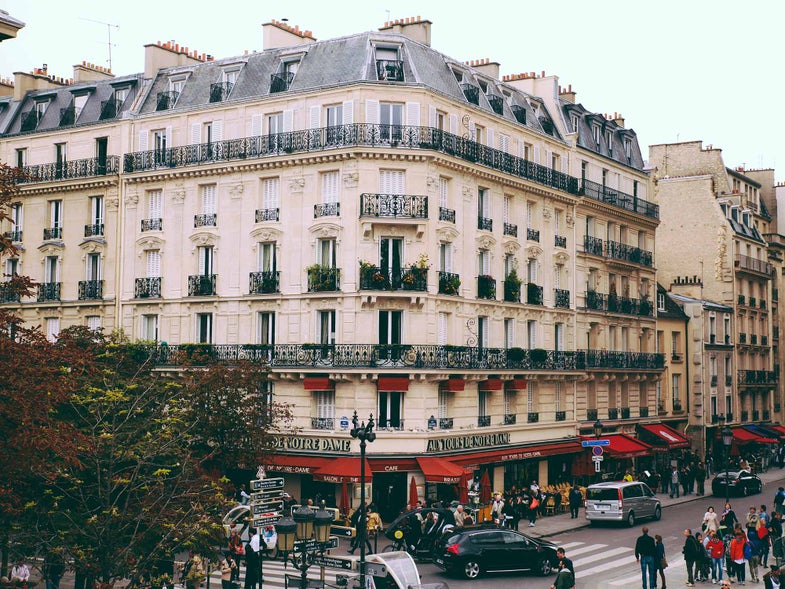 We may earn revenue from the products available on this page and participate in affiliate programs.
There's something about Paris that is undeniably chic. The architecture, the fashion, and even the food have the ability to be classically sophisticated while appearing effortlessly cool.
You can bring a little bit of that je ne sais quoi into your own home with a few well-placed French classics: a well-made cast iron pot that will last you a lifetime, hand-stitched linens in elegant neutral tones perfect for entertaining, or a café-style carafe and glassware set straight off of the Champs-Élysées—the ideal accompaniment for a stylish glass of afternoon wine with friends. Each of these kitchen items will transport you to the streets of Paris, and you'll be shouting Oui! before you can fill your online shopping cart.
Whether you're out to create the perfect picnic or just want your entertaining spread to look extra refined, every household needs a good looking cheese knife set. Invest in a set that will never go out of style, like these stainless steel beauties that would look just as good on a rustic wood board as an elegant marble slab.
How is it that drinking wine out of a café-style carafe can feel so elegant? This decanter set has a slight modern twist making the traditional glassware seem extra fabulous. Grab a few friends, a sunny patio and get ready to pour the rosé while instantly transporting yourself to a Parisian sidewalk. The picardie glasses are still available but no carafe. If you want a complete set, try the Williams and Sonoma Carafe & Glasses.
The beauty is in the details with these dainty embroidered tea towels. These herbaceous themed crisp linens would make for the perfect spring luncheon table or a refined hostess gift for any upcoming celebrations.
It wouldn't be a visit to Paris without enjoying a fragrant bowl of moules-frites (steamed mussels and french fries). Recreate this delicacy at home with a French-made classic that will look as beautiful on the stove as it will on your table.
Bring café culture into your own kitchen (or patio) with a revamped take on a Parisian staple. These Riviera chairs come in a variety of updated colors and patterns that give a little unexpected flair to your modern day home bistro.
It wouldn't be a proper Parisian morning without a perfectly pressed coffee and a croissant. Show off your caffeine commitments with a gorgeous copper press that is too beautiful to store away in a cupboard.
French linens get a trendy update with this handmade line of colorful textiles. Modern patterns mixed with age-old craftsmanship make this particular piece an updated heirloom worthy of every day's special occasions. Another Jacquard Francais Linen tablecloth, this one from Fine Linens could work.
No trip to Paris is complete without a stop at the chic home store, Merci. Take home the whimsical French feeling found inside with this cheeky mesh bag that is the perfect accessory for your next farmer's market visit. Here is a version from World Market, but it is a set of 4.