Philippine Noodle Stir-fry (Pancit Bihon)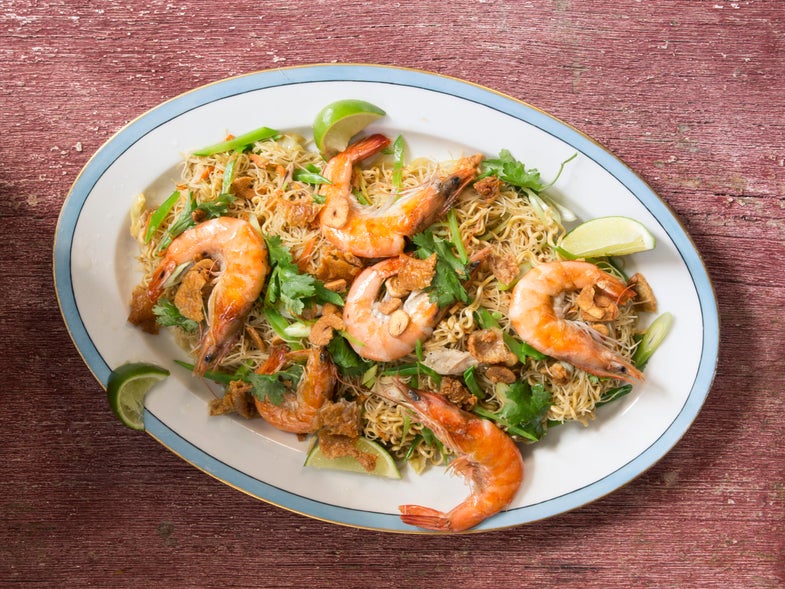 "Eating this dish makes me feel like I'm at home. It's my mom's specialty, and I remember helping her prep this as a child. It is served at every party [my family throws] and is eaten on its own for merianda, the Filipino equivalent of British Tea Time." – Leah Cohen of Pig & Khao
Featured in: A Feast for Filipinos
Equipment
Philippine Noodle Stir-fry (Pancit Bihon)
Sometimes eaten as a mid-day meal, or merianda, these pungent chicken, shrimp and vegetable noodles make a great side dish or lunch.
Time: 2 hours
Ingredients
1 1⁄4 cups chicken stock
3 tbsp. soy sauce
6 cloves garlic (3 minced, 3 thinly sliced)
1 (2 1/2-inch) piece ginger, peeled and minced
1⁄2 tbsp. fish sauce
1 1⁄2 tbsp. mushroom powder
1⁄2 tsp. sugar
1⁄8 tsp. chile flakes
Kosher salt and freshly ground black pepper
1 1⁄2 lb. boneless, skin-on chicken thighs
1⁄4 cup canola oil
1 small Spanish onion, thinly sliced
2 1⁄4 oz. snow peas, sliced
2 medium carrots, shredded
1⁄2 small green cabbage, shredded
8 oz. canton noodles
16 oz. rice noodles
6 head-on prawns
3 scallions, whites only, thinly sliced, to garnish
Cilantro, to garnish
Lime wedges, for serving
Instructions
Make the sauce: Bring chicken stock to a boil in a medium saucepan; add soy sauce, 1⁄3 of the minced garlic and ginger, the fish sauce, mushroom powder, sugar, chile flakes, salt, and pepper and stir until sugar dissolves. Set aside.
Cook the chicken: Heat oven to 300°. Remove skin from chicken and set aside. Place chicken in a baking dish and cover with aluminum foil; bake for 1 hour. Cool slightly, then shred chicken; set chicken aside.
Meanwhile, place chicken skin in a 12-inch skillet over medium and cook until the fat is rendered and the skin is crisp, about 25 minutes. Transfer skin to a cutting board and thinly slice; strain fat and set aside.
For the crispy garlic chips: Heat 3 tablespoons of oil and the sliced garlic in a 1-qt. saucepan over medium; cook until garlic is golden, 4–6 minutes. Using a slotted spoon, transfer garlic chips to paper towels to drain; set oil aside.
For the pancit: Heat chicken fat and garlic oil in a wok over medium-high; add onion and cook until soft, 6–8 minutes. Add remaining minced garlic and ginger, the snow peas, carrots, and cabbage and cook 2 minutes more. Add reserved sauce and the canton noodles and cook until the noodles wilt, 3 minutes. Add the rice noodles and shredded chicken and cook 2 minutes more.
Meanwhile, heat remaining oil in a 10-inch skillet over medium-high; cook prawns, flipping once, until cooked through, about 4 minutes.
To serve, divide noodles between plates; top with prawns, crispy garlic, and chicken skin, cilantro, and lime wedges.