Culture
Pie Will Never Be the Same After This Ground Beef and Cheese Version
With provolone, potatoes, and broccoli rabe, it's a family-style brunch, lunch, or dinner—between two crusts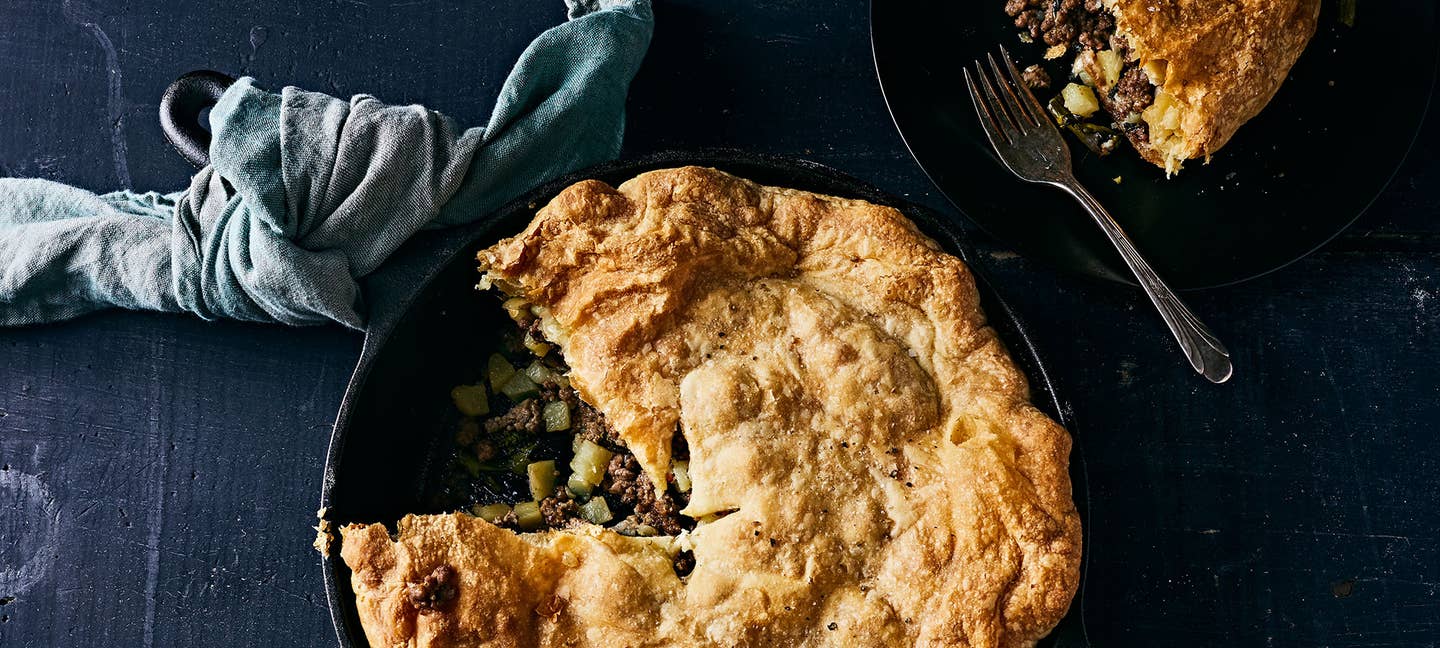 I think I'm probably among the minority, but I didn't grow up in a meat-and-potatoes household. The by-the-book Italian-American meals on rotation in my house included lots of rustic, vegetable- or legume-reliant dishes like escarole and beans, lentil soup, or pasta with cauliflower or chickpeas (don't knock it till you try it!). Besides Sunday meatballs and the occasional pounded cutlet, I can hardly think of a meat-focused meal my parents made on the regular.
I'm almost certain this has had an effect on the way I eat today—leaning heavily on vegetables and seafood rather than meat has simply become part of my nature. Nothing against you, pork parts, rack of lamb, and whole chicken; you feature frequently in dinner parties (and more regularly in my weekdays than I'd have ever imagined, thanks to a particularly carnivorous husband), but you're never top of mind, which is why I can't believe I came up with this recipe for meat pie. It was a little stroke of genius that has worked for a surprising number of occasions.
Made with the ever-accessible and affordable ground beef, tender chopped potato, and little bits of brightly colored broccoli rabe, this savory meat and cheese pie is just the thing for a group brunch—be that Easter Sunday brunch, Mother's Day brunch, or a bridal shower brunch. That's not the case for all meat pies: for example, I think Britain's steak pie and shepherd's pie—a type of homestyle ground lamb casserole topped with mashed potatoes—are a little too heavy for brunch. There's chicken pot pie and beef pot pie, but they're both a lot of work and are more like rich, meat-containing chowders inside a crust than an actual meat pie anyway. And of course we know that quiche, crustless quiche (the new thing), and frittata—all protein-rich and often laden with cheese and ham or bacon—already star so prominently on brunch menus that they are practically cliché.
Ground beef pie works beyond brunch, too: Need a potluck dish for work, a simple supper for kids, or even a main dish for a birthday dinner? Meat pie, meat pie, meat pie.
From the foundational idea, which tastes something like a cheesesteak encased in puff pastry, I went in the direction I'm often inclined to go: to add something green and as many vegetables as possible—in this case, bite-size pieces of broccoli rabe and some finely chopped potatoes to help hold everything together. I also leaned into Italian-inspired flavors by using provolone, a semi-hard Italian cow's milk cheese, for a little added bite, and some crushed red chile flakes to give the pie some heat.
Though I love this combination—the spicy chiles and cheese add some much-needed vibrancy and lift to the ground meat and buttery, flaky dough—the pie is endlessly adaptable, from the leafy greens you choose to the cheese you grate. It's a chameleon of a dish, from the way you serve it to the occasion for which you make it. Here's how to cater it to your cravings.
If the Philly cheesesteak is any indication, two of the best cheeses to pair with sizzling beef are provolone and cheddar. Both have enough bite to counteract the full-bodied flavor of the meat, but provolone has an even more pungent profile between the two. Look for an aged Italian version (sometimes called provolone piccante) for the highest flavor impact. If you're not a provolone fan, you can easily swap it out for your favorite sharp cheddar, or a mix of cheddar and mozzarella or Gruyère.
Though the pleasantly bitter brassica known as broccoli rabe or rapini is in my blood, almost any seasonal vegetable would work in meat pie. You can add sweet potato or winter squash during cold weather months, or traditional broccoli cut into bite-size florets, or finely diced carrots, celery, or fennel any time of year. Finely chopped greens would also be welcome, especially something hearty that can stand up to the pie's cook time, like kale (curly or Tuscan), collard greens, or spinach. You can also try fresh peas, finely chopped bell peppers, or seared mushrooms.
To me, everything tastes better with hot peppers—especially something cheesy and meaty. I use chile flakes here because I always have them lying around in bulk size, but pickled jalapeños would also cut the richness beautifully. In the summer, fresh cherry peppers or fresno peppers would be delightful and add an even greater pop of color to the filling.
Serve at Room Temperature (or Even Cold)
You want the pie to cool for at least 10 to 20 minutes before you serve it, as this will help the filling and crust set up more firmly and make the pie easier to slice. After that, when to devour it is up to you. Eating the pie warm means it will have plenty of gooey cheese pulls and just the right amount of grease. But it's also delicious at room temperature, so you can make it up to a few hours ahead of serving. The pie is even tasty cold, so feel free to skip reheating before enjoying a slice the next morning—or eat the leftovers straight out of the skillet, standing in front of the fridge that night after everyone else has gone to sleep.
Ingredients
1 Tbsp. extra-virgin olive oil
1 small onion, finely diced
1 medium Yukon Gold potato, peeled and cut into 1/4-inch cubes
Kosher salt and freshly ground black pepper
2 lb. ground beef
¼ cup white wine vinegar or fresh lemon juice
2 large cloves garlic, finely chopped
8 oz. provolone, shredded
½ bunches broccoli rabe, trimmed and cut into ¾-inch pieces (2 cups or 3 oz.)
Crushed red chile flakes
2 sheets frozen all-butter puff pastry, thawed in the refrigerator for at least 3 hours
All-purpose flour, for dusting
1 large egg, beaten with 1 tsp. water
Instructions
Step 1
Preheat the oven to 375°F. Meanwhile, in a large skillet over medium-high heat, add the oil, onion, and potato, and season with salt to taste. Cook, stirring, until warmed and sizzling, about 3 minutes. Add the beef, 1½ teaspoons salt, and a generous pinch of black pepper. Cook, breaking up the beef with a wooden spoon or spatula, until the beef is no longer pink and some of the liquid has evaporated, about 15 minutes. Stir in the vinegar and garlic, and continue cooking until the vinegar has mostly evaporated, about 2 minutes more.
Step 2
Turn off the heat and stir in the cheese, broccoli rabe, and a generous pinch of chile flakes until evenly distributed. Taste and adjust the seasoning with more salt, pepper, and chile flakes as needed. Transfer to a large, wide bowl and let cool completely.
Step 3
When the mixture is cooled, retrieve the puff pastry from the refrigerator. On a lightly floured surface, roll out 1 sheet of pastry to about ⅛-inch thickness and trim into a 12-inch round. Transfer to a 10-inch cast-iron skillet or deep-dish pie plate. Roll the remaining sheet to about ⅛-inch thickness and trim into a 12-inch round. Using a slotted spoon, transfer the beef mixture to the pastry-lined skillet. Lightly brush the edges with some of the egg mixture, then place the remaining round of pastry on top. Press the edges to seal, trim all but ½ inch of overhang, and crimp.
Step 4
Transfer the pie to a foil-lined baking sheet. Lightly brush the top with more of the egg mixture (you will have some left over). Using a sharp paring knife, cut an "X" in the center for ventilation. Lightly sprinkle with salt and black pepper.
Step 5
Bake until the top crust is golden brown and puffed, and the bottom crust is set and easily pulls away from the sides of the skillet, 45–50 minutes (if the crust is browning too quickly, gently tent with foil). Transfer the skillet to a rack and let cool for 10–20 minutes, then slice the pie into wedges and serve.